10 TWITTER MOMENTS: LADY GAGA IS A GAMER GIRL
Hello, readers, and thanks for joining me for the latest edition of We Are: The Guard's 10 Twitter Moments! If you're currently experiencing the Hump Day Slump and are in search of some light entertainment to see you through to the weekend that doesn't involve breaking into your emergency tipple, then I'm here to help with all of the greatest celebrity tweets to feature on the Internet over the last seven days! Fingers and thumbs at the ready, then, as it's time to scroll through the following 280-character highlights from Lady Gaga, John Legend, Halsey, Troye Sivan, Post Malone, and plenty of others!
-
LADY GAGA IS A GAMER GIRL
Still playing #Bayonetta middle of chapter XIII and my hands hurt and I have to sleep and it's 4 In the damn morning but this damn dragon with the face that I have to kill with my weave. Smh. Give it another go in the morning #gamer respect to the experts I need emotional support

— Lady Gaga (@ladygaga) 24 November 2018
At first, I was a little shocked to discover that Lady Gaga is a #gamergirl, but when you think about it, it makes perfect sense. Bayonetta, after all, is a scantily clad Umbra Witch who wears shoes containing guns and a bodysuit made out of the strands of her hair. I'm pretty confident that Lady Gaga has worn that entire outfit on stage before. If not, perhaps it could be a contender lewk for the Oscars in 2019?!
JOHN LEGEND AND CHRISSY TEIGEN WIN THE INTERNET ONCE AGAIN
Hahahahaha perfect https://t.co/PhmCaiAFxE

— John Legend (@johnlegend) November 22, 2018
Can John Legend and Chrissy Teigen quit being so gosh darn ENTERTAINING?! They put the rest of us couples to shame with their humor, talent, and exceptional good looks. While Thanksgiving parades may not be her cup of tea according to this 2014 tweet, here's hoping that Chrissy still found the time to watch her husband do his thing at this year's event, even if he did admit to miming during his performance.
BISHOP BRIGGS CUTS ONIONS DURING THE LION KING TRAILER
I uh have something in my eye ok...I was uh cutting onions.... https://t.co/lmbCQMSHzG

— Bishop Briggs (@thatgirlbishop) 23 November 2018
Aww, Bishop Briggs <3. We stan a sentimental queen with great taste in film. Jokes aside, I'm glad that I'm not the only person who was reduced to tears by the new Lion King trailer. It was like watching my entire childhood flash before my eyes. And when that music hit?! TOTAL CHILLS! Summer 2019 can't come soon enough! Just remind me to go to the toilet during the Mufasa death scene, okay?!
HALSEY HAS WRITER'S BLOCK
This Is Your Brain on Writer's Block: everything I write today sounds like my myspace song in 2008 or a poorly disguised Beatles rip off someone send help. pic.twitter.com/FFI3HdjkHJ

— h (@halsey) 25 November 2018
Halsey reminds us that writer's block can happen to the best of us with this video that she recently posted to her Twitter page. Clearly that G-Eazy breakup isn't resulting in as many epic lovelorn anthems as I'd hoped for from Ashley Nicolette Frangipane *sigh*. P.S. Is anyone else actually totally here for Halsey bringing back that old-school MySpace sound?!
TROYE SIVAN IS THREATENING TO STOP DYEING HIS HAIR
I can't wait to have brown hair again tbh!!!!!!

— troye (@troyesivan) November 24, 2018
NOOO! But blonde Troye Sivan is EVERYTHING (almost as everything as red-headed Troye Sivan, but I digress)! This is truly the end of an era! Let's take a moment to pay our respects to those beautiful blonde locks <3! #RIP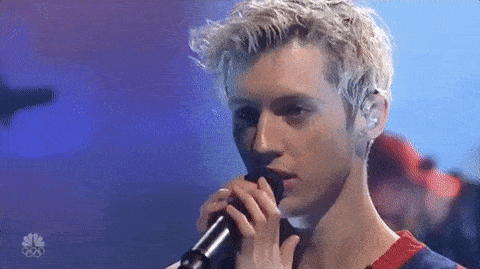 NAME A MORE ICONIC DUO THAN THE 1975'S MATTY HEALY AND ARIANA GRANDE
We (and I mean society as a whole) fucking love you https://t.co/237GwiB7Hw

— matty (@Truman_Black) November 26, 2018
I'M OFFICIALLY SHOOKETH! As if The 1975 covering "thank u, next" for BBC Radio 1 Live Lounge wasn't already enough for my heart to handle, Matty Healy and Ariana Grande took it one step further on Monday by full-on stanning each other over Twitter. Did somebody say "COLLAB?!" P.S. Here's that cover that I mentioned. It's the second best thing that I could ask for this week after the actual video for "thank u, next."
BILLIE EILISH AND FINNEAS CONTINUE TO INSPIRE
Time moves quickly https://t.co/q53o0dv0Uo

— FINNEAS (@FinneasOConnell) November 25, 2018
Billie Eilish is beyond inspirational. It feels like only yesterday that We Are: The Guard was featuring her debut single "Ocean Eyes." Now the 16-year-old is one of the biggest names in pop music alongside her brother FINNEAS. The siblings are a reminder of just how much you can accomplish in a small space of time if you really put your mind to it, which means that I'm off to write down all of the amazing things that I want to achieve in 2019! #Motivation
CHARLI XCX SPILLS THE TEA
I'm so ahead of the game; I hope people write some good shit about me when I die.

— CHARLI XCX (@charli_xcx) 26 November 2018
She may've gone back to "1999" on her recent single featuring Troye Sivan, but Charli XCX is so ahead of her time, the rest of us don't even KNOW it yet! It's only in 100 years when humans will be listening to some generic hit song through their smart glasses that they'll be like: "Oh wow, Charli XCX was writing this shit a whole century ago!" AN INNOVATIVE POP ICON!
ALISON WONDERLAND AND ELOHIM ARE TOTAL BFF GOALS
Lmfaoooooooooo can confirm this was our text convo

— ALISON WONDERLAND (@awonderland) 23 November 2018
Alison Wonderland and Elohim are total BFF goals. No, really, when will I find me a best friend around whom I can be my socially anxious and generally weird self without fear of being judged?! Bonus if said best friend also happens to make kick-ass emo music like Al and El. Anyways, feel free to submit your application to jess@findmeabff.com*. *This is clearly a fake e-mail.
POST MALONE NEEDS A NEW IPHONE
— Beerbongs & Bentleys (@PostMalone) November 26, 2018
Ever the cryptic tweeter, Post Malone continued to tease fans this week by uploading this photo of a cell phone case engraved with the word "CHODEZ." Is this the name of the new album that the rapper recently promised?! Or is he simply making reference to a tiny penis?! Time will surely tell, but one thing that I can't get my head around is why Post can afford a Louis Vuitton cell phone case, but not a new cell phone?! That cracked screen, though!
-
Until next week, readers, don't forget to follow We Are: The Guard on Twitter for more 280-character highlights! x
Jess Grant is a frustrated writer hailing from London, England. When she isn't tasked with disentangling her thoughts from her brain and putting them on paper, Jess can generally be found listening to The Beatles, or cooking vegetarian food.