10 TWITTER MOMENTS: LIAM GALLAGHER LIVE-TWEETS LISTENING TO RADIOHEAD
Hello, readers, and thanks for joining me for the latest edition of We Are: The Guard's 10 Twitter Moments. No, really, I'm glad that I'm not the only person around here who's looking to forget about all of the dark, depressing shit that's going on in the world and instead check in on how Cardi B and Offset's sex life is poppin'. Jokes aside, craving an escapist pop cultural fix is nothing to be ashamed of in these tumultuous times, and I'm happy to provide a hit. Buckle up, then, as we scroll through the following 280-character highlights from Liam Gallagher, Camila Cabello, Ariana Grande, Backstreet Boys, Lana Del Rey, and more.
-
LIAM GALLAGHER LIVE-TWEETS LISTENING TO RADIOHEAD
The rapping in the middle of the bends taking the piss

— Liam Gallagher (@liamgallagher) October 20, 2018
This isn't the first time that Liam Gallagher has taken a shit on Radiohead, but it's the first time that he's treated us to an entire tweetstorm on the subject matter (no, really, there's more). Clearly we've all missed a trick in thinking that it was Blur who the Gallagher brothers have hated since the 90s. Still, maybe it's Liam and Noel's mutual loathing of everything Thom Yorke that'll finally reunite Oasis?!
THOM YORKE SAYS "BOLLOCKS TO BREXIT!"
500-600,000 people on the streets of London, voicing their displeasure .. this is what democracy actually looks like #PeoplesVote #PeopleVoteMarch pic.twitter.com/SLS47IdBRs

— Thom Yorke (@thomyorke) 20 October 2018
Thom Yorke, meanwhile, appeared wholly unfazed by Liam Gallagher's critical remarks, with the Oscar hopeful instead hitting up a protest in London over the weekend against the ongoing Brexit negotiations. Quite what a "Brexit" is and what I'm supposed to do with it, I'm not entirely sure, but I'm definitely here for Radiohead naming their next album (rumored to be released as early as 2038) Never Mind the Bollocks to Brexit, Here's Radiohead.
CAMILA CABELLO IS A MEAT-AND-CHEESE MOOD
I once ate so much meat and cheese in one night that my body went into shock and I fainted and was rushed to the hospital. I WANNA DO IT AGAIN TONIGHT!!!!!!!!!!!!!!!!!!!!!!!!!!!!!!!!!!!!!!!!!!

— camila (@Camila_Cabello) 19 October 2018
Camila Cabello is basically the female equivalent of Ron Swanson when it comes to food and I LITERALLY LOVE HER FOR IT. P.S. I'm genuinely interested in the science behind a meat-and-cheese-induced faint?! Someone explain!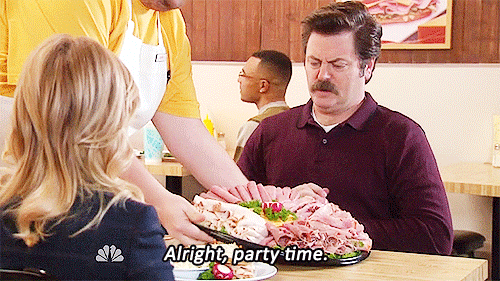 GABRIEL BLACK IS BUILDING A HELLAH CREEPY STUDIO
bout to tear this bitch down and rebuild it and make a dope studio...who wanna come record here? pic.twitter.com/l56u5p7uTj

— gabriel black (@sbgabrielblack) 19 October 2018
I've wanted to live out the whole "broken-hearted artist in a cabin in the woods" fantasy ever since Bon Iver dropped For Emma, Forever Ago. I won't lie, though – this photo is giving me second thoughts. I know that it'll be fire once We Are: The Guard favorite Gabriel Black is done with it, but right now, this studio-to-be kind of looks like something out of an Alfred Hitchcock movie that DOESN'T end well...
STOP EVERYTHING, ALESSIA CARA HAS SHARED HER SKINCARE ROUTINE
HERE IT IS OKAY SHEESH pic.twitter.com/izIdTkdpsr

— ac (@alessiacara) 15 October 2018
At first I thought that this was a tracklisting reveal for Alessia Cara's highly anticipated new album, but NOPE. It's actually her skincare routine. I'm not even kidding when I say that I'm going to print this off, tack it to my bedroom wall, and follow it for the rest of my days. Alessia has the skin of a GODDESS and I'll go to any length to replicate that youthful glow.
2019 IS GOING TO BE DENM'S YEAR
future is looking bright. So thankful for the journey and so thankful for where we goin! new music soon.  pic.twitter.com/A7CrOZcIF8

— DENM (@iamdenm) October 17, 2018
Over to our boy DENM, who has some seriously big things coming in 2019, as evidenced by this video right here. Side note: Don't you just wish that you were "signing a contract while listening to your own music" level of cool?!
ARIANA GRANDE RETURNS TO TWITTER
hi wow i missed u sm

— Ariana Grande (@ArianaGrande) October 22, 2018
Ariana Grande has had a rough few months, so it's nice to see the "God is a woman" star returning to Twitter this week after her recent social media break. I'll be honest, though – her and Pete Davidson splitting up has totally messed with my Halloween costume plans (I'd planned to go as half Ariana, half Pete). Perhaps I'll now dress as the real victim of this totally unforeseen (*cough*) breakup: Piggy Smallz.
THIS IS WHY BACKSTREET BOYS ARE MY FAVORITE BOY BAND
(•_•)
<) )Ain't nothin'
/ \

\(•_•)
( (> but a
/ \

(•_•)
<) )> mistake
/ \ https://t.co/yoknRAwGEm

— Backstreet Boys (@backstreetboys) October 23, 2018
NOTHING BUT RESPECT FOR MY NATIONAL ANTHEM.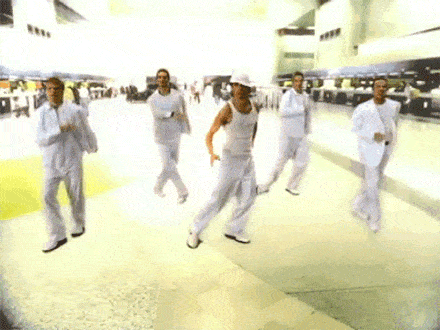 BRANDYN BURNETTE BECOMES EMAN8
1 week away from my life changing & the gravity of my decision is starting to hit me. The bond I've created with my fans as Brandyn Burnette is something that goes beyond just my name. We're creating a community & a movement. EMAN8's all about love, light, encouragement & honesty pic.twitter.com/elQiSPq9ZQ

— EMAN8 (@Eman8) October 23, 2018
We Are: The Guard has been a fan of Brandyn Burnette for as long as we can remember, and while we're sad to see this initial chapter of his music career come to a conclusion, we can't even BEGIN to explain how excited we are to discover what he has in store for us as EMAN8! All will be revealed next Tuesday when Brandyn drops "Amen," his debut single under his new name, so make sure that you're pre-saved and ready to go, as something tells us that you're NOT going to want to miss this!
WE'VE REACHED PEAK LANA DEL REY
I don't make movies about my life. I live my life like a movie

— Lana Del Rey (@LanaDelRey) October 23, 2018
Closing out with what has to be the Lana Del Rey-iest Lana Del Rey tweet of all time! How is it that the "Venice Bitch" has gone from basically never using Twitter to offering us constantly retweetable 280-character content?! Like the beef with Azealia Banks wasn't enough! Norman Fucking Rockwell-era Lana is going to be EVERYTHING! Just wait and see!
-
Follow We Are: The Guard on Twitter for more. x
Jess Grant is a frustrated writer hailing from London, England. When she isn't tasked with disentangling her thoughts from her brain and putting them on paper, Jess can generally be found listening to The Beatles, or cooking vegetarian food.