ALTERNATIVE POP - WEEK 47 2014
by Beca Arredondo
11/19/14
WARNING: If you're anything like me, and you've got a weakness for touching your... your volume button and tearing it up every time a bitching indie pop track comes on, then you might as well prepare yourselves because there is a 90/10 percent chance you're going to destroy something. Today's list of the top alternative pop songs will feed that nasty addiction of yours and leave you craving more. Sit back and enjoy music from personal favorites, T.O.L.D. , Chloe Black, and  O U F. Just remember my warning. And also remember to tell errbody you know about the artists below:
T.O.L.D. - LUCIFER'S EYES
I touched on addiction in my cheesy opening and it seems that it correlates perfectly with English pop artist T.O.L.D. and his track, Lucifer's Eyes. My peer Calvin briefly touched on the subject of the song being that of addiction and after listening to the track, drunk, high, and sober I came to the conclusion that the lyrics are very, very literal. Addiction is effing dangerous, but daaayuum it makes for a great song. "I can stay dry, but I can see rain." These lyrics make me want to give this indie transplant a big freaking hug.
CHLØË BLACK - 27 CLUB [OFFICIAL VIDEO]
English goth songstress Chløë Black bewitched us with her dark gorgeous hit single, 27 Club. So, it's quite obvious to assume that we would hit you guys up with the video sooner or later. Here it is, folks, a video that pays beautiful tribute to those who have left this earth too soon. On a side note, Chløë makes dark pop look and sound so effing sexy. Can I get an Amen?!
RUSTIE - LOST FT REDINHO
Gawwd damint!!! I hate when this happens! I can't remember why I added this track to the list. Trying hard to remember. This just goes to show that I gots to lay off the wine. Heehee.
JEZ DIOR - LEATHER [OFFICIAL MUSIC VIDEO]
Jez Dior bursts into our radar with a single well worthy of the buzz that it should be receiving. For anyone here reading this, if you're into rappers like Drake, make sure to add in your book. He brings out the punk side out of hip hop.
O U F - YOUR LIFE
I feel like I've been brain fucked. O U F is on a whole other level. I  mean, they don't even sound American or North American for that matter. They are like so ummm like not from here. Nickki Minaj and her Anaconda ain't got sheet on them.
LOVESTARRS - LOVE MY WAY (PSYCHEDELIC FURS)
This one really hit home for me. I saw the title and just reposted because it's an amazing song by a great band that was introduced to me by a late loved one. Hit play and don't minf my wailing. Thank you Lovestarrs for bringing these emotions out of me.
PRETTY RICKY FT. 50 CENT - GRIND WITH ME (SNBRN REMIX)
Well after that sad number, I sure do hope y'all get up and dance with me. Fans of deep house and new disco, you'll want to keep producer SNBRN on your watch list because he's the type of...producer who's gonna feed you the 2000's in a new format.
SOFT TOUCH - SWIM IN THE NIGHT  FEAT. SILYA
The house duo Soft Touch will take you back to an era where disco and soul reigned. The only image that come to mind is the following: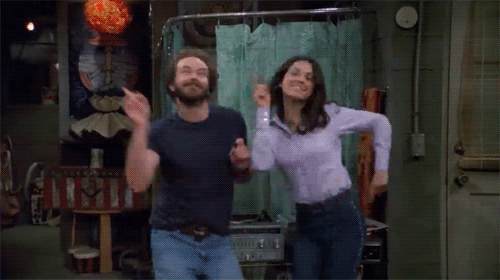 OH WONDER - BODY GOLD [ LOUIS THE CHILD REMIX]
Closing off the post with something more on the mellow side. With a bit more of a punch, mood, and emotion, Louis the Child brings us an ethereal remix of Oh Wonder's track, Body Gold. You dig?!
-
Hope you liked this week's selection. I'll see y'all next week. Xoxox Biatches,
About Beca Arredondo
Beca Arredondo is easily unamused with all things not related to her interests. On her good days you can catch her avoiding the California sun and glued to her Mac plotting the next big thing. If you happen to run into her on the street and notice her wearing headphones do NOT disturb her. She is not responsible for any possible damage. Aside from the above she's very sweet and perky and responds well to good music and food.