BEST CHILL MUSIC - WEEK 29
Summer is the BEST, right?! No, really, I love NOTHING more than watching my makeup melt off my face within five minutes of applying it and having constantly sweaty underboobs! Okay, I admit, I'm not exactly coping with this 100-degree weather very well, but it's all good as this week's edition of We Are: The Guard's Best Chill Music is here to rescue me from my summertime sadness! As another weekend approaches, then, why not join me in taking the heat off yourself this Friday with the following chillaxing tracks from Terror Jr, Phoebe Bridgers, Childish Gambino, Big Data, Conner Youngblood, and more?!
-
TERROR JR – HEAVEN WASN'T MADE FOR ME
We Are: The Guard LOVED Terror Jr from the moment that they dropped "3 Strikes" and were said to be fronted by Kylie Jenner (a rumor that's since been denied by the "self-made billionaire" *cough*). The glitch pop trio have only got better and better since then, and their latest single, the sweetly melancholic hymnal "Heaven Wasn't Made for Me," is proving to be no exception! GRAPES FOREVER!
PHOEBE BRIDGERS – THE GOLD (MANCHESTER ORCHESTRA COVER)
It's not all that often that I prefer a cover to an original, but that really is the case here with this reinvention of Manchester Orchestra's "The Gold" courtesy of folk singer-songwriter Phoebe Bridgers. This quietly tender take on the A Black Mile to the Surface cut is a truly comforting experience, like wrapping yourself in a warm blanket while watching the late-summer sunset.
CHILDISH GAMBINO – FEELS LIKE SUMMER
Can Childish Gambino do any wrong?! NO, NO HE CAN'T! Having released the political anthem of the decade, "This Is America," Donald Glover is back this Friday with something a little more easy-going in the form of "Feels Like Summer," a song that packs in the tropical island vibes with its blend of marimba and Balearic-style beats.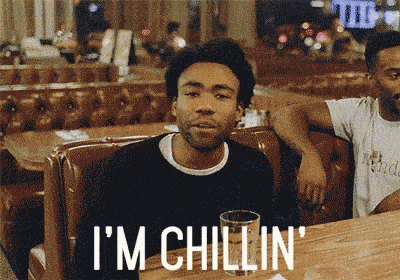 REFS – PLAY GOD
Refs NEVER fail to deliver electronic pop perfection! Pairing the atmospherically kinetic beats of producer Zach Lipkins with the smooth-sailing falsetto sounds of singer and Chance the Rapper touring vocalist Rich Saunders, the duo have another winner on their hands in the form of "Play God," a song that Refs say is "about ignoring your inner pragmatist and launching into love, armed with the knowledge that the game is rigged."
BIG DATA – EVOLUTION ONCE AGAIN
Big Data unites the human and, well, not-so-human on his bombastic latest bop "Evolution Once Again." By positioning organic instruments, including a Wurlitzer and saxophones, alongside digitally programmed electronic beats, Alan Wilkis succeeds in telling a story about the dangers of Artificial Intelligence, as written from the perspective of a computer scientist who "feels abandoned by the AI he has created." No, really!
CANNONS – NEVERMIND, NEVER MINE
Los Angeles three-piece Cannons are going straight to the top of my Summer Romance Spotify playlist with their sparkling latest single. Featured on their recent EP In a Heartbeat, "Nevermind, Never Mine" is a starry-eyed ode to unrequited love, with a crystalline constellation of synth pop surrounding singer Michelle Joy's dreamlike vocals.
CONNER YOUNGBLOOD – LOS ANGELES
There are endless musical odes to Los Angeles, although none have managed to encapsulate the vibe of the place for me quite like this latest single from Conner Youngblood. With his lightweight vocals rolling over the spacious acoustics and organic beats like a Pacific Ocean breeze, Conner succeeds in capturing that gentle side of the city that I really love this time of year.
DYAN – ABSENCE
Following on from their cover of José González's "Cycling Trivialities," We Are: The Guard favorites DYAN return this Friday with "Absence." Like a warm wind pouring through an open window on a hot summer's day, there's something replenishing, grounding, and centering about the trio's latest single, which frontwoman Alexis Marsh reveals "is about leaving, but not before inquiring about doubt."
NAVY – RUNNING IN MY SLEEP
Well, well, well, isn't this truly divine?! Navy is taking me straight to the golden gates of heaven with her debut single. Featuring her angelic voice coming set against a cascade of strings and pianos as produced by We Are: The Guard favorite Thomston, "Running in My Sleep" is nothing short of a celestial introduction to this New Zealand native.
HARRIS – PERFUME
I'll be honest, this video for "Perfume" showing Harris getting covered in fast food and shaving cream among other items kind of turned my stomach, but don't let that put you off listening to the song! The video may not be beautiful, but trust me when I say that the song most definitely is, with the softly melancholic instrumentation acting as a perfect backdrop to this Australian folk artist's storytelling prowess.
-
Until next Friday, why not follow We Are: The Guard's Best Chill Daily! on Spotify for more good vibes?! x
Jess Grant is a frustrated writer hailing from London, England. When she isn't tasked with disentangling her thoughts from her brain and putting them on paper, Jess can generally be found listening to The Beatles, or cooking vegetarian food.