BEST INDIE POP: WEEK 21
10 out of 10 people agree that everyone is way more satisfied listening to the playlists that We Are: The Guard provide. Says who? So says me if I were to conduct an actual study. But I stand by my educated guess if someone were to ask me about who offers the best music curation because after all .... it's me and my comrades who day in and day out scour the internet and other sources to bring you the tastiest and most important meal of the day in form of The Best of's. There's no doubt you'll be coming back for seconds. Help yourselves, there is plenty of best of Indie Pop to go around for everyone. Enjoy!
G-FLIP - KILLING TIME
Bedroom pop newcomer G-Flip is not wasting a single second as a singer songwriter. "Killing Time" quickly follows up her debut single "About You." Though she is  young she's got more wisdom than kids her age. the lyrics revolve around a girl I was seeing, who kept distracting me from making music. In regard to "Killing Time," she stated the followoing, "My bedroom is my studio and she only wanted to stay in bed and make love all day. It was hard to escape and be productive so I inevitably I ended up breaking up with her because I wanted to focus. It was fresh on my mind once I sat down to write this song. She was "Killing my Time.""
YEARS & YEARS - IF YOU'RE OVER ME
Years & Years give us a glimpse at life after robots take over. Sure, robots can mass produce pretty much anything at faster pace than any human but what they will never be able to do is feel a hot burning sensations come over them. But that's one thing we can do as humans.
CARDI B - BE CAREFUL
Cardi B is looking all sorts of heavenly okkkkrrrt! Is really that hard to find a one woman kind of man for the fairest princess to come out of Brooklyn?! Cardi be preaching to all the ladies reminding them to  not settle for half meant vows.
 
PHARRELL WILLIAMS AND CAMILA CABELLO -  SANGRIA WINE
Ay mami, this is one muy caliente single! The "Havana" songstress shows off her latin side with the catchy Pharrell produced single "Sangria Wine." For those who missed the BBMA's this past Sunday you'll want to head over to YouTube and catch the live performance and watch Cabello enjoying her Selena moment.
CARLIE HANSON - MOOD
Carlie Hanson offers an innocence in her pop music. Her age, primarily her mood is presented in a transparent and honest way. It's something that can't be faked, either you have it or you don't, and Hanson clearly has that thing that makes listeners connect with her lyrics. Enjoy "Mood" and let your mind drift away for the next three minutes.
JESSE SAINT JOHN - FAKE IT
If the 80s movie The Breakfast Club were to get a remake "FAKE IT" would be the opening track and jesse saint john Judd Nelson's character with a flair. In saint johns newest single "FAKE IT" there is a sense of panic over being discovered, yet an assuring feeling that everything will turn out all right, all we have to do is feel it until we become it, or in this case "Fake it till you feel it."
CHRISTINA AGUILERA - FALL IN LINE FT DEMI LOVATO
Two pop power voices come together and bring the house down! All the ladies in the house stand up and yell with me "They're gonna burn me at the stake/But I got a fire in my veins/I wasn't made to fall in line."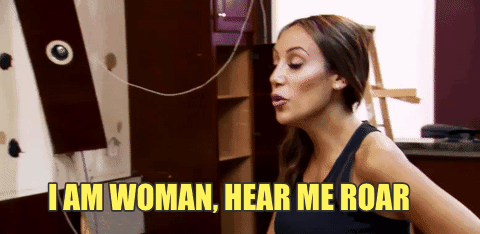 RITON AND KAH-LO - GINGER
It's only natural for two artists who once were nominated for a Grammy for their work on a collaborative track to once again come together to produce material that will set well in the ears of those who vote on who wins a golden trophy. Better strap on those shoes tight because Riton and Kah-lo are back at it again with a dance floor heavyweight. Play, dance, repeat.
ELEPHANTE - HAVE IT ALL (FEAT NEVVE)
Nevve's vocals in "Have It All" take Elephante's track into fifth gear, and with summer at our doorstep, this tune will carry us nicely through the warm nights. It's a sweet dance floor lullaby that leaves us all feeling chill long after the melody fades. Be on the lookout for Elephante's album  Glass Mansion, said to drop in June.
LOUIS FUTON - FALL ON ME (FEAT. BXRBER)
Since we are riding on the chill side of pop this week we wrap up the playlist with Louis Futon's R&B/dance/chill single "Fall On Me" featuring the vocals of the talented BXRBER. The ethereal single showcases the expansive range of style in Futon's work. This is one piece you wish was longer, but oh well I guess the replay button will do.
---
That's all for today's Best of Indie Pop. Hope you found something new  to share or add to your playlist. See ya all next week and don't forget to show us how much you love us by following us on Spotify!
Photo by Angelo Lacancellera on Unsplash
Beca Arredondo is easily unamused with all things not related to her interests. On her good days you can catch her avoiding the California sun and glued to her Mac plotting the next big thing. If you happen to run into her on the street and notice her wearing headphones do NOT disturb her. She is not responsible for any possible damage. Aside from the above she's very sweet and perky and responds well to good music and food.