BEST INDIE POP - WEEK 23
Hello, hello everybody, Beca here...your host for We Are: The Guard's weekly picks in the Best of Indie Pop. You all know we are on top of the music like cheesy Cheetos on fingers. Yep, we're all up in everyone's business because who else other than your mother cares for you?! WE do. So because we care for the welfare of your ears, we bring you human curated tracks that we hope you appreciate as much as the effort we put in. This week we feature Kendrik Lamar, Tinashe, SZA, and a bit of something else for all. So don't you move...keep your ears in tune and get your fingers ready because the noise starts now.
KACY HILL - LIKE A WOMAN
If Kacy Hill is not on your must listen to list, then by golly geez man, what are you waiting for! The model/singer-songwriter seems to fit perfectly well in the Kanye West G.O.O.D. Music family, proving to be hotter than the sun beating down on a hot Summer day. But don't take my word for it, listen and watch the video for "Like A Woman." Yowzaa! That's one mega talented star about to explode. Be on the look out for her full length debut album, Like A Woman, dropping June 30th of 2017.
DAVE - 100M'S
Gaining attention from the very popular remix of Drake's "Wanna Know," UK rapper Dave is back with more fiery beats that are heavy on the grime. Co-produced by SG Lewis, 100M's is easily the freshest track this week. His lyrics are impressive, he seduces listeners into a style all his own. This one can be filed as a BANGER.
JACOB BANKS - CHAINSMOKING
Another impressive artists whose voice invokes passionate excitement is that of U.K. singer Jacob Banks. His upcoming debut EP, The Boy Who Cried Freedom, features the beautiful single "Chainsmoking." Banks blends the influence of rock and southern gospel and churns out an all too real scenario … the painful addiction that is called love.
TERROR JR - APPRECIATION
The mystery of whether or not Kylie Jenner is or could possibly be behind the trio Terror Jr. is like agreeing whether the dress is blue and black or blue and gold. Who gives a care, the dress was ugly, and Terror Jr makes catchy music that you won't be able to shake off. 
ROMA OCEAN - ABOUT YOU
Speaking of mysteries/ new music, I recieved an email from a fellow by the name of Roman Ocean. It was cryptic to say the least but he/she had me the moment I clicked play on that SoundCloud button. Perhaps it was the distorted voice or perhaps it was the delicious melody, or it could have very well been an over exhausted brain, but something about the sound drew me in like a moth to a blinking light. "About You" is definitely entertaining and worth a listen. 
DUA LIPA - LOST IN YOUR LIGHT FT MIGUEL (LIVE LOUNGE)
I love collaborations; here's where we really see how artists can contribute to one another's talent or lack of. In the collab for "Lost In Your Light," it's obvious that there is major talent, though Miguel seems to be lost. Perhaps it was his way of personifying the title of the song???
THEY. - U RITE (LOUIS FUTON REMIX)
If you are ready to experience some experimental chill vibes, this fresh remix by Louis Futon is a perfect way to get you out of your current state of mind and into a somewhat uncortable setting. Uncomfortable because the flow is so outside the norm.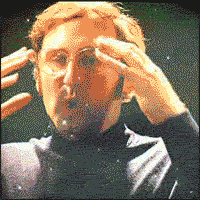 ARCADE FIRE - EVERYTHING NOW
Arcade Fire delivers irony with elegance, making "Everything Now" as enjoyable as eating candy with a mouth full of cavities. You want it, you crave it, but deep down it hurts. Was it worth it? Oh, you bet it was! Those Canadians had us hooked with the opening lyrics I'm in the black again /  Can't make it back again. Their fifth studio album, also titled Everything Now, is set to release July 28th.
CHERRYADE - THERESA MAY (BULLS**T) (LYRIC VIDEO)
Cherryade is back with lyrics just as bold as ever. The British duo seems more fed up with everything than ever before. Their sound and words fit well during these times. The people are DONE, finito and they don't want to eat cake...or as Cherryade puts it, "Hide your shit like Theresa May/ I said hide your shit like / Bullshit (Bullshit, bullshit, bullshit, bullshit, bullshit, bullshit)."
PEKING DUK & ALUNAGEORGE - FAKE MAGIC
We close off the list with a funky up beat pop single from Australian duo Peking Duk, featuring AlunaGeorge with vocals and sultry dance moves. "Fake Magic" offers two minutes and fifty-one seconds of lighthearted dancing beats that satisfy that craving for dance music.
-
If you loved what you heard, make sure to support the artists on their respective pages and be sure to tell them that We Are: The Guard sends their love too. For those craving more new music follow us on Spotify where we feed you indie music by the spoonful.
Untitled by Joshua Fuller is licensed under CC0.
About Beca Arredondo
Beca Arredondo is easily unamused with all things not related to her interests. On her good days you can catch her avoiding the California sun and glued to her Mac plotting the next big thing. If you happen to run into her on the street and notice her wearing headphones do NOT disturb her. She is not responsible for any possible damage. Aside from the above she's very sweet and perky and responds well to good music and food.