BEST OF INDIE POP - WEEK 49
Christmas trees and houses aren't the only thing getting lit up around here if you know what I mean! Bahaha. Yes, it's Courvy the Courvoisier drinking opossum here at your sssservisss and squeezing the last drops of my 15 minutes of fame. I've got a cousssssin who can not only drink himself to freedom, but also hit notes higher than Adele, so before my spotlight fades away let's roll into the Best of Indie Pop Songs curated by the somewhat sober folks at We Are: The Guard featuring GOFTY, The Knocks, Two Feet, and more.
--
ASHE - GIRL WHO CRIED WOLF
Wolf?! Nobody around my heck of the woods cries wolf. That's some WW3 talk right there, and it seems that indie songstress Ashe seems to know what's up. Her words, her soul are as pure and transparent and downright honest. Now, is she someday never makes it on top of the world, then you were never really ready or worthy of her sound.
BC UNIDOS & CARLY RAE JEPSEN - TROUBLE IN THE STREETS
Swedish production duo BC Unidos is the freshest thing to come into the airwaves since colored TV. These two create unordinary music, thus collaborating with unordinary artists, and execute unordinary tracks that leave ordinary basic people uninterested. But you, you're not basic, you're above the rest, and you dig "Trouble In The Streets" because this is art, this is music, and music is #life! "Trouble In The Streets" forms part of BC Unidos Bicycle EP.
BLND TGR - HEARTBREAKER
My eyesight or hearing may not be the best because I'm an Opossum after all, but I do know what a hit song sounds like when I hear it. Well, actually not really, but that's why I relied on the charts on We: Are The Guard's homepage for the sake of this post which I ssstrongly urge you to do eeet. Check the charts, that's how I discovered the duo BLND TGR.

GFOTY - TONGUE
Believe it or not, GFOTY's track "Tongue" reminds me of that night I broke into the liquor store and snagged the booze. My heart was pounding harder than my head the next day as I popped open the bottle, the first gulp burned a bit, but the rest was smooth drinking. It might take you a second or three to warm up to "Tongue" but once it makes it's way in your ear you'll be nothing but smiles all night long.
SLATERS - DANGER FEAT. TOULOUSE
These vibes so smooth they gove me both the chills and warm up my insides. The debut single "Danger" by newcomers Slaters is a MANDATORY listen. The world is full of stresses out there that this delicious slice of groovy perfection will serve as a temporary escape. You can thank Jess Grant for contributing this gem to today's Indie Pop playlist.
THE KNOCKS & CAPTAIN CUTS - HOUSE PARTY
You can't go wrong with listening to The Knocks. Doesn't matter what they put out, you can always trust that it will be a down right good time, use their latest single "House Party" as an example. Their music turns any occassion into a celebration. Bride and groom first dance? Put on "House Party." Didn't pay your phone bill on time? Put on "House Party." Late to work? Put on "House Party."
RAE MORRIS - ATLETICO
Yeah! Rae Morris channeling the 90s. From the camera clips to the outfit, right down to the Alanis Morissette gaze. Her energy is muy bueno, but too fast for my butt to keep up. I'm tired just by watching her run around New Orleans in search of her boo. Skip the effort, single pringle is the way to be. But you guys reading this, do keep an eye on this one, she's gonna be a sssstar I tell ya.
MILD JOY - BLURR
Get ready to get carried away into another dimension with the achingly raw single by producer Tristan Barton, who for this project joins forces with songstress Greta Stanley. It's chorus and beautiful melody awakens feelings that are at times too honest, but too good to pass up. Spaeking of things that are too good to pass up, be sure to keep it locked in on We Are: The Guard Weekly playlist on Spotify. I mean, hello, that's where I found this piece of ear gold!
TKAY MAIDZA  x DANNY L HARLE  - BOM BOM
Mood after listening to this be like: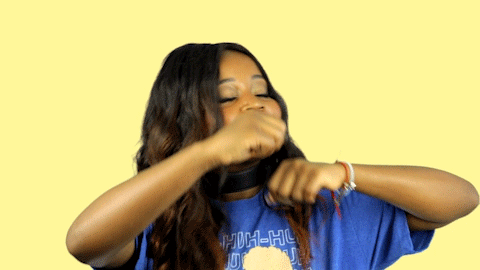 CAPPA - ALL I WANT FOR CHRISTMAS IS YOU
You can run, you can hide, but you can't escape the holiday music. No matter how far in you shove your earphones Christmas carols will make their way into your head. But with CAPPA's version of "All I Want For Christmas Is You," you can save yourself a trip to the ER. So feel free to play it without any fears of acid reflux or nausea side effects.
--
That'sss all we hasss for thisss weeksss Besst of Indie Pop. Your regular hosst will be back next week. My brother just called, he'ss got a trunk full of mini bottless from the Motel 6 down the street and they're waiting for me! Onwards and upwardss to greater bigger fame!
Photo by Roy Guisinger CC0
Beca Arredondo is easily unamused with all things not related to her interests.  On her good days you can catch her avoiding the California sun and glued to her Mac plotting the next big thing. If you happen to run into her on the street and notice her wearing headphones do NOT disturb her. She is not responsible for any possible damage. Aside from the above she's very sweet and perky and responds well to good music and food.