BEST INDIE POP - WEEK 50
by Beca Arredondo
12/13/17
Dear We Are: The Guard readers, lady who cut me off this morning on my way to the office, grocery bagger who put my bread at the bottom of my grocery bag, mom who replaced my vodka with water, neighbor whose dog likes to use my door steps as a toilet, and everyone else I love and like, I write today's Best of Indie Pop post with hopes that it brings much happiness, joy, and cheer. This week's curated singles are meant to act as a distraction to the holiday chaos. So how about we play the following songs featuring Yung Lean, Charlie XCX, CAPPA, and a few other indie artists nice and loud.
TERROR JR - SAD SAD GIRL
Don't let the title of Terror Jr's "Sad Sad Girl" fool you because this is one track that is definitely not sad. Nope, this is delicious dark pop is has our stamp of approval even if some may consider this gem illegal. This one's for all of us twisted people.

ONE BIT - MY WAY FEATURING NOAH CYRUS
Oohh yeah, "My Way" is the perfect little track to get a conga line going. Yes, conga lines are still a thing, they are alive and will be the next trending dance move in 2018. You know what will also be big in 2018? Noah Cyrus. Duh!
YUNG LEAN - RED BOTTOM SKY
All these haters hating on Yung Lean, for what? Intimidated much? Yung Lean proved to be a surprising act this year by showing not only talent but versatility as well. His latest single "Red Bottom Sky" is one of his most easily digestible and enjoyable tracks to date. The stunning track manages to easily soothe all worries and troubles. Feels soul cleansing, so free, so pure. Have this one set to replay, your everything feels better with every listen.

SOPHIE - PONYBOY
I am speechless after watching Sophie's "Ponyboy." So I'll let these YouTubers say what I can not say:"Who needs shaving or waxing when SOPHIE just snatches your follicles on the regular." - satinboys. "This is the most gangster shit I have ever seen or heard in my life." - CRNKN5. "Play this at my funeral."- enis
ROY WOODS - MONDAY TO MONDAY
Notorious B.I.G. once said "Mo money, mo problems." But that doesn't seem to be the case for Canadian rapper Roy Woods because to him It's all fun and games Monday - Monday. The scene where Woodes is counting money instead of blessings reminded me of that time I found a ten dollar bill doing laundry, I was rolling around in that pile of clean clothes looking for more cash. #blessed
CHARLI XCX - OUT OF MY HEAD FEATURING TOVE LO AND ALMA
For those who are fans of Charlie XCX, you know that a good catchy hook is to be expected so today's feature is of course no exception. Produced by SOPHIE and A.G. Cook, "Out Of My Head" will be stuck in your head thanks to the cleaver bouncy - sugar bop sound and of course top notch vocals from Tove Lo and Alma.
MGMT - WHEN YOU DIE
This is your brain on LSD. Not really, but MGMT do a pretty spot on job of making you feel like your in a Frida Kahlo painting. "When You Die" can easily be summed up as trippy, psychedelic, groovy, but those words do not to the track nor video justice. This is the true form of art. This is: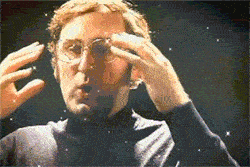 GABRIEL BLACK - HURRICANE
Sad songs make me happy. Sad song maker Gabrielle Black makes me happy. Hugs make me sad because I'm sure if we all gave Gabrielle Black a hug he would be happy and if he's happy he won't make sad songs that make us happy like "Hurricane." Enjoy it loud and take our word for it … 2018 will be Gabrielle's year, but again, hopefully that will not make him happy.
CAPPA - ALL I WANT FOR CHRISTMAS IS YOU
Oops, who did this Christmas jingle get in here. I tried, I really tried not to include any holiday music, but we could not help it. It's one of the few songs you will not mind playing over and over and over again. And to be honest you might like it a lot more if you watch the video for it here https://www.youtube.com/watch?v=pRxr-cFKoFQ
SAID THE SKY - FADED FEATURING FRND
This is HUUUGE. Feel good vibes and sparkles for everyone thanks to Said The Sky and mysterious collaborator FRND. "Faded" is well on its way to rcing up millions of streams, so hurry and listen before someone else tells you about it.
--
Oh no! We've reached the end of our post! But I promise we'll be back next week with more alternative / indie pop songs. While you wait, be sure to check out our Spotify Weekly playlist where we serve up nothing but freshness.
Photo by Yury Orlov on Unsplash
Beca Arredondo is easily unamused with all things not related to her interests.  On her good days you can catch her avoiding the California sun and glued to her Mac plotting the next big thing. If you happen to run into her on the street and notice her wearing headphones do NOT disturb her. She is not responsible for any possible damage. Aside from the above she's very sweet and perky and responds well to good music and food.