BEST OF INSTAGRAM - WEEK 19
So much of indie and pop music happens between the press cycles. Things have changed dramatically since the four-month-lead time of big budget Major Albums. Sure, we'll always have much-hyped big releases, same as it ever was, but what about the remixes, the mixtapes, the singles, the collaborations, not to mention breaking announcements, celebrity beefs, and, of course, the looks!
This week, we round up our favorite Instagram posts, to help you keep up-to-date and there's tons of biblical action, between the newly-forged covenant between Katy Perry and Taylor Swift, as well as the Heavenly Bodies from the Met Gala. We've also got a bit of cross-dressing cosplay from The Backstreet Boys, even more trolling from Grimes, and a minor wardrobe malfunction from the early stages of the Reputation Tour.
Katy Perry & Taylor Swift Make Up!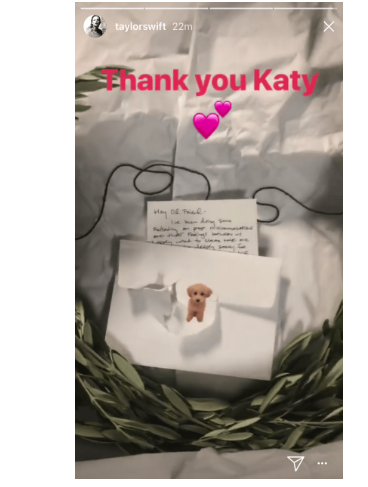 It's appropriate that the first official meeting between the two titans of Pop Music - Katy Perry and Taylor Swift - would be singing "Hot 'n Cold" at a Taylor Swift concert in 2010. Perry and Swift were both buddy-buddy in their early career, but their relationship has dissolved into acrimony and back-biting as they've both fought to become the crown jewel of the Pop pantheon.
This last week on Instagram, Katy Perry sent Taylor Swift a literal olive branch! And also pictures of cute puppies. Perhaps this is a sign that the flood is ending, that a new covenant is being formed, and everybody's favorite Pop singers can be friends (and collaborate) again!
Madonna Twirls In Versace After The Met Gala
This year's theme for the Met Gala, Heavenly Bodies, was taylor made for Madonna. She may be slightly less-than-virginal in her vintage Versace cocktail gown, offering a very candid behind-the-scenes video on her IG. She's still fabulous after over 3 decades as the Holy Mother of modern Club Pop!
Ariana Grande Is A Fairy-Tale Vision From The Met Gala
While the official theme of the Met Gala was how the Catholic church has influenced fashion over the centuries, Ariana Grande's Vera Wang-designed look is more like something out of Beauty And The Beast. Grande's rocking the Princess vibes hard in her floofy bow and crinoline gown.
Grande's red carpet look was one of the evening's showstoppers. She may be a Dangerous Woman, but she sure knows how to look sweet when she feels like it!
Grimes And Elon Musk Are Dating
These last few weeks, it almost seems like Grimes is trolling us online. First there was the post with That Poppy, hinting at a possible collaboration, reviving the controversy against That Poppy and Titanic Sinclair. We didn't think that Claire Boucher could possibly throw the newscycle into more of a tailspin, only to find out - out of the blue - that she's dating spacelord Elon Musk!
Vogue announced that the custom silver choker Grimes was wearing was not some abstract symbol, but rather a sterling Tesla symbol. Grimes and Elon Musk initially bonded over joking about AI. Perhaps they'll be the parents to a whole new generation of immortal cybernetic youth.
All Hail The Holy Trinity Of Pop!
There were so many breathtaking moments at the Met Gala, picking a favorite look is nearly impossible. That being said, Lana Del Rey managed to make our jaws hit the floor with her incredible Gucci collaboration with Jared Leto.
There were no shortage of Jesus-like looks at the Met Gala, but Jared Leto looked like the second coming in his powder blue tux with gilded scarf and crown of thorns, designed by Gucci lead designer Alessandro Michele (also shown in the pic.) Perhaps it's a bit disingenuous to cast Michele as Judas, but we'll also assume he got much more than 30 pieces of silver for designing Del Rey and Leto's looks. Backstreet Boys Do The Spice Girls
There's been a lot of early '90s resurgences, of late, with the Roseanne reboot, Netflix's Everything Sucks! (R.I.P.), and, of course, the much-anticipated Spice Girls reunion.
Time is getting a little funny, with past, present, and future running into each other in odd and unexpected ways. Sometimes one '90s Pop group becomes another, as in the case of The Backstreet Boys this last week. Everyone's other favorite '90s ensemble, The Backstreet Boys, cosplayed as The Spice Girls "in celebration of 25 years of Girl Power."
Somehow, We Are: The Guard think it's a little nuts that '90s guys seem more comfortable and confident in their masculinity than their 2018 counterparts, with Kanye's "Dragon Energy" and DJ Khaled's weirdly one-sided relationship. Here's to 25 more years of Girl Power (and to the boys and men that support it)!
Charli XCX Apologizes For Peek-A-Boob
People get weirdly uptight about the occasional nip slip. You do realize that's the fountain of life, right? Ever since the Janet Jackson fiasco at Super Bowl XXXVIII, Pop stars (sadly, always of the female persuasion) are being super careful about accidently flashing their bits during performances.
British feminist icon/#girlboss Charli XCX even got caught up in the furor this last week, posting an apology to her IG story about one of her boobs slightly slipping out during a performance on the early stages of the Reputation tour with Taylor Swift.
We Are: The Guard are sure than Charli XCX's reputation will take care of itself. As one of the strongest, boldest, most stylish, and musically adventurous women artists on the scene, tirelessly campaigning to bring women's voices and perspective to the Global mainstage, we'd like to think a little underboob wouldn't be commentworthy. So calm calm down! There's more than enough actual problems to focus on to get in a tizzy about a slight wardrobe malfunction.
--
That about does it for us for this week! We hope you've enjoyed this week's roundtable round-up. We Are: The Guard, and we never sleep! Our crowd-curated label and publication works round-the-clock, keeping tab on all of the breaking music news, wherever it may be found. Follow us on Instagram for daily indie music updates and insights!
J. Simpson occupies the intersection between criticism, creativity, and academia. Based out of Portland, Or., he is the author of Forestpunk, an online journal/brand studying the traces of horror, supernatural, and the occult through music, fashion and culture. He plays in the dreamfolk band Meta-Pinnacle with his partner Lily H. Valentine, with whom he also co-founded Bitstar Productions, a visual arts collective focused on elevating Pop Culture to High Art.