BEST NEW ELECTRONIC: SLEIGH BELLS - RAINMAKER
by Ingrid Rosales
10/27/17
Y'all know that Sleigh Bells is back, right guys?
And oh man, the new track is eliciting sighs of relief from ya girl. Don't get me wrong: I love the soft, reflective melody of "And Saints," and if I could legally marry Alexis Krauss' voice in some weird non-descript country, someone get me the visa; 'cause I'll do it. But I missed Sleigh Bells' signature raucous sound; the overwhelming assault of synths and punk that makes me want to punch a full-grown man right in the beard. Thankfully, "Rainmaker" scratches that itch.
Listen to "Rainmaker" below and yell into the sky with me.
SLEIGH BELLS - RAINMAKER
"Rainmaker" follows the footsteps of "And Saints" in its peaceful, wavy deliverance. It's like Derek Miller fused trip hop, pop, and hip hop -- the latter in part thanks to sampling every rapper's go-to track "Ashley's Roachclip" -- and created a tender but dense beat for Alexis to wail to.
And wail she does.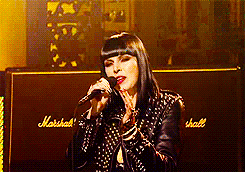 The track shifts from its mellow temperament as soon as the verse hits; the rhythm takes a staccato-turn, and Krauss only takes about a couple seconds to warm up her voice before she goes off. "It was never really meant to be, you and me," she sings with an obvious contempt. Her voice is loud; her voice is confident, and the energy coming from her vocals confirms what I suspected back when they released the first single off Kid Kruschev: Sleigh Bells is back, baby!!
Kid Kruschev is rapidly approaching, and it's sounding like Sleigh Bells' most dynamic release to date. Get ready for this, everyone.