BEST NEW TRACKS: DIVEO "HOVERBOARD (FEAT. AUSTIN CRUTE)"
by Calvin Paradise
1/14/15
It's 2015, and in case you haven't heard, we were supposed to have hoverboards by now.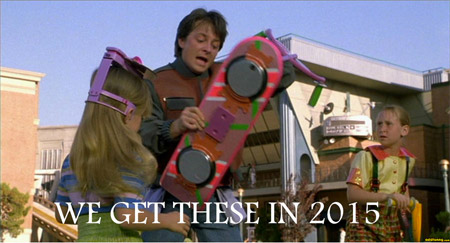 While we don't have that BAMF toy, we've got you covered here at Bitcandy, at least sonically speaking, with the best new track "Hoverboard (Featuring Austin Crute)" by Diveo.
Diveo is the moniker of 18 year old New Yorker Max Rosenzweig. The wunderkind in the making recruited Naomi Campbell-lookalike Austin Crute to provide vocals on this track. "Hoverboard" starts out innocently enough, sounding like a radio jingle for an actual overboard. Then it slowly morphs into an incredibly pleasant bit of R&B pop. And just when this lovely melodic beat is about to lull you into a state of eternal bliss, someone hits the manic button. It's hard to explain, but you'll know it when you hear it.
Stick with this one till the end if you know what's good for ya.
DIVEO "HOVERBOARD (FEAT. AUSTIN CRUTE)"
You can download Diveo "Hoverboard (Feat. Austin Crute)" for free on the above widget.
Thanks for stopping by Bitcandy, where we'd prefer an actual hoverboard, but this is a pretty good consolation.
About Calvin Paradise
Calvin Paradise manages to live a productive life despite a childhood of home schooling and suffering from what some doctors have called the worst case of Groucho Marx's Syndrome in recorded history.