BEST OF SXSW 2017 - FRIDAY
Photography by Christopher Chan
Today it hit us...SXSW 2017 is coming to an end. What at times felt like a never ending festivity flew by way too quick, we only have one day left! But we say the same thing every year. From what we've experienced, this time around has been far more mellow than previous years. For the first time in a long time we felt like we savored every beat, enjoyed every note, and already look forward to next year. But back to the present moment, Friday to us has been the best day of all. From the much talked about and anticipated must see act from indie band Spoon to some familiar sounds from Modern English, here are the highlights of the day and bands you should keep track of.
SPOON
Throughout our visits here at South by Southwest, Spoon's show was a first for us in the sense that we've never seen a crowd as big as the one we saw. It was the largest for sure for a Radio Day Stage performance. The Austin native rock band treated everyone to some new sounds that fans of new wave sounds would appreciate. For a taste of what you missed, you can check out their sound here, and be sure to check out their single, "Can I Sit Next To You," taken from their latest album, Hot Thoughts.
MOLLY BURCH
We caught another Austin native. Singer-songwriter Molly Burch can make anyone fall head over heels for her. Her signature country-pop style is what you did not know you needed. Her twang is the right amount of country to give her pop sensibilities a bad ass feel. Two key songs that were played during the show were "Try" and "Wrong for You." If you haven't had a chance to tune in, check out the singles on her Spotify page here.
IN THE VALLEY BELOW
Los Angeles band In The Valley Below made up of Jeffrey Jacob Mende and Angela Gail Mattson aren't Austin natives, but they were practically formed in Austin after bonding at SXSW in 2011. Fast forward to today, they now perform moody electronic pop that is perfect for Phil Collins' fans. Familiarize yourselves with their hit single, "Peaches."
MODERN ENGLISH
New wave band Modern English needs no introductions. But for you youngins, they're the one's behind that mega popular 80's song, "Melt With You." These guys didn't skip a beat and had everyone signing along to the lyrics, "I'll stop the world and melt with you / You've seen the difference and it's getting better all the time / There's nothing you and I won't do / I'll stop the world and melt with you."
CIARAN LAVERY
According to Zane Lowe, "This is the sound of a songwriter that is very comfortable in his own skin." From what we witnessed he was gravitating! Ciaran Lavery even had us feeling good about ourselves. Catch some good vibes and tune in to some of his music and let us know if you love him as much as we do.
HOOPS
HOOPS was one of the best performances of the day. Think of Wild Nothing, but with chiller vibes. The Lo-fi sounds were the perfect welcome to the warmer weather that lies ahead and was a perfect show to wind the week down. Here's a sneak peek of what we heard.
MOTHICA
Mothica is one to keep on your must watch list for 2017. She's had huge success with her music on the internet and charming the heck out of us. She performed some new tunes from her upcoming EP and left us wanting to hear more! Check out her singles here.
LVL UP
An ear full of guitar is what we got from LVL UP. It's fuzzy pop or poppy grunge but cooler. It's like a step back into the 90s with a coastal laid back feel. Check their sound out here.
CHARLOTTE CARDIN
The Canadian songstress Charlotte Cardin was one of those, "Oh shit, where did you come from?" moments. She's got an uncanny similarity to the late Amy Winehouse, so much it gave us the chills. Hear it for yourself.
RAG N BONE MAN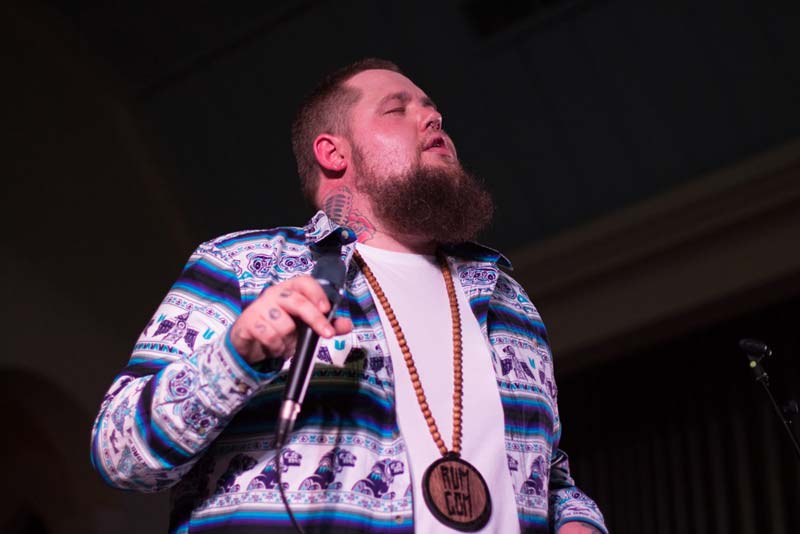 Another very much anticipated show was that of Rag N Bone Man, and he left us with our mouths shut. He was everything plus more than what we were expecting. Everyone including us begged for more than just a 20 minute set. Key song played: "Human,"  and also performed a cover of Bob Marley's "Is This Love."
-
Another day down, another sxsw music recap to bookmark. Tune in for tomorrow's SXSW Best of Saturday post.
About Beca Arredondo
Beca Arredondo is easily unamused with all things not related to her interests. On her good days you can catch her avoiding the California sun and glued to her Mac plotting the next big thing. If you happen to run into her on the street and notice her wearing headphones do NOT disturb her. She is not responsible for any possible damage. Aside from the above she's very sweet and perky and responds well to good music and food.