Enjoy A Happy Halloween With These Thriller Outtakes From Vincent Price & Michael Jackson
Thought you'd heard every Michael Jackson rarity in existence? Every b-side, every studio outtake, every unofficial remix? Well, we've dug out a special spooky treat from the vaults, here at We Are: The Guard, for your Halloween thrills & chills.
Michael Jackson's "Thriller," started its eerie half-life as "Starlight," written by songwriter Rod Temperton (with the original chorus of "This is Starlight/Starlight sun," if you care to completely re-imagine your childhood.) Temperton narrowed down the idea of the voiceover talking session to "somebody, a famous voice, in the horror genre."  Actress and model Peggy Lipton - who was married to Michael Jackson's producer Quincy Jones at the time - knew Vincent Price and suggested him for the role.
Appearing in over 90 movies over more than 50 years, Price was a consummate performer and professional, yet not impossible to surprise. Despite extensive voiceover and narration work, Price hadn't encountered studio headphones before. He nearly fell out of his chair, hearing the synthetic funk backing tracks for the first time. Despite needing a bit of coaching, Price absolutely murdered the sessions, requiring only two takes to record the infamous "rap."
It's fun to imagine Vincent Price being knocked off his feet by Quincy Jones' muscled funk productions and '80s synth sleaze. Everything about the "Thriller" sessions sounds like a low-key party, especially when listening back to these raw voiceover recordings. Michael Jackson records an intro, in his otherworldly high voice, with Vincent Price sounding positively ghoulish, but also like one of the coolest people you could ever hope to meet.
If you've been looking for an acapella of Vincent Price's "Thriller" voice over rap, look no further, as some generous spirit has uploaded these studio outtakes of Vincent Price and Michael Jackson goofing around. It's all business, when the fog begins to settle, as Price switches from a lighthearted jokester to a grim, grinning warlock in the beat of a batwing.
Best. Halloween. Party. Ever!
Now your's can be, too. We wish you a Happy Halloween and Day Of The Dead, here at We Are: The Guard. Happy Haunting!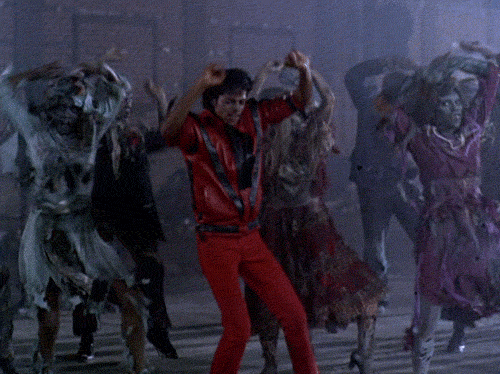 J. Simpson occupies the intersection between criticism, creativity, and academia. Based out of Portland, Or., he is the author of Forestpunk, an online journal/brand studying the traces of horror, supernatural, and the occult through music, fashion and culture. He plays in the dreamfolk band Meta-Pinnacle with his partner Lily H. Valentine, with whom he also co-founded Bitstar Productions, a visual arts collective focused on elevating Pop Culture to High Art.