FAVORITE INDIE POP: WEEK 10
If you are one of the unlucky human beings who happens to be confined to their house due to snow storms, we here at We Are: The Guard want you to know that we can not relate, but we still care for you, and you, and all of you. But hey, we've got something that will warm you right up, or at least distract for the next thirty minutes. By the end of today's top ten indie pop songs you'll be throwing out your onesies and reaching for your swimsuit (not really).
TILL IT'S OVER - ANDERSON .PAAK
Let me quickly correct myself, the proper title of the video starring FKA Twigs is HomePod — Welcome Home by Spike Jonze — Apple … but it was the only video I found for Anderson .Paak's latest single "'Till It's Over." Ignore the fact that it's a commercial for an Apple product and just enjoy the quirky dancing of FKA Twigs and the silky smooth beat of Anderson .Paak.
ROBOTAKI - LIMBO FEAT. SHOR
Ooooh, do you feel that? That's the hair rising on the back of your neck. Producer Robotaki enlists the vocals of Shor to deliver a sound soaked in dreamy synth waves featuring some pretty crazy ethereal vocals. This is audio therapy, so play it all day, errday.
KID INK - TELL SOMEBODY
There are times the music and the visuals just don't make sense. This is one of those times. Kid Ink's single "Tell Somebody" has the playful tropical beats that make us want to hit the replay button … but the message of the video is lost and clashes with the lyrics. I could go on, but whatever. A for effort.
EBEN - LAMBO
Hahahaha! Los Angeles singer EBEN has dropped what is my new anthem in life! "Lambo" is everything! I don't see anything wrong with crying in a Lambo versus a honda or at Target with an empty wallet.  Between EBEN's track and my current mental state a Lambo  is my ultimate priority. I am glad I am not alone in my feelings. Props to new commer EBEN!
TAYLOR BENNETT - MINIMUM WAGE
The talent runs strong in Chance The Rapper's family. The youngest of the Cole's starts off this week with a video for his single "Minimum Wage" directed by his other brother Cole Bennett and it freaking speaks the truth. Cole raps how his work is worth more than minimum wage and delivers it with a light hearted bouncy beat. Irony? Yes, it is. But hey major props to Taylor for trying to set himself apart from his brother.
DENM - SQUARE ONE
"Square One" comes at us fresh off DENM'S newest album Is Whatever and it's safe to say that the garage pop artist is well on his way to becoming a household name. DENM brings his blended vibes to show us a softer smoother side but keeps true to his character. In "Square One" we hear him bouncing back and forth between an acoustic clip to layers of dreamy synth filled melodies to house party beats. Is Whatever is available now.
JACK WHITE - OVER AND OVER AND OVER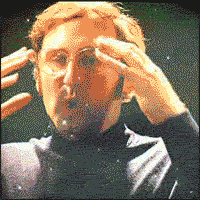 KING PRINCESS - 1950
Ladies and gents, you're going to want to keep King Princess on your artists to watch list, this is a star in the making. Mark Ronson's first signee is as refined as they come and that's because she's been perfecting herself since before she graduated junior high. The single "1950" is a pop treasure that resonates with queer love and engages with those who are suckers for  pop song about love.
SHY MARTIN - GOOD TOGETHER
The Swedish songstress SHY Martin marks her debut to the new generation of pop with her dazzling single "Good Togher." Though she's relatively new to the scene she's very well equipped as she's had a history of working with big name producers such as Kygo as well as The Chainsmokers. Her tight production of "Good Together" mark her to have success similar to that of Billie Eilish and Noah Cyrus.
THE NEIGHBOURHOOD - NERVOUS
We're wrapping up today's post with The Neighbourhoods' freshest single "Nervous." All you fans brace yourselves because their self titled full length album drops this Friday, March 9th.  
---
Thanks for stopping by, if you have a track to add to ur Best of Pop column, feel free to drop us your submissions here.
Photo by Tamara Menzi on Unsplash
Beca Arredondo is easily unamused with all things not related to her interests. On her good days you can catch her avoiding the California sun and glued to her Mac plotting the next big thing. If you happen to run into her on the street and notice her wearing headphones do NOT disturb her. She is not responsible for any possible damage. Aside from the above she's very sweet and perky and responds well to good music and food.