THE MUSIC LOVER'S GUIDE OF WHAT TO WATCH WHILE AVOIDING YOUR FAMILY THIS HOLIDAY SEASON: DOCUMENTARY EDITION
by Calvin Paradise
12/20/19
The Holiday Season is upon us and fully engorged with its commercialism onslaught ready to accost you anytime you leave the house or look at a screen for the next five weeks. This also means lots of traveling and excessive amounts of time spent with family and old friends with whom you will quickly run out of things to talk about.
Because of this, the holidays double as binge watch season. With that in mind, and as an extension of our work as a music filter, we decided to compile a list of the most interesting music documentaries to watch to avoid talking to your friends and family.
Documentaries are great for communal viewing because they're informative and offer up a series of open-ended questions you can debate with anyone instead of having a conversation of actual substance.
Here are some of our favorites.
WHAT HAPPENED, MISS SIMONE?
Nina Simone possessed one of the most legendary and iconic voices of all-time. She was a singular performer and talent who left an undeniable. mark on American culture and the country at large during the Civil Rights era. Then, at the height of her fame, she walked away from everything. Simone left her country, her career, and even her family to move to Liberia and give up performing.
Directed by Liz Garbus and consisting mainly of footage from autobiographical tapes, What Happened, Miss Simone? personalizes a mythical figure and attempts to answer the question of why she walked away from it all.
SOME KINDA MONSTER
An absolute must for every messy bitch who loves drama. Some Kinda Monster follows Metallica for nearly two years at the beginning of the millennium as they recorded St Anger. What was supposed to be a run of the mill documentary becomes a must-see trainwreck as tension and rising egos within the band lead them down a tailspin of self-destruction.
Watching this now it's genuinely amazing that the band stayed together, let alone is still touring and making music.
Rather than fighting with your kinfolk this year, just throw on this doc and let James Hetfield and the gang do the heavy lifting for you. 
SEARCHING FOR SUGAR MAN
Did you watch the trailer? Go ahead watch it, maybe even do so again, we'll wait.
Now you know there's almost nothing we could tell you about this film that wouldn't spoil it for you.
Just watch it and thank us later.
LONG STRANGE TRIP
Deadheads are the forefathers of the many obnoxious fan-bases who roam the earth in the present day. But that doesn't mean you should dismiss the music of The Grateful Dead, or the stunning film Amir Bar-Lev put together about them. In fact, you're likely to leave with a newfound respect for these smelly flapjacks in all tie-dye everything.
(PSA: There was also a fantastic cover album that was released in conjunction with the film.)
The best thing you can say about this movie is despite its lengthy runtime (two minutes shy of four hours) it flies by. Long Strange Trip hits most of the notes all music docs do, but the back half offers up a fascinating look at the burdens of fame and the intense, crypto-protestant devotion Deadheads feel towards the band.
A must watch even if you hate the smell of patchouli and roots rock.
JAZZ A FILM BY KEN BURNS
Ken Burns is an incredible filmmaker, but he is most certainly not a historian. Much like his deeply incurious look at the Vietnam War, JAZZ is rife with problems but compelling television nonetheless.
The 19-hour miniseries is educational and insightful, even if it starts with a faulty premise and comes to the wrong conclusions. This is kind of Ken Burn's thing because as alluded to above, the exact same thing could be said of his Vietnam doc.
While we're discussing jazz, let's pause for a quick anecdote.
Legends Miles Davis and John Coltrane were once playing together on a track when Coltrane, as he was wont to do, went into what Davis felt was an overindulgent solo. When the song ended Miles decided to call John out on this.
Davis: What the fuck was that all about?
Coltrane: Sorry, I didn't know how to stop.
Davis: Try taking the fucking horn out.  
THE CARTER
Have you ever been listening to some Lil Wayne bars and wondered "Just how high is this motherf****r?" Well buddy, have we got a documentary for you.
After the film's second showing at Sundance in 2009, Lil Wayne sued to block distribution of this film. It was released on DVD and iTunes but as of writing is currently barred from being sold or distributed. Don't worry though, dear reader, as there are plenty of bootleg versions available on the web.
The film follows Wayne shortly before and after the release of The Carter III and to say it does not paint him in a flattering light would be a tremendous understatement. It does have a lot to say about fame and addiction and how superhuman talent can momentarily overcome a crumbling personal ecosystem.
STOP MAKING SENSE
While technically a concert film, the difference between Stop Making Sense and the rest of the documentaries on this list is purely semantical. Shot over the course of four nights in December of 1983 at the Pantages Theater in Hollywood, the Jonathan Demme-directed film follows The Talking Heads as they toured in support of Speaking in Tongues. It also features a mesmerizing live performance.
Watch this if you want to begin to understand why The Talking Heads are such a big deal.
MISTAKEN FOR STRANGERS
Mistaken For Strangers is kinda hard to describe, but it's an absolute must see for any sibling who came in second in the race of life. The film follows The National during their 2010 tour and is made by Tom Berninger, the younger brother of the band's lead singer Matt Berninger.
More than a portrait an indie band on an atmospheric rise, Mistaken For Strangers examines sibling relationships, and yes, what it likes to be an underachiever when your older brother is a rock star.  
BONUS MUSIC MOVIES
While not documentaries or live concerts, here's three music-centric movies for you to check out:
BLUES BROTHERS
This movie is iconic for a reason, not just because it's one of the only good SNL movies. If you've never seen it, kindly ignore the trash trailer shown above. In the 80's people had yet to figure out that how you market your movie was important.
DANCER IN THE DARK
A deeply important film in that it allowed this to happen,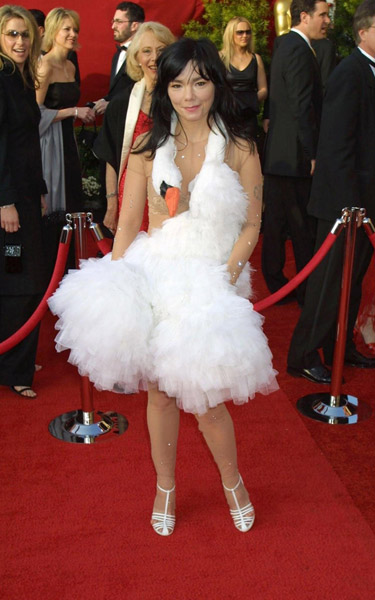 and produced what might be my favorite Bjork song (and maybe my favorite Thom Yorke song too.)
PURPLE RAIN
"He risked too much for the one thing that meant everything: His music," the trailer of Purple Rain tells us. This begs the question, what exactly is too much to risk for the one thing in your life that is worth everything? Isn't that what you should risk it all for?
Anyways, you should watch what is indisputably the best Prince movie.
Speaking of Prince, let's close by talking about the time he played the Super Bowl Halftime show in 2007. Along with being the very best performance in NFL history, it also gave us this wondrous story:
When the producers called Prince the morning of the game to let him know it was forecasted to rain during his performance his response was "Great, can you make it rain harder?"
We'll leave you with the complete medley he played that night in a torrential downpour. Enjoy the Holidays everyone.
Calvin Paradise is not any one thing. The half-hearted vagabond and forgetful luddite currently resides in Los Angeles and how he spends his time is none of your damned business.