NEW INDIE MUSIC - WEEK 35
Between Nicki Minaj's Twitter meltdown, Madonna's so-called "tribute" to Aretha Franklin, Post Malone's collaboration with Aerosmith, and his near-death experience the next morning, it's safe to say that it's been a CRAZY seven days in pop culture. And I haven't even MENTIONED Azealia Banks' screenshots showing her and Grimes discussing Elon Musk's Big Dick Energy! The simulation is officially glitching out, but at least we're getting some awesome songs out of it, right? RIGHT? Headphones at the ready, then, as it's time to check out this week's edition of We Are: The Guard's New Indie Music, featuring Interpol, Fucked Up, AURORA, and lots more.
-
INTERPOL – IF YOU REALLY LOVE NOTHING
On Friday, Interpol released Marauder, and to celebrate, the band have shared the video for the album's opening number "If You Really Love Nothing." The Hala Matar-directed clip is set in a dimly lit restaurant and stars Hollywood actress Kristen Stewart, who basically spends the entire five-minute visual doing whatever the fuck she wants (read: kissing boys and eating pasta), with the whole thing making for an incredibly stylish accompaniment to what might be one of Interpol's best offerings in years.
MADGE – IN TOO DEEP (SUM 41 COVER)
My inner 10-year-old is FREAKING THE FUCK OUT at this cover of Sum 41's "In Too Deep!" Okay, well, so is my outer 27-year-old, but I digress! Madge has completely won me over with this dreamy reinvention of the 2001 skate punk classic, with the Los Angeles enchantress taking the angst-soaked original and transforming it into a fantasy pop vision that's more sparkling than the night sky!
FUCKED UP – NORMAL PEOPLE
Fucked Up are back and sounding, well, more fucked up than ever on their latest single! Opening with Mike Haliechuk delivering a kind of spoken-word narrative, before Damian Abraham's signature growl enters alongside some skronking saxophones, "Normal People" is a truly surreal hardcore odyssey! And I haven't even MENTIONED the video, which should definitely be viewed with caution if you have a fear of clowns like I do!
BISHOP BRIGGS – BABY
Bishop Briggs pays tribute to the bad boys on her attitude-packed latest single. "My baby's got a fucked-up head/Doesn't matter 'cause he's so damn good in bed/Yeah he's still my baby/Yeah he's fuckin' crazy but he's still my baby," declares the Los Angeles singer-songwriter on "Baby," a brooding dark pop banger that hears Bishop channeling her inner Lana Del Rey (albeit without the internalized misogyny).
JADE BIRD – UH HUH
LITERALLY ME EVERY TIME THAT I HEAR THIS SONG: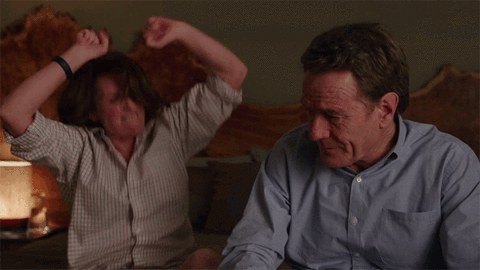 SWMRS – BERKELEY'S ON FIRE
While a lot of artists are happy to sit back and watch the world burn, Oakland's SWMRS aren't here to keep quiet about the current political situation on their latest single "Berkeley's on Fire," a snarling anti-fascist anthem that was inspired by the protests that happened at UC Berkeley in 2017 after the university announced an appearance by far-right commentator Milo Yiannopoulos. Oh, and can we also take a moment to appreciate the girl power on display in this Stanley Kalu-directed video? WE STAN WOKE LEGENDS!
GABRIEL BLACK – BEAUTIFUL LIFE
What I love the most about gabriel black is that he's able to take a dark subject matter like depression and turn it into something beautiful. Case in point: the aptly titled "beautiful life." The self-confessed "sad boy" isn't holding back on this cut from his recent debut EP of the same name, with gabriel juxtaposing lyrics about drug addiction and suicide against a playful Latin-esque beat that'll have you dancing through the pain.
AURORA – FORGOTTEN LOVE
Following on from the release of outsider anthem "Queendom," Norwegian warrior princess AURORA returns this August with another empowering call to arms. Starting out like a lush piano ballad before transforming into something far more bombastic come the chorus, "Forgotten Love" finds AURORA tapping into her inner Kate Bush as she sings about letting go of heartache: "If I am left with a rose in my hand, let it die/It's the beauty in forgotten love/And I don't care if you don't understand why I cry/It's the beauty in forgotten love."
COL3TRANE – BRITNEY
There's nobody making forward-thinking R&B bops quite like Col3trane. No, really, after months of teasing, the British artist is finally showing us his full potential on his latest single "Britney," a psychedelically cerebral exploration of time that hears the 19-year-old making reference to everything from astrology ("Was a Pisces holding an ankh/Now I got a sprain by the tat on my ankle"), to the gonzo journalism of Hunter S. Thompson's Fear and Loathing in Las Vegas ("I could get lost up in bat country/Spin out the shark and lose my funds, yeah").
BARNS COURTNEY – 99
Concluding this week with We Are: The Guard favorite Barns Courtney, who's taking us back to better times on his playful latest single "99." "This is the first song where I've ever been able to inject my true personality. I was born in England and grew up in suburban Seattle playing video games and watching Pokémon," says the throaty rocker of "99," a nostalgic ode to childhood that reflects on the joys of growing up in the 90s, or as I prefer to call it, "the decade before everything went to shit."
-
Until next Monday, follow We Are: The Guard's Best Indie Daily! on Spotify for lots more! x
Photo by Max Felner on Unsplash
Jess Grant is a frustrated writer hailing from London, England. When she isn't tasked with disentangling her thoughts from her brain and putting them on paper, Jess can generally be found listening to The Beatles, or cooking vegetarian food.