SXSW 2016: BEST ARTISTS DAY 1
Photography by Christopher Chan for BitCandy
Who ever said SXSW was dead for music was DEAD wrong. That person obviously has never attended SXSW because everywhere we turn we have discover a new artist, a new sound, and there is always plenty of fresh entertainment. From street musicians to big name acts, the place to be is here, and the place to uncover new talent is on this post. There is so much passion and excitement floating around on day one of our live coverage here in Austin,Texas and today we bring you some of the best surprises of our fine Tuesday. Have a listen below and discover what possibly could be your next favorite artist.
CHARLES RANGEL
As we made our way through the crowds, we made a brief stop at the Interactive Trade Show where we came across Charles Rangel, an artist with crazy talent for music and super entertaining to watch when playing the guitar. There are some people who believe that the tap and slap routine is lazy, but coming from somebody who doesn't even know how to hold a guitar (me), Rangel's sound was wicked. Check out the clip below provided by Taylor guitar.
https://www.facebook.com/taylorguitars/videos/10153997779977232/
CHVRCHES DJ SET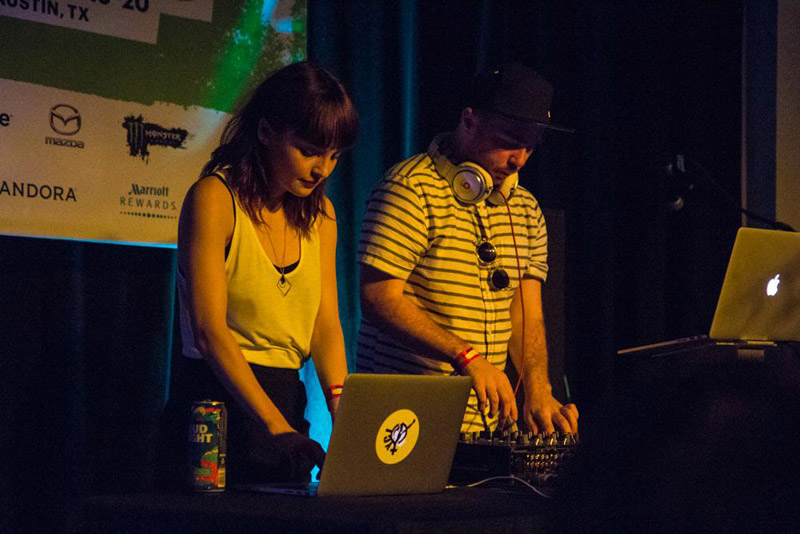 Over at Maggie Mae's we shuffled our way into the SXSW Music Opening Party where we caught CHVRCHES Dj set. It was super laid back and a bit uneventful. We expected to hear some of their originals, but instead the trio delivered some Hudson Mohawke and Beastie Boys. Lauren Mayberry was adorable, but that's pretty much about it. Perhaps it was a good thing that Tuesday night began on a chill note, after all we do have 5 more days ahead of us.
HAR MAR SUPERSTAR
With so many things going on at SXSW people, security, technical issues can be a bit hard to control. Singer Shawn Tillman a.k.a. Har Mar and his band were the first ones we knew about who experienced some issues. Their equipment had been tampered with and the keyboard was no good. The dude was pissed and let everyone at Maggie Mae know of his anger. The band played one song and left the stage as soon as Har Mar finished his last word. A bit shitty for the audience, but shittier for the band. R.I.P. Keyboard. And Har Mar we feel for you.
ANAMANAGUCHI DJ SET
We bounced Maggie Mae's before boredom got the best of us and jolted back to life with Anamanaguchi's Dj Set at Cheer Up Charlie's. These guys brought on the fun good vibes with their glitchy take on bubble gum/k- pop. Their music is super contagious and bound to draw new fans into their dream world. Familiarize yourselves with their sound before their heavily Tokyo influenced album drops later this year.
OH MY MUU
Oh My Mum was a real surprise. During his set we tried searching through our phones for more info on him, but could not get our hands on anything! We need more info on this guy. Who is he? Where is he from? And why is it so dang hard to find him on the internet? Is he half Dj half spy?! So many questions and not enough answers, but then I realized his name is Oh My Muu and all questions were answered. We were obviously dehydrated. Anyways, the producer's material is a real dream, super thoughtful, and will prove to be refreshing to your ears. Here's a little something from the Los Angeles producer:
WHITE BIKINI
Dream like beats galore. The ambient tone continued with Colorado producer White Bikini, who played a set that was chill as f--k with chaotic fuzzy surprises. Coming into the scene back in 2014 white his debut album "Omni" and following through with a few singles last year, White Bikini sounds promising if he can continue with consistent releases.  Perhaps this is the start of something bigger???
WEDNESDAY CAMPANELLA
The Japanese trio, Wednesday Campanella was super fun to watch. Singer Komuai tossed herself into the crowd inside a giant plastic bubble but never missed a note. The entire audience was eating up their high energy performance. They ended their set leaving us feeling inspired and hungry for more Wednesday Campanella. For us, these guys have marked their spot as one of the top Japanese acts to follow. Here's a clip that YouTuber Boomtown recorded of last night's performance.
STILL CORNERS
Still Corners creates the kind of dark pop that pulls you into your own personal twilight zone. Tessa Murray's vocals are dangerously spellbinding and the synth work is delicious and just flows so right. Their performance was eerily beautiful and many loved it. The duo is said to be working on their third LP and we're hoping it's as dark as their current material.
BIG BOI
Our night ended at the SXSW Interactive Closing Party presented by Media Temple at Stubb's where Big Boi gave us a performance to remember. He came out and blew our expectations mainly because we had no idea what to expect since it was our first time seeing him live. His set included Outkast hits as well as his own original pieces. It was non stop singing and bouncing that left us starving for food  by the end of the performance. #bigboistheshit
-
Our night ended with a massive mac n' cheese topped hot dog and a couple cold ones. If you were unable to make it out to SXSW this year, just keep it locked here where we will continue our adventure all throughout the week, where we will be bringing you the best pictures and most memorable performances.
About Beca Arredondo
Beca Arredondo is easily unamused with all things not related to her interests. On her good days you can catch her avoiding the California sun and glued to her Mac plotting the next big thing. If you happen to run into her on the street and notice her wearing headphones do NOT disturb her. She is not responsible for any possible damage. Aside from the above she's very sweet and perky and responds well to good music and food.