TOP CHILL SONGS - WEEK 50
With 11 days and counting until December 25th, time is swiftly running out to finish up the last of your Christmas shopping.
Stress levels are getting higher, and tempting as it is to collapse into a blubbering mess of whiskey eggnog and Amazon packages, We Are: The Guard is here to help you make it through what's left of the holiday season with the latest edition of Top Chill Songs.
Before you start on the dreaded gift wrapping this weekend, then, why not take a moment to relax and unwind this Friday with the following dose of chill vibes from Ella Vos, Tourist, Usher and Zaytoven, Japanese Wallpaper, Parra for Cuva, and more?!
-
ELLA VOS – OCEAN
Ella Vos embraces her inner strength on her exceptional new single "Ocean."
The Los Angeles artist wrote the song after she was diagnosed with and successfully treated for lymphoma earlier this year, with Ella emerging from the life-threatening diagnosis like a force of nature parting the treacherous waves. "At times, I like to imagine myself as an ocean. The ocean is beautiful; it is beautiful when it is gentle, and it's beautiful when it's strong," says the We Are: The Guard favorite. Listen.
TOURIST – HEARTS
GRAMMY Award-winning producer Tourist replicates the sound of multiple hearts beating as one on his new single and the follow-up to "Apollo."
Listen as several layers of rhythm and melody gradually combine into a singular vibrating energy source on the four-and-a-half-minute instrumental, which is up there with Tourist's most dexterously and purposefully crafted compositions to date.
JNR WILLIAMS – WHAT A DIFFERENCE (DINAH WASHINGTON COVER)
Once in a while, a voice comes along that completely stops you in your tracks. Case in point: JNR Williams.
The rising British artist has utterly taken my breath away with this cover of Dinah Washington's "What a Diff'Rence a Day Made," which hears JNR putting a soulful minor-key spin on the 50s classic, with the candlelit piano arrangement allowing his Sampha-esque vocals to truly shine.
GINEVRA – FOREST
Italy's GINEVRA gets back to nature on her enchanting debut single "Forest."
It's hard not to picture fairies dancing on leaves and trolls hiding under bridges listening to this magical piece of avant-folk, which was inspired by GINEVRA's hometown of Turin: "I tried to recreate the smell and the colors of a forest because they always made me feel good, and I needed to feel safe again after a broken love."
USHER & ZAYTOVEN – PEACE SIGN
Jacquees: I'm the king of R&B.
Usher: Hold my beer.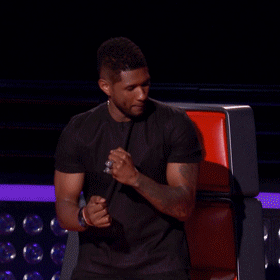 EMAN8 – HAVE YOURSELF A MERRY LITTLE CHRISTMAS (JUDY GARLAND COVER)
He's going by a different name to what he was this time last year, but one thing that hasn't changed is just how swoon-worthy Brandyn Burnette – or, as he's now called, EMAN8 – sounds on this cover of "Have Yourself a Merry Little Christmas."
Featured on We Are: The Guard's Christmas compilation album Indie Christmas – which we originally released in 2017 – this jazzy take on the Judy Garland classic is the perfect song for you and your bae to snuggle up by the fireside to this holiday season.
KELSEY BULKIN – SAMSARA
"How can we ever be completely detached and still survive here?"
That's the question that Kelsey Bulkin finds herself asking on "Samsara," Sanskrit for "flowing on" or "passing through." Whether she comes up with an answer is ultimately down to you to decide, but the former Made in Heights frontwoman is most definitely speaking to my spiritual side with this mindful electronic production.
YOUR SMITH – BAD HABIT (JAPANESE WALLPAPER REMIX)
That moment when one of your favorite producers of 2018 remixes one of your favorite singer-songwriters of 2018.
With Your Smith's aching sigh of a vocal no longer coming backed by electronic pianos, but Japanese Wallpaper's signature percolating beats, this reinvention of the previously featured "Your Habit" is everything that I hoped it'd be and more.
JAKOBEE (FEAT. BONITOBOY) – DREAM GIRL
There's very little that I can tell you about Jakobee and Bonitoboy, but it really doesn't matter because the San Antonio artists are letting the music speak for itself on "Dream Girl."
Clocking in at just under three minutes, "Dream Girl" is a slacker pop fantasy that's nothing short of hypnotic, with lovelorn vocals and Mac DeMarco guitars coming together to create a captivating reverie atmosphere that you'll want to remain in for days.
PARRA FOR CUVA – PASPATOU
If you're like me and tend to listen to music as a means of escape, then prepare to be taken far, far away by Parra for Cuva's "Paspatou."
The song hears the German producer continuing to deliver on the electronic melancholy, with Nicolas Demuth combining stunning vocal samples with digitally programmed beats in order to provide us with four and a half minutes of relief from the state of reality.
-
Until next time, why not follow We Are: The Guard's Best Chill Daily! on Spotify for more?! x
Photo by Cody Black on Unsplash
Jess Grant is a frustrated writer hailing from London, England. When she isn't tasked with disentangling her thoughts from her brain and putting them on paper, Jess can generally be found listening to The Beatles, or cooking vegetarian food.