TOP INDIE CHILL - WEEK 51 PART 2 2014
We are now smack dab in the middle of the holiday craziness—Hanukkah is here, Christmas is almost here, and people are getting drunk on holiday spirit (or in my case, boxed wine and a popcorn tin from CVS #classy). So now more than ever you're in need of some awesomely chill tracks to help keep you sane and festive for the remainder of 2014. We have tracks from All Things Lost, Lance Neptune, an awesome Slow Magic remix from Andrea, and more! So read on to discover everything you need to help keep you going this December.
SUBLAB - LAST TIME I SAW YOU
There isn't much information about the mysterious producer Sublab, but after hearing "Last Time I Saw You," it's clear that they know how to make some seriously beautiful stuff. There is a repetitive (but fantastic) piano part that carries the track from beginning to end, as well as subtle electronic elements that change throughout. At one point you faintly hear (what sounds like) the sound of rain, which is the perfect way to top off this mellow track.
VERA - LATCH (DISCLOSURE COVER)
Canadian musician Vera delivers a chilling and slowed down cover of Disclosure's hit single, "Latch." Featuring nothing but softly played piano notes and smokey female vocals for the majority of the track, the moody blast of electronic elements after the 3:30 mark brings the track to a climax.
ALL THINGS LOST - CLOUDS
The 19 year old Australian producer, All Things Lost, takes you on a bubbly journey with his latest track, "Clouds." The track features an overall sparse vibe with subtle electronic elements (like some awesome bloops) and a simple beat that lay under soothing vocal parts. It's simply a gorgeous and very well done track you'll totally fall in love with.
TOM MISCH & CARMODY - WITH YOU
From Tom Misch and Carmody's upcoming collaborative EP, Out To Sea, comes the relaxed yet grooving track, "With You." Featuring softly plucked electric guitar chords, a smooth R&B beat, smokey vocals and a bass line that weaves itself in and out, the track has everything needed to create the perfect chill out song.
CLEVELAND - FLARES
Electronic duo, Cleveland, will definitely grab your attention with their latest track, "Flare." For a relatively mellow song, there is a lot going on in this track (and it's awesome!)—From a skittering drum machine beat, piano, guitar notes and soft atmospherics, it's a solid track that's packed with feeling which keeps things interesting throughout.
MOLLY ONASSIS III - IS THIS REAL?
London's Molly Onassis III gets things chillingly mellow with her haunting track, "Is This Real?" Featuring a subtle beat, piano notes, guitar, and soft atmospherics to round things out, it's a wonderfully mellow track that will make you want to hear the rest of her material. She sings so whispery soft that you'll have to concentrate to hear her eerie vocals, which compliments the track's vibe perfectly.
LEO KALYAN - FULL CIRCLE
Things get totally hypnotizing on British artist Leo Kalyan's latest track, "Full Circle." Featuring dizzying and swelling electronic elements, echoey beats, and smokey smooth vocals, it really is a super captivating (nearly) 5 minutes that will keep you coming back for more.
SLOW MAGIC - HOLD STILL (ANDREA REMIX)
Andrea gives Slow Magic's synth-filled single, "Hold Still," a nice melancholy make over with his remix of the relatively uplifting track. Andrea adds a quirky electronic beat and turns the original's jazzy piano part into a gloomy far away sounding outro that sounds as if you're listening underwater. It's an awesomely spooky take on the original that will make it hard to decide which version you enjoy more (not that you have to choose, of course).
LANCE NEPTUNE - EUROTER-3
Today we end things on a magical and spacey note with Maryland-based atmospheric producer, Lance Neptune (even his name is spacey!). His latest track, "Euroter-3" features everything from wobbly electronic elements, tropical-sounding percussion, bright swelling synths, and warm atmospherics that sound like your stuck in a rain forest in outer space. It's an amazing track that will immediately have you exploring the rest of his material.
-
So there you have it—an awesomely chill list of tracks that should help you stay calm during the holidays. See you next time!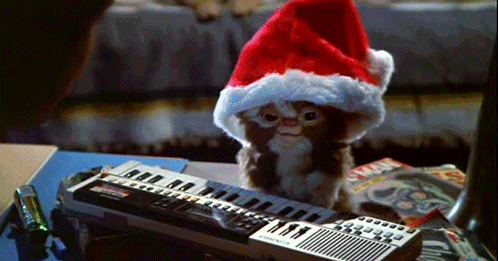 About Erin Crider
Erin Crider eats, breathes, and sleeps pop culture. If you have a question about a one-hit wonder from the '90s or need help remembering lines from a SNL skit, she's your girl. When she isn't lurking the internet, she's either going to a show or hanging out at Disneyland. Erin lives in Southern California and has a B.A. in Creative Writing from Cal State Long Beach.