TOP INDIE SONGS - WEEK 43
It's been a non-stop seven days here at We Are: The Guard, with us bringing you everything from the 10 Songs That Are Perfect for Your Halloween Party, to the Top 7 Upcoming Music Festivals That Should Be on Your Radar, not to mention a tonne of awesome tracks! Don't think for a second, however, that we're planning on slowing down this week. October 31st is fast-approaching, and it's our role to protect you from the spooky music that haunts much of the blogosphere this time of year. It's what we pride ourselves on, after all: Listening to monstrosities so that you don't have to! Feel free to compensate us for our efforts by sending an unlimited supply of candy corn and Pumpkin Spice Lattes. Here are the Top Indie Songs of Week 43 from MGMT, Toro y Moi, St. Vincent, Matt Maltese, Kan Wakan, and five other favorites.
-
MGMT – LITTLE DARK AGE
Four years on from their self-titled third album, and a decade on from their debut record Oracular Spectacular (feeling old yet?!), MGMT have unveiled "Little Dark Age," the title track from their forthcoming fourth album of the same name. Andrew VanWyngarden delivers Gary Numan-indebted melodrama over zig-zagging synth arpeggios on the eerie gothic pop groove, which We Are: The Guard is very much here for. The Nathaniel Axel and David MacNutt-directed video, meanwhile, is equally strange, with VanWyngarden sporting a backcomb reminiscent of Robert Smith while several characters, including New Zealand oddity Connan Mockasin, get up to all sorts of bizarre escapades around him.
THE MARÍAS – DÉJATE LLEVAR
Summer may be a distant memory, but The Marías – the love child of Puerto Rican singer María Zardoya and Los Angeles producer Josh Conway – are keeping the spirit alive with their nostalgia-inducing latest single "Déjate Llevar." Featured on their forthcoming debut EP Superclean Vol. I, it's an overexposed Polaroid dream of a song, with Zardoya's Spanish lilt coming set against a sun-kissed expanse of 70s-tinged psychedelic soul. Directed by Mimi Raver, the video is also worth a watch, with the halcyonic shots of the band enjoying a lazy day by the pool warming us up from the inside out.
TORO Y MOI – YOU AND I (LIVE)
He recently released what he called his "most personal work to date," Boo Boo, and this week, Toro y Moi continues to let his guard down with this live version of "You and I." While the original was a synth-soaked surge that felt as though it was reaching for the heavens, this take – filmed at Company Studios – finds Toro y Moi sat at a piano, with the stripped-back arrangement allowing the focus to fall on those lyrics about that devastating moment when you realize that a relationship is coming to an end: "Just to summarize, I don't think we're done with all the issues/I don't think it's me, I don't think it's you, it's the universe/I can feel a change coming over us and it's gonna hurt." Tissues, anyone?!
LOU THE HUMAN – BORN
Lou the Human brings some much-needed fresh blood to the hip hop game with Humaniac. Building on previous cuts like "Brink" and "Slim Buddha," the 10-song collection is an incisive debut from the deranged Staten Island rapper, with perhaps the best moment coming in the form of "Born." Featuring Lou the Human delivering his ever-twisted bars over a dark, piano-driven beat, it's a song that once again demands comparisons to Eminem, with the 21-year-old even referencing Slim in the third verse: "Your rhyming petty, get ate up and thrown up, like Mom's spaghetti in 8 Mile when Rabbit was kinda scaredy."
ST. VINCENT – MASSEDUCTION
MASSEDUCTION, the fifth album from art rock savant St. Vincent, is a record that moves from the kinky to the unspeakably sad, with both themes colliding on the skronking title track. Described as the "thesis for the album," the song finds Annie Clark lamenting "I can't turn off what turns me on" over a spread of Prince-esque robotic funk, with Clark continuing to blur the lines between pain and pleasure as she repeats the phrases "mass seduction" and "mass destruction" to the point of indistinguishability.
FOREST BLAKK – LOVE ME
Once in a while, a song comes along that completely stops you in your tracks. Case in point: "Love Me" by Forest Blakk. The debut single from the Montreal artist is a truly heart-rending tale about lost love, with Blakk – who credits music for saving him from a life on the streets – referring to this tender acoustic-driven sound as "urban folk." "'Love Me' is personal, it is real," he reveals to Ones to Watch. "It was the minute she asked me to either love her or let her go, and having to make one of the hardest decisions of my life. I let her go even though I loved her, because I knew her heart was never really mine to hold."
MATT MALTESE – COMIC LIFE
Matt Maltese's "Comic Life" is tragic. The follow-up to Blood, Sweat, and Beers is a contemplation of the absurdity of human existence in the same vein as Father John Misty's Pure Comedy, with the "Brexit pop" balladeer's evocative baritone and incisive songwriting coming together to paint a picture of absolute despair. "It's about those pathetic moments when your life seems like one big sitcom," reveals the London crooner in a press release. "Moments when you don't want to leave the house, you want another drink, you want to whine, and, in my case, write another sad song."
KAN WAKAN – TUESDAY
Ahead of the release of his much-anticipated triple album Phantasmagoria, Los Angeles producer Gueorgui Linev, who records as Kan Wakan, has shared the magical "Tuesday." A collaboration with vocalist Rachel Fannan and guitarist Avi Buffalo, it's an autumnal stroll through an enchanted forest that's home to the kind of creatures thought up between the pages of fantasy novels, with Fannan weaving her folk-indebted pipes around charming strings courtesy of Sofia Philharmonic Orchestra.
BUTTER – LIFTED
We Are: The Guard's very own Butter follows up her cover of Palmistry's "Lifted" with perhaps the most GIFtastic video of all time! No, really – check out some of our favorite clips from the Danin Jacquay-directed visual here!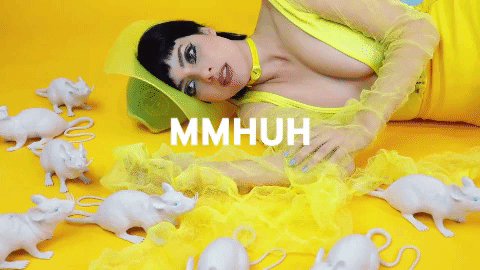 AUÐUR – I'D LOVE
Having cut his teeth in the Icelandic hardcore scene, Reykjavík native Auður proceeds to sink them into something more electronic-based on his erotic latest single. Produced by Auður alongside Selfir, "I'd Love" is perhaps best described as an oversexed James Blake. Combining Auður's titillating vocals ("I'd love to get to know ya/Open your chest and let's explore") with a baby-making mixture of R&B beats and flamenco guitars, it's a song that deserves a prime place on all bedroom mixtapes.
-
Until next week! x
Photo by Jake Lorefice on Unsplash
Jess Grant is a frustrated writer hailing from London, England. When she isn't tasked with disentangling her thoughts from her brain and putting them on paper, Jess can generally be found listening to The Beatles, or cooking vegetarian food.