WATG: BLACK FRIDAY SALE BUY ONE BLOG POST, GET ONE FREE
Happy Holidays from all of us here at We Are: The Guard!
Hope your turkey was stuffed and your stuffing was fantastic.
But now it's Black Friday and I'm going to need you to forget that kumbaya I'm thankful for blah blah blah bullshit. Celebrating with family is for cowards, we all know the real holiday spirit comes from how much money you can throw around the day afterwards. Hope you got your shopping boots ready because they've got the Nintendo Switch for a fucking dollar fifty, not to mention official Pokemon stuffed animals for six of your tears, and one single 57" 4K Flatscreen TV for just the price of one box of Kashi cereal. Go ahead and line-up at Wal-Mart, Best Buy, wherever you do your shopping.
If you don't crush at least one skull this week did you even celebrate? We'll be at home sipping whiskey-ciders and pumping out music based content for you, the fans.   
Or maybe you're just saving your wild reckless shopping abandon for Cyber Monday? That's cool too. Apparently, the first 100 people to log on to www.paypalscam.net get year-long Spotify memberships for just 1 cent. With all the hot deals going on at Amazon it's like they're selling their employees out-- I mean, selling a whole bunch of products for a small amount of money-- one directly comparable to how little their employees get paid (yikes!)
And then there's us! We're getting on the action!
Shopping this time of year can be an absolute nightmare, so we thought it would be nice if your favorite website (We Are: the Guard, duh) got in on the deals to make your life / holiday shopping a little easier. Don't know what to get Hipster Harry or Indie Ingrid? No worries, we're here to help. Hop on over to loophttp-colon-slash-slash-www-dot-we-are-the-guard-dot-com (www.wearetheguard.com) for all your sick sale shopping services.
THIS WEEK ONLY: Black Friday through Cyber Monday all blogs will officially be BUY ONE GET ONE FREE. You heard it right! Buy one of our excellent pieces of internet content and you get a whole different hot take for $0.00.
Here's one: Purchase Q: Is Anderson .Paak an Underwhelm? And get Independent Committee Confirms DJ Khaled Not the Best Music for FREE.
OOO, what about this Best New Music Post on Action Bronson for NOTHING if you buy Jay-Z Buys Smuckers so He Can Be The J in PBJ. Now that's what I call a bargain!
Take a peak at our (very early) 2019 Coachella Predictions and get our 2018, 2017 or 2016 highlights for literally a click of the mouse. 
Oh hmm ... Turns out all these articles are ones I wrote. No, this totally isn't a shameless plug for my own work. Okay, fine, who cares if it is! Don't judge me! It's lonely during the holidays! I need validation! 
Okay, back to your normally programmed Thanksgiving programming.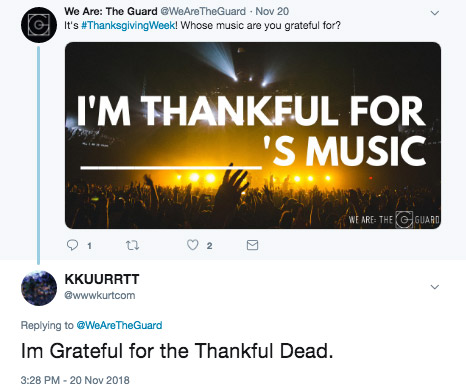 [Image labeled for reuse with modification.]
From deep within the murky depths of the Los Angeles River emerged a creature: 50% raver, 50% comedian, 10% Robotcop. Kurt Kroeber doesn't own a dog, operates Soundbleed (the world's only dance party comedy talk show rave), and is down to party with you. Come up some time and say "Hey dude!" But definitely make sure to casually drop the secret Illuminati password.