WORST VOCAL FAILS
There's only one thing people love more than awesome live performances, and that's watching celebrities put on hilariously awful ones. We've compiled a list of some of the most entertaining and memorable vocal fails that will have you cringing with embarrassment in no time. So grab some popcorn and get ready to relive some of the best (or should I say worst?) bad performances ever. 
LANA DEL REY- "BLUE JEANS" ON SNL
I was pretty obsessed with Lana Del Rey when this infamous SNL performance aired, so I was cringing pretty hard while watching this mess unfold. First of all, what is up with her voice? I think she even gets possessed by Shakira at the 1:50 mark, and then ends things with a weird attempt at the ending hi-note. Thankfully my girl redeemed herself on later performances, but it didn't prevent us from making a Hitler Reacts to Lana Del Rey video.
JOHN NEWMAN - "LOVE ME AGAIN"
I don't even know where to start with John Newman's nasally performance of "Love Me Again." I think I heard a few Eddie Vedder impressions in there? And what is going on right around the :38 seconds and the 2:00 mark? Basically, you can skip to any point in this video and experience some totally fucked vocals in this take. But then again...isn't that tone what makes John an awesome singer?
LINDA MCCARTNEY
We're taking it back a bit with this one — But it shows that ever since pop music has been a thing, so have train wreck performances. Maybe Paul was just trying to be nice by letting her share the stage for a bit, or he simply wanted to piss off his band mates, but it seems like Linda McCartney had a real hard time with the whole performing thing (especially around the 2:27 mark when she sounds like the drunk girl standing next to you at a concert). 
ENRIQUE IGLESIAS
Okay, so there is some debate on whether or not this is real, but I have a feeling it's totally legit. If you're listening with headphones, maybe turn down the volume a bit because it's pretty rough on the ears right from the start. There is no way that he could have heard himself during this performance because wow — it's real bad. That, or often what happens is pop stars do a lip sync performance but still sing along not caring what's coming through the microphone, because their live vocal is never making it to the "front of house." Nonetheless, we get the chance to enjoy the consequences. 
ASHLEE SIMPSON - SNL
And how could we not mention Ashlee Simpson's epic fail of a SNL performance? The jig she does at the 0:12 mark is simply brilliant, until finally just walking off stage all together. I love how she had the audacity to blame her band at the end of the episode, before later saying it was her acid reflux acting up again so she had to lip synch. Whatever the reason was, it's a classic TV moment that will live on in the hearts of pop culture junkies, like myself, forever. 
ASHLEE SIMPSON - BOOED AT THE ORANGE BOWL
Sorry to pick on ya Ashlee. This was touted to be "the" live performance of Ashlee career after the SNL debacle ... to show that she REALLY could sing live! The results kinda put the nail in the coffin for her career. At least the Orange Bowl fans thought so. I also love the guitar and bass players "pretending" to be rock stars with their amp'd up fake moves. 
O-TOWN - "LIQUID DREAMS"
Looking back, the early 2000's were a really strange and dark time when it came to pop music. People still cared about riding what was left of the boy band fad, and MTV created the mess that was O-Town on their reality show, Making The Band. When the guys performed live on Miss America, the only thing worse than their spikey hair and denim was their vocals. Things don't get particularly bad until the 0:53 mark, when they all begin to struggle to harmonize and fail. Badly.
KATY PERRY - "FIREWORK"
"Firework" may have been a huge song for Katy Perry, but the girl could not hit those notes in any of her live performances of the song. The first mistake was opening the performance with a professional boys choir, which only highlights the struggle that comes next. Right after the 0:50 mark, Katy drops down and screeches over the angelic vocals under her, leaving viewers cringing and uncomfortable. 
BRITNEY SPEARS FEAT. NICKI MINAJ- "TIL THE WORLD ENDS"
First, let me start off by saying that I have always loved Britney, but I understand that she doesn't exactly pull off the whole "live" thing. Once you get past the awful Nicki Minaj opening (seriously though— how did they allow this to be the official remix? The 0:18 mark especially...really, is Nicki trying to have a bowel movement on stage?), it is clear as day that Britney is not even trying to mime the words. Things get pretty messy at the 1:10 mark when Britney focuses her attention on walking down some stairs instead of mouthing along to the track.
CASSIE - "ME & U"
It's clear from the beginning that Cassie's BET performance of her hit, "Me & U," was going to be one hell of a mess. Even the backup singers sound awful. When the DJ tries to get the crowd hyped by saying "you know the words!" at the 1:23 mark, it's like he was trying anything he could to save the mess of a show.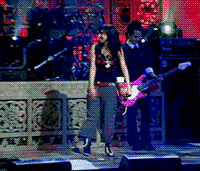 About Erin Crider
Erin Crider eats, breathes, and sleeps pop culture. If you have a question about a one-hit wonder from the '90s or need help remembering lines from a SNL skit, she's your girl. When she isn't lurking the internet, she's either going to a show or hanging out at Disneyland. Erin lives in Southern California and has a B.A. in Creative Writing from Cal State Long Beach.