10 INSTAGRAM MOMENTS: LADY GAGA'S TATTOO WAS GOING TO BE A FAIL
If anyone here deserves a Ph.D. certificate it is me and you because if you are here reading this column then I know for sure that you've invested as much time, if not more, like me in extensive research and studying of the lives of famous musicians on Instagram. You and I both know it's hard work to accomplish a list full of tender sweet moments. And all for what?! For self-satisfaction. Muahahaha. So how about we put our white lab coats on and get started in a recap of ten of our most favorite Instagram Moments from the week.
PINK SWEATS
Pfftttt. Pink Sweat$ making all of us look bad this Valentine's Day. I mean who can top an original freestyle created on the fly? Sure trumps the chocolate covered cherries and the refilled hotel mini bottles I gave to bea.
MILEY CYRUS
For as much as I love and write and praise Miley Cyrus, I feel kind of hurt for not being invited to her private wedding. C'est la vie I suppose, but at least we get to share the sweet moment of her and hubby Liam with this mega adorable picture! May their love be as real as my love for Cheetos.
ALICIA KEYS
Alicia Keys is parenting goals. Wait … no … Alicia Keys is goals.
LADY GAGA
This genius tattoo was almost a tatto-ops. See what I did there?! Can you guess what the notes spell out? I'll give you guys a clue, it is meant to be read in treble.
Answer: GAGA.
DOLLY PARTON
This hot legendary lady is seriously thinking about collaborating with mega sensation group BTS! This would be the most lit thing to happen in 2019. I'm starting a petition now and need 500 signatures before I can send to Dolly Parton.
CARDI B MAMA
Cardi B is one of my daily go-to Instagram accounts. I always expect to see something hilarious or scandalous but to see this clip of Kuture saying M-A-M-A is the absolute bestest post ever.
MADONNA HAPPY
 

 

 

View this post on Instagram
The immortal and ageless Madonna gets into holiday spirit with the help of her back up dancers in training. Love you back Madge!
KELSY KARTER
 

 

 

View this post on Instagram
This woman is straight up cray cray.Kelsy Karter scares me in a good way, kind of like Stockholm syndrom...you know it's wrong, but it feels so right.
ARIANA GRANDE
 

 

 

View this post on Instagram
Ring, ring.
Hello? Oh, I'm sorry, but Ariana Grande is too busy to come to the Grammy's right now, she's out playing with Myrone.
Thank you, next.
DILLON FRANCIS
Dillon Francis is a beast. He's a living, walking, breathing dance machine. In another world, if he were not a producer he would be traveling the world dancing on stages and have his own dance show on the TLC channel.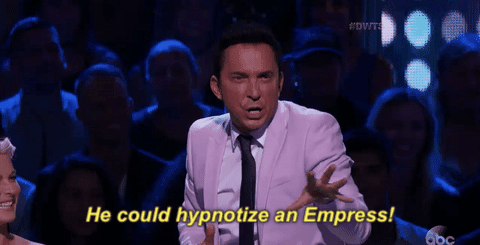 And that's all the time we have for now. Join us again next week as we dissect more Instagram posts.
Beca Arredondo is easily unamused with all things not related to her interests. On her good days you can catch her avoiding the California sun and glued to her Mac plotting the next big thing. If you happen to run into her on the street and notice her wearing headphones do NOT disturb her. She is not responsible for any possible damage. Aside from the above she's very sweet and perky and responds well to good music and food.