10 MUSICIANS WHO WORKED REGULAR JOBS
We typically think that everyone who's famous found success quite easy -- which is far from the truth. Like most things that start off as hobbies, art does not typically pay the bills right away. It does not become a full fledged job until -- for some reason -- people begin to appreciate your artistic perspective and begin to give you money for it. There isn't a magical formula. Every artist and musician figures it out with a little bit of work and a little bit of luck. Here are ten musicians who worked normal jobs before they made it big.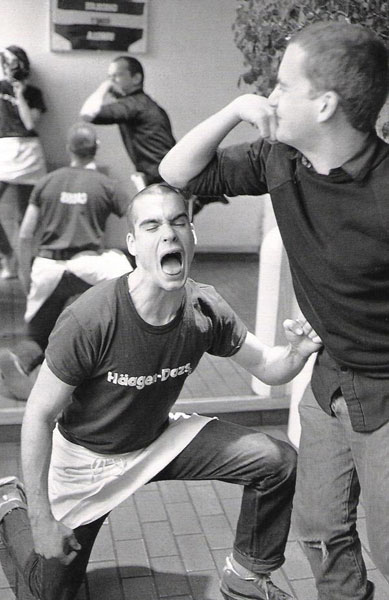 Via dexlysic.tumblr.com
Henry Rollins
Born Henry Garfield, Henry Rollins was born in an affluent neighborhood in Washington D.C into a military family. He grew up with Ian Mackaye of Minor Threat and Fugazi fame. When they first met, Mackaye thought Rollins looked kind of like a dork. However, Rollins' outward appearance was deceptive. Rollins suffered from ADHD and regularly had problems in school. Being both dysfunctional, the two became friends. Mackaye picked up guitar and began playing in bands while Rollins began picking instruments as a roadie. Rollins would also start working at Haagen-Daz with Mackaye. Through perseverance, the disciplined Rollins would finally become a manager of said Haagen-Daz before eventually quitting his job to join Black Flag.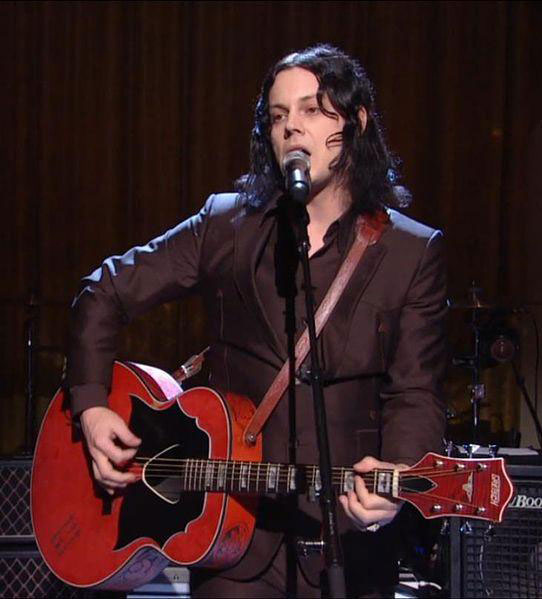 Jack White
Jack White, born John Anthony Gillis, was born in Detroit, Michigan. He played drums and guitar at a early age, playing in bands at local venues. However, his main source of income was through his business as an upholster called Third Man Upholstery. He stayed working as a upholster throughout the mid nineties to support himself and regularly performed with his upholstery apprenticeship mentors. After getting married with Meg White, he would eventually form the White Stripes with Meg on the drums. It would not be until their sophomore album De Stijl that the White Stripes would achieve commercial success.
Tyler the Creator
Tyler Okonma was born in Los Angeles, California. Since an early age, he had a fascination and passion for music. He would post music on MySpace during its heyday and create artwork for imaginary albums. Putting all his efforts into music, he would eventually hold jobs for FedEx, Active Skatewear, and most famously Starbucks. After finally releasing his debut mixtape, Bastard, his career as barista was usurped for the more lavish career of rapper.
Ian Curtis
The prototype for all eccentric and non traditional frontmen, Ian Curtis is probably the most influential figure of the post-punk movement. Curtis was born in a working class neighborhood in Stretford, Lancashire. Curtis' first job was at a elderly home where he would steal prescription drugs and use them with his friends later. At one point, Curtis overdosed on Largactil and was found on the floor by his parents. He would eventually find his first stable job as a civil servant. At the same time, he was writing and performing for Joy Division. Curtis would commit suicide just as the band began to make it big.
Dave Gahan
Gahan, born David Callcott, was born in Essex, England. Growing up in a broken home, by his admission, Gahan was troubled child who enjoyed graffiti, stealing cars and setting them on fire, and running away from the police. He first attempted to get a job as an apprentice for a gas company, but was denied due to his criminal record. Allegedly, frustrated that he didn't get the apprenticeship, he trashed his probation officer's office and got sent to a weekend detention center. Eventually, Gahan would recover and work dozens of different jobs to support himself. He worked as cashier, construction worker, and selling soda. Gahan then joined Southend Technical College and would soon after find work as a visual merchandiser --- and finally soon after that join Depeche Mode.
Anderson .Paak
Before Malibu and Venice, Brandon Paak Anderson was born north of L.A. in the farm town of Oxnard, California. He had a tumultuous childhood. Paak witnessed his father severely beating his mother when he young. His first musical endeavors were drumming for his family church. After high school Paak would have a an assortment of odd jobs which include music teacher, weed trimmer at a marijuana farm. After losing his weed trimmer job, he temporarily became homeless with his wife and newborn baby. Soon after, he landed a job with the group Sa-Ra as an assistant. All the while, he continued drumming and making music. Eventually he would rebrand himself as Anderson .Paak and release his critically acclaimed albums Venice and Malibu.
Mike Watt
Michael David Watt was born in Virginia, but was raised in San Pedro, Ca.. His father was a military man so they moved around. He first started playing music with future collaborator D. Boon doing covers. He would graduate high school and study electrical engineering. Because most jobs were in the defense industry which Watt was opposed to, he became a teacher to support himself. He would eventually find work with Greg Ginn of Black Flag at his radio shop. He continued on making music with D.Boon as the Minutemen. The Minutemen would go on to release the critically acclaimed and very influential album Double Nickels on the Dime.
Thom Yorke
Born Thomas Edward Yorke, the eccentric leader of the Radiohead outfit didn't start off as a melancholic rockstar railing against the system. Born in Northamptonshire, England -- but raised in Oxfordshire -- Yorke was born with a paralyzed eye that troubled him throughout his childhood. He would go to an all boys school with a great musical program where he, and his fellow Radiohead bandmates Colin Greenwood, Phil Selway, and Ed O'brien would play together. They would go off to different colleges, but still stayed close. At college, Yorke worked as an orderly in a mental hospital. He would also DJ. Eventually after graduating, Yorke and the Radiohead gang would start performing and eventually release a demo that would get them signed to Parlophone.
Tom Waits
Thomas Alan Waits was born in Pomona, California. He grew up in a middle class neighborhood in Whittier, CA. When his parents divorced, he moved to Chula Vista with his mother at the age of ten. He was heavily involved in music throughout his life. He played in bands during high school. Waits would eventually drop out. He moved on from school and ended up working pizza restaurant. Waits also has stints as a fireman, a doorman, and at one point joined the Coast Guard. Throughout this period he was performing his folk songs and while performing at the Troubadour, he was discovered and signed by David Geffen.   
-
There is never a sure way to make it big in the entertainment industry. Most struggle and fight to make their art. Crappy jobs are part of the process. And just because you start at a crappy place does not mean you'll stay there.