THE 10 TOP CHILL SONGS TO VIBE TO THIS WEEK
Can you believe July is almost over already? Before we know it, we'll be back to sipping on Pumpkin Spice Lattes and planning our Halloween Zoom Party outfits. Okay, so maybe I'm getting a little ahead of myself, but there's no denying summer is flying by. On that note, why not take a moment to savor what's left of the sunny season this Friday with help from the latest edition of We Are: The Guard's Top Chill Songs? Just don't forget to apply some strong SPF before hitting play on the following vibes from Tash, Taylor Swift, Sody & Cavetown, and more!
-
TASH – DON'T MAKE YOURSELF AT HOME
Producer-to-the-stars Mark J. Feist once described Tash as "the type of artist that only comes around once in a generation." Listening to "Don't Make Yourself at Home," it isn't hard to hear why. The Australian native has all the hallmarks of a singer-songwriter for the ages on this ballad, with Tash's jazzy dexterity and emotional acuity on full display.
TAYLOR SWIFT – MIRRORBALL
There's a whole lot to love about folklore, Taylor Swift's recent quarantine album, with the collection's most dazzling moment coming in the form of "mirrorball." "I want you to know/I'm a mirrorball/I can change everything about me to fit in," sings Taylor on the glimmering ode to fragility, which will send its shards of light spinning through your soul.
SODY & CAVETOWN – IS YOUR BEDROOM CEILING BORED?
As someone who's spent more time than I care to mention staring up at my bedroom ceiling, trying and failing to figure out all of my life's problems, this song hit extremely close to home. "'is your bedroom ceiling bored?' is for my fellow overthinkers," writes Sody of the soul-beating slice of outsider-pop, which also features British act Cavetown.
MINDCHATTER – NIGHT GOGGLES
This one goes out to all the night owls. Mindchatter is going deep into the nocturnal void on the transfixing "Night Goggles." Written about the producer's proclivity for flexing his creative muscles in the wee small hours, "Night Goggles" is an absorbing listen that sets Mindchatter's sublime, serene vocals against a pandemonium of propulsive beats.
LANE 8 & OTR – SHATTER
Lane 8 and OTR team up to deliver a dose of pure, unadulterated bliss on their collaborative single "Shatter." Opening to a spread of gilded piano notes and angelic vocal samples, everything about "Shatter" is divine from the off, with a burst of percussion propelling the song even closer to the heavens in the second half. Sublime.
SLEEPING LION – WE'RE FINE
If Lauv and The 1975 were to ever have a musical love child, it'd probably sound something like "We're Fine" by Sleeping Lion. The Los Angeles duo have nothing short of rent my heart in two with this guitar-tinged ode to a crumbling long-distance relationship – which Sleeping Lion reveal in their podcast was five years in the making.
JADEN – CABIN FEVER
Jaden has got the quarantine blues on the aching "Cabin Fever." "'Cabin Fever' is my vision of a quarantine love song. It's made to be listened to when the sun is setting and you're feeling good," writes the Hollywood scion of the summer anthem in the making, with Jaden longing for a lover in lockdown over a backdrop of easy, breezy psychedelia.
BIIG PIIG – DON'T TURN AROUND
British rising artist Biig Piig has no time for patriarchal bullsh*t on "Don't Turn Around." The follow-up to "Switch" is a sultry, intoxicating groover about moving past toxic relationships and embracing the exotic art of self-love, with Biig Piig's magnetic, sensual vocals coming enveloped in a Claudja Barry-sampling production courtesy of JD. Reid.
ALEX MALI – EYES WIDE SHUT
New York City's Alex Mali invites us to slow down on "Eyes Wide Shut." Released to coincide with National Minority Mental Health Awareness Month, it's a gorgeous a-cappella hymn about how we hide from our inner demons by fast-living, with Alex encouraging us to turn our gaze inwards as she layers her beautiful vocoder harmonies.
LANI ROSE – COLORS WE MADE
There's something deeply nostalgic about the music of Lani Rose, with the artist really honing in on this sense of introspective reflection on "Colors We Made." Featured on his recent debut EP Permanent Beta, it finds Lani at the intersection of his past, present, and future, with the whole thing coming tied together by his stunning, gorgeous falsetto.
-
Why not follow We Are: The Guard's Weekly Chart on Spotify for more? x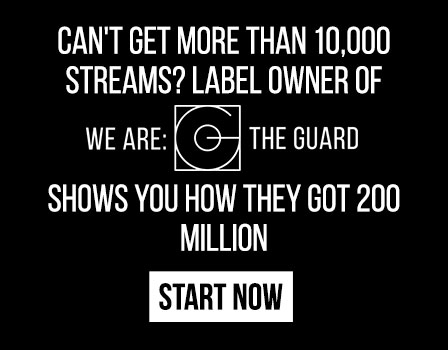 Jess Grant is a frustrated writer hailing from London, England. When she isn't tasked with disentangling her thoughts from her brain and putting them on paper, Jess can generally be found listening to The Beatles, or cooking vegetarian food.