10 TWITTER MOMENTS: ARIANA GRANDE <3 JIM CARREY
If you've been staying off Twitter over the last few days as you've been trying to avoid Game of Thrones and/or Avengers spoilers, I feel your pain. WHY CAN'T PEOPLE KEEP THEIR GOTDAMN MOUTHS SHUT? Anyways, if you've been craving a Twitter hit while you've been away, fear not as We Are: The Guard is back to fill you in on all of the juicy celeb gossip with the latest edition of 10 Twitter Moments. Cancel all of your plans this Hump Day, then, as you're not going to want to miss out on the following 280-character highlights from Ariana Grande, Dolly Parton, Eminem, Lily Allen, Kelly Clarkson, and more.
-
ARIANA GRANDE <3 JIM CARREY
thank u so much for your kindness. i don't think u understand how much i adore u or what u mean to me. thank u for taking the time to share this w me. you are such an inspiration. i can't wait to tattoo this tweet to my forehead. sending you lots of love & all things happy. https://t.co/bsCCdCx39D

— Ariana Grande (@ArianaGrande) April 22, 2019
Ariana Grande and Jim Carrey. Name a more iconic duo. Let's just hope that Ariana spells this tattoo correctly as I don't think that my weary heart can handle another "Japanese BBQ Finger," hee hee.
jimcarreyfan42 is a very grateful girl rn

— Ariana Grande (@ArianaGrande) April 22, 2019
HAPPY EASTER TO DOLLY PARTON ONLY
Happy Easter, y'all! pic.twitter.com/3JtAXBJKKw

— Dolly Parton (@DollyParton) April 21, 2019
Whether you're religious or not, I'm pretty sure that you have no choice but to worship this Easter throwback photo of Dolly Parton. I mean, JUST LOOK AT IT!
P.S. Is anyone else getting Beyoncé maternity shoot vibes?
MITSKI 2020
Millennial culture is working and working and working and working and working and working and being in dept and working and working and getting sick then being in more debt and working and working and then getting too sick to work and, that's it, I guess

— mitski (@mitskileaks) 22 April 2019
I LOVE THIS SONG! Jokes aside, can Mitski run for prez, already? We stan a comrade queen who's going to save our broke, exhausted millennial asses from late-stage capitalism! The revolution starts here!
EMINEM CELEBRATES SOBRIETY
11 years - still not afraid. pic.twitter.com/A8TV0LsLfn

— Marshall Mathers (@Eminem) April 20, 2019
Love or hate his music, there's no denying that Eminem deserves endless props for making it to 11 years of sobriety. Addiction is no joke and this undoubtedly took hard work. Keep going, Marshall! We're all rooting for you!
JANELLE MONÁE, EVERYBODY
Why can't all homophobic & racist people live in their own fucking community ? I am asking a serious question . Put y'all money together and start your own community . Build homes & just Be with each other . Stop making people's lives who live in the real world miserable .

— Janelle Monáe, Cindi (@JanelleMonae) April 23, 2019
LOUDER FOR THE PEOPLE AT THE BACK!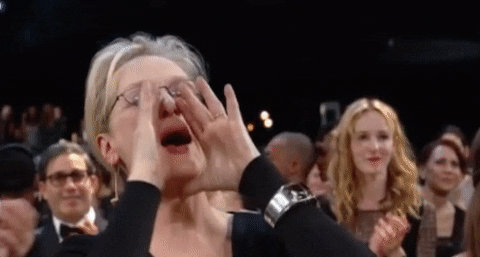 LANA DEL REY JUST STARTED FOLLOWING BROCKHAMPTON'S KEVIN ABSTRACT ON TWITTER
OMG pic.twitter.com/01oPd1vqa6

— kevin abstract (@kevinabstract) April 23, 2019
My first thought: WTF? Kevin Abstract doesn't use dark mode? My second thought: OMG! Lana Del Rey just started following Kevin Abstract! My third thought: DROP! THE! COLLAB!
I've never been more jealous of anyone than right now

— ALISON WONDERLAND (@awonderland) April 23, 2019
LILY ALLEN TAKES A TRIP DOWN COACHELLA MEMORY LANE
Me at Coachella 2007 20 mins before i smoked Cali weed for the first time and forgot EVERY SINGLE word of my set. Still killed it. pic.twitter.com/s5zdwWUijQ

— LILY ALLEN (@lilyallen) 17 April 2019
Just in time for Coachella and 4/20, Lily Allen took to Twitter last week to share this anecdote about when she forgot all of her words in the Cali desert while under the influence of some good ol' Golden State ganja.
Sidenote: Holy shiz, the 2007 Coachella lineup was EVERYTHING!
LIZZO VS MUSIC JOURNALISTS
THIS IS AN INVITATION TO ALL MUSIC JOURNALISTS TO KICK IT IN THE STUDIO WITH ME FOR MY NEXT ALBUM! I'd like to understand your world as much as you can understand mine https://t.co/niZhmrEvIl

— |L I Z Z O| (@lizzo) April 22, 2019
I FEEL PERSONALLY ATTACKED! Lol... For real, though, we've loved and supported Lizzo for as long as we can remember here at We Are: The Guard, so we're confident that this tweet doesn't apply to us. P*tchfork, on the other hand...
KELLY CLARKSON RESPONDS TO CARRIE UNDERWOOD RUMORS
Someone just sent me this & I'm like why does she get the good pic & I have the worst expression I've ever made w/zero muscles being used in my face ha! I officially have a feud w/whoever used this pic! At least give me a good pic if y'all are gonna be lying is all I'm sayin' pic.twitter.com/RWFnech5MT

— Kelly Clarkson (@kelly_clarkson) 19 April 2019
The rumors that Kelly Clarkson and Carrie Underwood are feuding may not be true, but we'll always be Team Kelly regardless here at We Are: The Guard. The American Idol winner is HILARIOUS and this response to Star magazine deserves a massive round of applause.
P.S. Lol @ Reba McEntire saving the day.
LIL YACHTY HAS THOUGHTS ON BILLIE EILISH AND TIERRA WHACK'S COACHELLA OUTFITS
They look like tellitubbies https://t.co/d6db3kT9wS

— underdog (@lilyachty) April 22, 2019
As if Lil Yachty is really out here comparing Billie Eilish and Tierra Whack's Coachella outfits to Teletubbies? NOT COOL, LIL YACHTY, NOT COOL! I mean, surely Mike and Sulley from Monsters, Inc. is far more accurate?
They look like OutKast you hating. https://t.co/2mxau8Itpc

— Vince Staples (@vincestaples) April 23, 2019
-
Follow We Are: The Guard on Twitter for more juice! x
Jess Grant is a frustrated writer hailing from London, England. When she isn't tasked with disentangling her thoughts from her brain and putting them on paper, Jess can generally be found listening to The Beatles, or cooking vegetarian food.