10 TWITTER MOMENTS: BRITNEY SPEARS CELEBRATES PRIDE MONTH
Prepare yourself for a lot of yelling and bad bedroom rapping, as voice tweets have arrived, baby! I'm honestly not sure what to make of this new Twitter feature? I mean, it's no edit button? But if it means artists going off like Liz Phair, then I'm all for it!
New toy :) pic.twitter.com/CTlNGC7KEv

— Liz Phair (@PhizLair) June 17, 2020
Anyways! While the rest of the Internet was getting to grips with this novel way of communicating, the team and I were busy as ever compiling all of the best musician tweets of the last seven days! Just cancel your Hump Day plans (What plans?), as it's time to check in with this week's edition of We Are: The Guard's 10 Twitter Moments, featuring Britney Spears, P!nk, Cardi B, and more!
-
BRITNEY SPEARS CELEBRATES PRIDE MONTH
Happy Pride Month !!!! I love my LGBTQ+ fans so much …. you all bring me so much joy and I am proud to support you !!!! PS Sam …… !!!! pic.twitter.com/5JbbzWqn7W

— Britney Spears (@britneyspears) June 23, 2020
Britney Spears recording this video: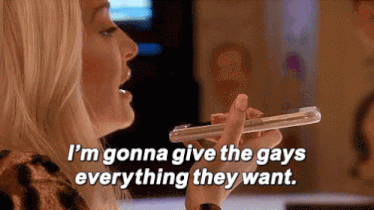 P.S. Happy Pride Month!
LIL NAS IS MAKING, ERM, CREATIVE USE OF VOICE TWEETS
— nope (@LilNasX) June 17, 2020
Twitter: Here's a feature we've built to encourage creative, thoughtful new ways of communicating with your followers.
Lil Nas X:
"penis" he said on twitter. https://t.co/QaeNDHOkEK

— nope (@LilNasX) June 19, 2020
P!NK BURNS DONALD TRUMP
I think I sold that same place out in five minutes. #donkeyshow pic.twitter.com/JNOwjIQ3hB

— P!nk (@Pink) June 21, 2020
It's no secret P!nk is a total savage, but this tweet is on a whole different level of burn! "There's a lot of people dressed as seats." LOL!
You guys there's so many fox news reporters that are mad at me right now it makes me giggle. For some reason trump supporters only have 3 arguments... 1. Shut up. 2. You're a man 3. You're irrelevant. Yet here they are on my page! Giggles all day thanks

— P!nk (@Pink) June 22, 2020
CARDI B SHARES A STUNNING COVER OF SAM SMITH
Remix is out now pic.twitter.com/hSts68x67s

— iamcardib (@iamcardib) June 18, 2020
This tweet is officially dedicated to the haters who said Cardi B couldn't sing! Sam Smith is quaking! Just stunning!
love you Cardi

— samsmith (@samsmith) June 18, 2020
TYLER, THE CREATOR'S FATHER'S DAY MESSAGE
i had no father or uncles or brothers so LOVE to all the women who raised me

— Tyler, The Creator (@tylerthecreator) June 21, 2020
As someone who was raised by a single mom, I couldn't love this tweet from Tyler, the Creator more. Not to mention I'm Momma, the Creator's biggest stan.
FINNEAS DRAGS MAGA SUPPORTERS
No masks :)) no pitch :)) no rhythm :)) https://t.co/7EVz5ekCdC

— FINNEAS (@finneas) June 18, 2020
DRAG THEM, KING! I'm pretty sure this is the song we'll be forced to listen to in hell!
Sidenote: Should we give FINNEAS a regular reviewing slot here at We Are: The Guard? Just a thought!
CHLOE X HALLE > SPONGEBOB SQUAREPANTS AND PATRICK STAR
bikini bottom is shakin lmaoo pic.twitter.com/s0ztVlUeZB

— chloe x halle (@chloexhalle) June 17, 2020
Just a reminder Chloe x Halle are totally killing it these days! SpongeBob SquarePants and Patrick Star could never! BRB, streaming Ungodly Hour!
— SpongeBob (@SpongeBob) June 17, 2020
ELTON JOHN <3 RINA SAWAYAMA
i still cant believe this happened my life is complete https://t.co/uHblPbiUL8

— RINA SAWAYAMA (@rinasawayama) June 21, 2020
Elton John has TASTE! No, really, this is such an amazing cosign for Rina Sawayama, and, honestly? I couldn't agree with Rocketman more!
THUNDERCAT IS A POST-LOCKDOWN MOOD
When the country start opening back up but you still emotionally shutdown pic.twitter.com/dp6C2IphF9

— ashy daddy (@Thundercat) June 23, 2020
MOOD!
P.S. Same energy!
I miss when everything was closed.

— Moses Sumney (@MosesSumney) June 23, 2020
NONAME. THAT'S IT. THAT'S THE TWEET
— Noname (@noname) June 18, 2020
No. Words. Necessary. Listen to "Song 33" immediately.
-
Until next week, why not follow We Are: The Guard on Twitter for more? x
Jess Grant is a frustrated writer hailing from London, England. When she isn't tasked with disentangling her thoughts from her brain and putting them on paper, Jess can generally be found listening to The Beatles, or cooking vegetarian food.