10 TWITTER MOMENTS: HANNAH MONTANA IS BACK!
Hey, guys! Did you fall for any April Fools' pranks on Twitter or the 'gram on Monday? I won't lie, Justin Bieber and Hailey Baldwin TOTALLY had me with their "pregnancy reveal," LOL! Anyways, as much as we love a good prank here at We Are: The Guard, we don't fool around when it comes to bringing you all of the juiciest celebrity social media highlights. Just make sure that your phone is fully charged, as you're not going to want to miss out on this week's edition of 10 Twitter Moments, featuring Miley Cyrus, Ariana Grande, Halsey, Cardi B, John Legend, and more!
-
HANNAH MONTANA IS BACK!
Hannah is punk now! pic.twitter.com/I4nUdajchD

— Miley Ray Cyrus (@MileyCyrus) March 29, 2019
So, it seems that Hannah Montana found out that the Jonas Brothers making a comeback and wanted a little piece of the pie! Although this is the Disney starlet like you've never seen her before... Gone are the cheesy, fake smiles and sugarcoated pop songs, replaced instead by a black Alice Cooper T-shirt and casual drug usage. 2019, GUYS!
— Miley Ray Cyrus (@MileyCyrus) March 29, 2019
ARIANA GRANDE AND VICTORIA MONÉT ARE EVERYTHING
u deserve the world ! only up from here chicooooooooooo https://t.co/ZDx9qW8MMZ

— Ariana Grande (@ArianaGrande) April 2, 2019
Okay, so, not only are Ariana Grande and Victoria Monet the definition of best friend goals, they're also singing-songwriting QUEENS who are not to be messed with. "MONOPOLY" is a serious bop and this #1 is thoroughly deserved. "Bad vibes, get off of me! Outta here with that fuckery!"
RICO NASTY IS HOLLYWOOD'S NEXT BIG THING
Can I be in a @JordanPeele movie ... ?

— TACOBELLA (@Rico_nastyy) March 27, 2019
THIS NEEDS TO HAPPEN! Pretty please?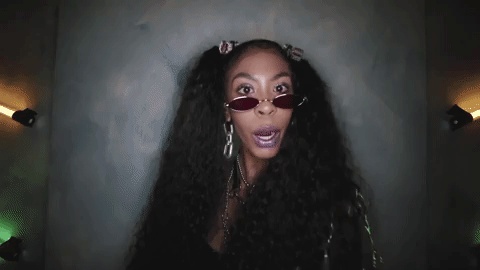 HAYLEY WILLIAMS <3 BILLIE EILISH
I am a grown woman losing her shit to this new @billieeilish. How I feel right about neow... pic.twitter.com/6Y2OmbH9UH

— hayley from Paramore (@yelyahwilliams) March 29, 2019
The "Emo Pop Princess" baton has been officially passed, guys! No, really, this tweet from Hayley Williams is like the ultimate royal seal of approval! Next thing, you'll be telling me that Avril Lavigne has taken to Twitter to sing Billie Eilish's praises. OH WAIT...
Congratulations @billieeilish!! the new album!!! It fucking rocks! #whenwefallasleepwheredowego

— Avril Lavigne (@AvrilLavigne) March 29, 2019
HALSEY FINDS HER HAPPINESS
there's so much more to life than going out every night. i'd choose to be friendless, healthy, and creating everyday over wasting it all away for nothing, anyday. if you're a fan + you noticed this change in me in the past 8 / 9 months or so, know it's not accidental. love you

— h (@halsey) March 30, 2019
If you're like me and regularly stalk Halsey on the 'gram, then you'll have noticed that she's been looking positively RADIANT of late. And now we know why! I suddenly don't feel so bad about choosing to ignore all of my friends and stay in and binge on Netflix every weekend. Watch my homebody ass shine, bitches!
OMAR APOLLO AND CUCO HAVE THE BEST BROMANCE
me and big bro pic.twitter.com/GPnYV8nhTs

— Omar Apollo (@omarapollo) March 31, 2019
DROP THE COLLAB!
LEGENDS

— Khalid (@thegreatkhalid) March 31, 2019
CARDI B ADDRESSES HER HATERS
— iamcardib (@iamcardib) March 30, 2019
Uh-oh! It looks like Cardi B is sending out a CLEAR message to her haters following on from those problematic news stories that broke on her recently. For all of her controversy, you gotta hand it to Cardi: No matter how many times she gets knocked down, she always comes back fighting. Something tells me that we haven't seen the last of her yet...
JOHN LEGEND'S MOM HAS JOINED TWITTER!
Hi Mom! Welcome to Twitter. I apologize in advance for everyone. https://t.co/j9s9Ua8dYB

— John Legend (@johnlegend) March 29, 2019
OMG! John Legend's mom has joined Twitter, guys! Fingers crossed that she uses her platform to share plenty of embarrassing stories about John and generally make him cringe even more than his wife already does. It's a mother's duty, after all!
P.S. Twitter need to hurry up and verify Momma Legend, already!
@johnlegend & @chrissyteigen Thank You for your love and support! Thank you to everyone else for your warm welcome! I am looking forward to this exciting experience!

— Mom Legend (@Momlegend1) March 31, 2019
ZEDD VS AIRPODS
Is there anything I can do to the AirPods so they ACTUALLY fit my ears and don't fall out anytime I tilt my head more than 0.0001°?

— Zedd (@Zedd) April 1, 2019
Maybe, JUST MAYBE, the fact that I'm broke AF and still using my wired headphones from 2009 isn't such a bad thing after all... Anyways, Zedd, look on the bright side: At least if your AirPods keep falling out of your ears, you won't have to listen to "365" anymore. BURN...
2PAC'S ESTATE PAYS TRIBUTE TO NIPSEY HUSSLE
We have lost a champion.
Until we learn from his life and replace his efforts- we will be weaker without him. pic.twitter.com/sr1jKz4mQC

— 2PAC (@2PAC) April 1, 2019
AMEN! RIP Nipsey Hussle...
-
Don't forget to follow We Are: The Guard on Twitter for more! x
Jess Grant is a frustrated writer hailing from London, England. When she isn't tasked with disentangling her thoughts from her brain and putting them on paper, Jess can generally be found listening to The Beatles, or cooking vegetarian food.