10 TWITTER MOMENTS: JACK HARLOW IS TEAM MADDY PEREZ
Photo by Jack Harlow
There was one celebrity and one celebrity only dominating social media this week, and that, of course, was Kanye West. While it appears he's forgotten his Twitter password for the time being, I fear it won't be long until Ye is back on the bird app ranting about water bottles. Anyways, while Kanye was busy posting Marvel memes and being exhausting, what else was going on across social media over the last seven days? Let's find out in the latest edition of We Are: The Guard's 10 Twitter Moments, featuring Jack Harlow, Rihanna, Kid Cudi, and lots more!
-
JACK HARLOW IS TEAM MADDY PEREZ
Team Maddie https://t.co/RllDKrrHZR

— Jack Harlow (@jackharlow) February 14, 2022
Ashaley is right. Why are men who watch Euphoria so damn attractive? And the fact Jack Harlow is Team Maddy? This is honestly why so many women are in love with him. A baddie through and through. As for me, I'm here for Rue and Rue only, but Jack can come over to my house for a Euphoria Watch Party any time he likes *wink*.
Yeshhhpic.twitter.com/5NNpGDdKxr

— nat nat (@_naatasshah_) February 14, 2022
RIHANNA IS REDEFINING MATERNITY WEAR
all black everything pic.twitter.com/4KOk1R61pF

— Rihanna (@rihanna) February 9, 2022
Rihanna is really out here redefining maternity wear as we know it, huh? It was only a few weeks ago she revealed she was having a baby, but RiRi is already changing how we look at pregnant women, and, honestly? I'm here for it. Pregnancy should never make us feel like we have to cover up and hide. Embrace that blooming bump!
— Rihanna (@rihanna) February 12, 2022
KID CUDI AND KANYE WEST ARE OVER
We talked weeks ago about this. You're whack for flipping the script and posting this lie just for a look on the internet. You ain't no friend. BYE

— The Chosen One : I YOU FRESHIE 4EVER (@KidCudi) February 12, 2022
Whatever your thoughts are on the whole Kanye West situation, you have to admit it's really sad it's ended this way with Kid Cudi. Cudi was loyal to Kanye for years and years, and their creative partnership was straight-up blessed. Let's hope they figure this one out soon and heal their friendship. Meanwhile, find me over here crying to "Moon."
God opens the door so the wrong people can exit ur life

— The Chosen One : I YOU FRESHIE 4EVER (@KidCudi) February 12, 2022
DOJA CAT AND THE WEEKND HIT UP THE SUPER BOWL
lol pic.twitter.com/uTr6F36MDp

— Jean-Emmanuel De La Martinière (@DojaCat) February 14, 2022
Things I love to see: Doja Cat and The Weeknd hitting up the Super Bowl together on Sunday. Things I also love to see: Doja Cat using her attendance as another excuse to shitpost. What even is this Photoshop job? LMAO. Doja is a living, breathing goofball, and I honestly wouldn't have her any other way. THIS JUMBOTRON, THOUGH.
.@DojaCat on the Jumbotron during #SuperBowl pic.twitter.com/g784VPvyG6

— Doja Cat News (@DojaNews) February 14, 2022
CARDI B COMES THROUGH WITH THE VALENTINE'S DAY BANGS
Heart shape pic.twitter.com/7E3OGun0f0

— Cardi B (@iamcardib) February 9, 2022
Of course Cardi B came through with the cutest hairstyle this Valentine's Day. This heart-shaped bang is so, so, so adorable. I'm also loving the fact Offset spoiled Cardi rotten on Monday. Their rose-covered house looked truly amazing, not to mention Cardi got gifted six Chanel bags. God, I see what you have done for others *sigh*.
Morning pic.twitter.com/MEgQYrNbTU

— Cardi B (@iamcardib) February 14, 2022
FIJI BLUE AND JUNGKOOK NEED TO COLLABORATE
can't believe Jungkook from @bts_bighit just shared one of our songs. so thankful for all the love pouring in…one of the most loving & caring communities to surround music pic.twitter.com/ocwRN6uIjS

— fiji blue (@itsfijiblue) February 9, 2022
It's no secret we're absolutely massive fans of Fiji Blue here at We Are: The Guard, so to see Trevor Dering and Valentin Fritz getting recognized by BTS is honestly ridiculously exciting for us. These dudes couldn't deserve it more, and we hope this only opens up more doors and opportunities for them. JUNGKOOK DUET WHEN?
heartwarming to see this song reaching so many people a year later https://t.co/oXouUgq3zI

— fiji blue (@itsfijiblue) February 9, 2022
SHAKIRA AND BEYONCE CELEBRATE 15 YEARS OF "BEAUTIFUL LIAR"
Happy 15th birthday Beautiful Liar! @Beyonce pic.twitter.com/bd1WGdZkjI

— Shakira (@shakira) February 12, 2022
Can you believe it's been 15 years since Shakira and Beyoncé teamed up on "Beautiful Liar?" It feels like just yesterday I was attempting to recreate this choreography in my childhood bedroom. LMAO. Seriously, though, from the song to the video, everything about this duet went so hard. I'm sure I'm not the only one manifesting a sequel.
SHAMIR CAMEOS IN INVENTING ANNA
If you blink you'd miss a tweet from ur boi at the beginning of Inventing Anna on Netflix pic.twitter.com/c8iGb9S0v9

— Shamir (@ShamirBailey) February 12, 2022
OMG. Not Shamir taking time out from dropping the Album of the Year to cameo in the Netflix hit series Inventing Anna? This. Is. Iconic. P.S. If you still haven't listened to Heterosexuality, I have one question and one question only: WHY? It's a masterpiece from beginning to end! BRB, sobbing on my bathroom floor to "Father."
My 8th studio album "Heterosexuality" is out NOW and streaming everywhere (cept Amazon, they can choke)

Stream Here:https://t.co/Ma5rCTcnMv pic.twitter.com/y3QGhfo7iB

— Shamir (@ShamirBailey) February 11, 2022
NICKI MINAJ IS AGING BACKWARD
— Nicki Minaj (@NICKIMINAJ) February 15, 2022
It's the fact Nicki Minaj is aging backward for me? No, really, her face card hasn't declined in at least a decade. I'm guessing being a bad bitch has that kind of effect on the skin. Oh, and while we're here, can we talk about how much the "Do We Have a Problem?" sequel, "Bussin," slaps? This era is officially about to go off!
BEST COAST PAYS TRIBUTE TO SNACKS THE CAT
said goodbye to my best friend in the entire world today. my true love. my guardian angel. there will never be another one like him. he forever changed me.
long live snacks the cat pic.twitter.com/6fi8o0Iz0y

— Best Coast (@BestCoast) February 9, 2022
I'm not kidding when I say my heart broke into tiny pieces after reading this tweet. Ever since starring on the cover of Best Coast's Crazy for You, Bethany Cosentino's cat, Snacks, has been an icon and legend among the indie world. It's so sad to hear of his death, but I'm sure this good boy will always be looking down on Bethany and her fans.
You better believe my son got his own pitchfork eulogy. What a fucking legend. https://t.co/1q8Wk5Kuwq

— Best Coast (@BestCoast) February 10, 2022
-
Why not follow We Are: The Guard on Twitter for lots more? xo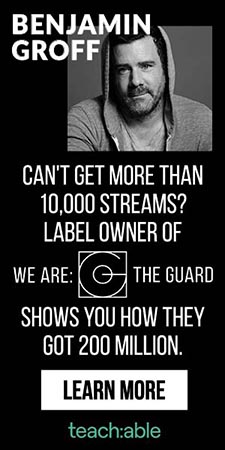 Jess Grant is a frustrated writer hailing from London, England. When she isn't tasked with disentangling her thoughts from her brain and putting them on paper, Jess can generally be found listening to The Beatles, or cooking vegetarian food.