10 TWITTER MOMENTS: LIL NAS X AND GORDON RAMSAY NAME A MORE ICONIC DUO
Before we get to today's edition of We Are: The Guard's 10 Twitter Moments, I have one very important question to ask you: Did YOU get fired as Beyoncé's assistant?! Because I sure as hell did – five freakin' times! Note to self: NEVER spend $800 on titanium drinking straws! Anyways, alongside playing @CORNYASSBITCH's GENIUS choose your own adventure-style thread game, the team and I have been busy as ever this week searching through Twitter for all of the latest, greatest tweets from our favorite artists. Cancel your Hump Day plans, then, as you're not going to want to miss out on the following 280-character highlights from Lil Nas X, Miley Cyrus, Ariana Grande, Rihanna, Shawn Mendes, and more.
-
LIL NAS X AND GORDON RAMSAY: NAME A MORE ICONIC DUO
Tell me more... https://t.co/zlXlqeMfhs

— Gordon Ramsay (@GordonRamsay) June 20, 2019
Holy shiii...! British chef Gordon Ramsey is really out here threatening to end every rapper's career by jumping on a remix of Lil Nas X's "Panini!" Something tells me that this ambitious crossover event is going to require several Parental Advisory stickers!

ASHLEY O <3 LIL NAS X
— Miley Ray Cyrus (@MileyCyrus) June 25, 2019
Okay, so, apparently Gordon Ramsay isn't the only person jumping on "Panini!" And since he's already collaborated with Billy Ray Cyrus, it makes sense that Lil Nas X would stretch the invite to Miley Cyrus...sorry...Ashley O! Do you think that they discussed their mutual love for Nine Inch Nails?!
ashely o loves panini pic.twitter.com/GCj3f5x2Xk

— nope (@LilNasX) June 25, 2019
HALSEY'S MIND...
tag urself I'm the fig newtons one. pic.twitter.com/0TU66Ot5hx

— h (@halsey) June 21, 2019
I'm pretty sure that Twitter drafts tell you more about a person than almost anything else. And it goes without saying that Halsey's Twitter drafts tell us a LOT! I mean...: "It's 2019 and like the 5th white guy has used my name in a song for attention. Bitch I will literally kill all of you." GO OFFFFF, ASHLEY!
P.S. Was anyone else triggered by Halsey's low battery?!
RICO NASTY HAS QUESTIONABLE TASTE IN FOOTWEAR
Damn but these hard asf pic.twitter.com/gJtnwxsgQL

— TACOBELLA (@Rico_nastyy) June 21, 2019
Rico Nasty is well known for pushing the boundaries of fashion, but I'm thinking that the Anger Management rapper has taken things a little TOO far with these artificial grass sliders! For real – my body is itching all over just thinking about wearing them! *Scratches*
ARIANA GRANDE AND MYRON ARE TOO WHOLESOME FOR WORDS
i'm sleeeep .... body, throat, everything tired as hell .... but grateful as fuck. too grateful to go back to bed if that's a thing. look how me & myron sleep. pic.twitter.com/sSk0SyIQsx

— Ariana Grande (@ArianaGrande) June 22, 2019
Me every time that Ariana Grande posts a photo of Myron (Mac Miller's dog, for the locals):
LIZZO BEING CHEERED BY RIHANNA AT THE BET AWARDS IS EVERYTHING!
That's it... that's the tweet pic.twitter.com/ZgbPMcXwJw

— |L I Z Z O| (@lizzo) June 24, 2019
You KNOW that you've made it when Robyn freakin' Fenty is out here giving you a standing ovation before you've even finished your gotdamn song! It's all that Lizzo deserved after giving the performance of her LIFE at the BET Awards on Monday night. I just have one question...WHERE IS THE COLLAB?!
Your Amazing! You already know

— Missy Elliott (@MissyElliott) June 24, 2019
RIHANNA IS A BADDY IN FEИTY
who are you wearing Ri?
Me: me@FentyOfficial pic.twitter.com/MRAhR85qZf

— Rihanna (@rihanna) June 25, 2019
And while we're on the topic of Rihanna, allow me to quickly refer you to what may be the greatest flex ever known to man. RiRi wearing FEИTY – aka her very own fashion brand – to the BET Awards on Monday evening. WE STAN A BOSS BITCH!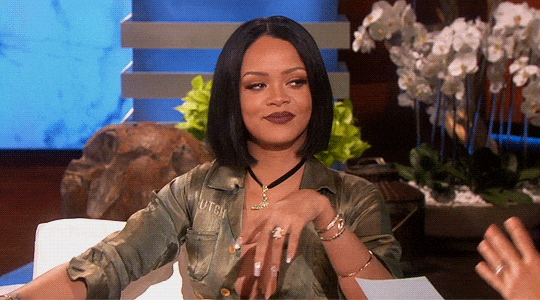 BEBE COBAIN
I just wrote a new song and the first line is. No one dies a virgin cause life fucks us all.

— Bebe Rexha (@BebeRexha) June 24, 2019
That awkward moment when you copy a famous Kurt Cobain quote and try to pass it off as your own. Remember, Bebe: Emo Twitter never forgets!
P.S. I guarantee that this song will still be a bop, though.
SHAWN MENDES AND CAMILA CABELLO GET HOT AND BOTHERED IN "SEÑORITA"
I must have had 300 mints that day https://t.co/3ZiEooAFOk

— Shawn Mendes (@ShawnMendes) June 21, 2019
Erm, so, I'm not one to gossip or anything (oh, who am I kidding?!), but it's surely no coincidence that Camila Cabello broke up with her boyfriend just days after dropping the sexy Shawn Mendes collaboration "Señorita?!" I'm pretty certain that no girl could resist Shawn on top of them...bad breath or not!
I had ONE JOB!!!!! https://t.co/lr7MykRw3S

— Shawn Mendes (@ShawnMendes) June 24, 2019
TROYE SIVAN IS A YOUTUBE KING
i forgot the password to this account so i guess this is going to be on the internet forever https://t.co/ihKj9H5Iou

— troye (@troyesivan) June 25, 2019
OMG! This video of a pre-fame Troye Sivan giving us a review of a can of paint is nothing short of ICONIC! Like, even more iconic than the "Bloom" video. I particularly love the fact that he calls his YouTube channel "TS Productions 18." An entrepreneur and influencer, much?!
Don't forget to follow We Are: The Guard on Twitter for more! See ya! x
Jess Grant is a frustrated writer hailing from London, England. When she isn't tasked with disentangling her thoughts from her brain and putting them on paper, Jess can generally be found listening to The Beatles, or cooking vegetarian food.