10 TWITTER MOMENTS: LIL NAS X BROKE THE INTERNET AS ICE SPICE
Photo by Lil Nas X
HAPPY HALLOWEEN, TWITTER!
see y'all on tumblr https://t.co/jJUSN1gXNi

— Duolingo (@duolingo) October 27, 2022
Check out the latest edition of We Are: The Guard's 10 Twitter Moments, featuring Lil Nas X, Diddy, Lizzo, and seven other favorites!
-
LIL NAS X BROKE THE INTERNET AS ICE SPICE
LIKEEE?? pic.twitter.com/npu1cfHHuw

— im not reading all that (@LilNasX) October 31, 2022
Lil Nas X as Ice Spice? This. Is. Everything. From Voldemort to Nicki Minaj, Montero never fails to break the Internet on Halloween, but this has to be his best costume to date. It's the cute little curls for me. I'm definitely going to need a collab between these two!
U WIN https://t.co/P9bGlPyGpD

— Ice Spice ☆ (@icespicee_) October 31, 2022
DIDDY, THE JOKER SCARED TYLER, THE CREATOR
It's going to be a glorious night!! Hahahaha @tylerthecreator pic.twitter.com/LXFXr45kiF

— LOVE (@Diddy) October 30, 2022
Diddy dressed up as The Joker? INJECT IT INTO MY VEINS. I think Tyler, the Creator put it best in this video: "This is top tier." Can we also take a moment to acknowledge how Tyler looks genuinely scared of Diddy? LMAO. Give Diddy an Academy Award, already!
It's not about the money. It's about the sending the message!! EVERYTHING BURNS!!! pic.twitter.com/AEKoBPB9zC

— LOVE (@Diddy) October 30, 2022
LIZZO WON HALLOWEEN AS MARGE SIMPSON
— FOLLOW @YITTY (@lizzo) October 29, 2022
While it wasn't her only costume, I think we can all agree that Lizzo won Halloween as Marge Simpson. It's the fact she went out of her way to paint her whole body bright yellow for me. Can we also talk about how much she suits that blue beehive? A TOTAL SERVE!
— FOLLOW @YITTY (@lizzo) October 29, 2022
CARDI B ALSO TANTALIZED AS MARGE SIMPSON
Ms.Marge Simpson pic.twitter.com/bNizXxquqQ

— Cardi B (@iamcardib) October 31, 2022
NOT CARDI B TOO. This feels like an "arriving to the Oscars in the same dress" moment. I'm sure Cardi and Lizzo laughed it off, though. Plus Cardi has definitely put her own tantalizing spin on the costume. Just one question: Did Offset dress up as Homer?
Some things the girls can't have pic.twitter.com/LjLjeKnZbp

— bardi (@AddictedCardi) October 31, 2022
CHARLI XCX AND LORDE ALMOST TEAMED UP
so, i thought about going as @lorde for halloween this year

— Charli (@charli_xcx) October 28, 2022
OMG. Not Charli XCX and Lorde almost teaming up to acknowledge this iconic Internet meme. We may have missed out on the most legendary Halloween costumes of all time, I fear. My life also won't be complete until I get this cover of "Royals." NEXT YEAR?
and like actually doing a cover of "royals"

— Charli (@charli_xcx) October 28, 2022
CHLÖE WAS BADASS AS STORM FROM X-MEN
i'm STORM for the night pic.twitter.com/esiCyqJYxG

— Chlöe (@ChloeBailey) October 29, 2022
WOW. I didn't think Chlöe could top her Betty Boop costume from last year, but clearly I was wrong. This Storm outfit is absolutely everything. She looks sexy, badass, and definitely like a contender for the next X-Men film. And most importantly? HALLE BERRY APPROVES!
she's taking it. https://t.co/5SjXkQzmWP

— Halle Berry (@halleberry) October 29, 2022
HALLE BAILEY LOOKED GORGEOUS AS NEYTIRI
always wanted to be an avatar happy halloween pic.twitter.com/9hQZIc8mqt

— Halle (@HalleBailey) October 30, 2022
WHAT. A. BEAUTY. Halle Bailey takes time out from being the Ariel of our dreams to dress up as Neytiri from James Cameron's Avatar this Halloween. Whether a human, an avatar, or a mermaid, Halle is always so elegant, graceful, and yes, gorgeous. I LOVE HER!
neytiri pic.twitter.com/9sfm64OXBs

— Halle (@HalleBailey) October 30, 2022
KALI UCHIS DID JESSICA RABBIT PROUD
i'm not bad, i'm just drawn that way pic.twitter.com/VB4YMpPgIm

— KALI UCHIS (@KALIUCHIS) October 31, 2022
KALI UCHIS REALLY DID THAT. It's no secret the "telepatía" singer-songwriter is a sexy siren, but damn. Kali is out here doing Who Framed Roger Rabbit's Jessica Rabbit proud this Halloween. Not to mention I'm sure I'm not the only one hoping she keeps the red locks!
B1TCH YOU KNOW YOU WON pic.twitter.com/6d1hAGACQA

— Kali Uchis Brasil (@kaliuchisbrasil) October 31, 2022
MUNA TRANSFORMED INTO PINK SLIP FROM FREAKY FRIDAY
happy halloween pic.twitter.com/zhDQ1cPVc0

— MUNA (@whereisMUNA) October 27, 2022
I FULLY SCREAMED. MUNA transforming into Pink Slip for Halloween is the definition of a slay. I'm not even kidding when I say I could barely tell the difference between MUNA and the Freaky Friday trio. BRB, listening to this cover of "Take Me Away" for the rest of the afternoon!
need everyone to know that MUNA transformed into Pink Slip (from Freaky Friday) at tonight's show pic.twitter.com/ThB9uBELF3

— Julie Greiner (@JulieAbridged) October 27, 2022
MARIAH CAREY ANNOUNCED THE START OF CHRISTMAS
IT'S TIME!!! #MariahSZN pic.twitter.com/CtRsxYyLo8

— Mariah Carey (@MariahCarey) November 1, 2022
And, finally: "IT'S TIME!!!"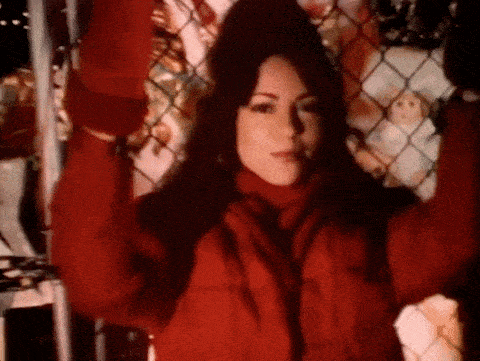 MARIAH WHEN IT HIT 12:00AMpic.twitter.com/HqnqAkLrD4

— Music Box (@meltriahaway) November 1, 2022
-
Follow We Are: The Guard on Twitter for more! xo
Sources:
Mariah Carey GIF
Jess Grant is a frustrated writer hailing from London, England. When she isn't tasked with disentangling her thoughts from her brain and putting them on paper, Jess can generally be found listening to The Beatles, or cooking vegetarian food.