10 TWITTER MOMENTS: LIL NAS X CONGRATULATES BILLIE EILISH
Hello, everyone, and welcome to the latest edition of We Are: The Guard's 10 Twitter Moments! So, tell me, who were you backing in The Great Chicken War on Monday? Don't get me wrong, I've been a vegetarian for over a decade, but even I think that the Popeyes Chicken Sandwich looks pretty hype! Anyways, while the entire fast-food industry was going off at each other this week, the team and I were busy as ever filtering through Twitter for all of the best celebrity tweets of the last seven days! Without further ado, then, let's check out the following 280-character highlights from Lil Nas X, Lady Gaga, Normani, and seven other favorites!
-
LIL NAS X CONGRATULATES BILLIE EILISH
congratulations to billie eilish!! u deserve this!!

— nope (@LilNasX) August 19, 2019
As happy as I am for Billie Eilish scooping her first #1, a little, tiny part of me kind of hoped that "Old Town Road" would reign the charts forevermore. Well, I guess that there's always "Panini," right?
me when columbia drop me from the label because billie eilish took the number 1 spot pic.twitter.com/XVLjHlAQ2U

— nope (@LilNasX) August 19, 2019
LADY GAGA RETURNS TO TWITTER
— Lady Gaga (@ladygaga) August 16, 2019
I love that Lady Gaga goes months without properly tweeting, and then returns with this. We have no choice but to stan this "Italian girl from New York."
This is your best tweet
pic.twitter.com/luHjXtKtKQ

— Gaga Doing Things (@LGDoingThings) August 16, 2019
NORMANI IS GIVING US "MOTIVATION"
still can't believe I did this in the middle of tour. i legit had five espresso shots oh my goahhhh. many sleepless nights working v hard on this one for my fans. I love you guys so much. I promise this is only the beginning pic.twitter.com/H2RMrUU7Ou

— Normani (@Normani) August 19, 2019
Normani really is THAT bitch, huh? Like the rest of the Internet, I genuinely haven't stopped watching the "Motivation" video ever since it dropped on Thursday. Suddenly, that basketball move seems a whole lot more impressive knowing that she did it on only four hours sleep!
KHALID SURPRISES CLAIRO FOR HER BIRTHDAY
happy early birthday @clairo pic.twitter.com/hSjolnjPTK

— Khalid (@thegreatkhalid) August 17, 2019
Khalid dressed in an Elmo outfit is at once the most endearing and creepy thing that I've ever seen in my life. Judging by Clairo's facial expression in the below photo, she's very much in agreement.
khalid really just came into my dressing room as elmo for my birthday pic.twitter.com/xHPTNrjIoV

— claire cottrill (@clairo) August 17, 2019
CHARLI XCX IS AN EMOTIONAL WRECK
rt if you're an emotional wreck too!!!

— Charli (@charli_xcx) August 20, 2019
Exclusive footage of me clicking the retweet button: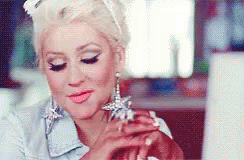 LANA DEL REY IS...RETIRING?
I miss doin nothing the most of all

— Lana Del Rey (@LanaDelRey) August 20, 2019
Erm, I'm sorry, but, these better be some goddamn lyrics that you're quoting here, Lana. Don't think that you can retire after making our sorry asses wait this long for Normal Fucking Rockwell!.
CHANCE THE RAPPER REALLY DID GET WENDY'S TO BRING BACK SPICY CHICKEN NUGGETS
WE DID IT. #SpicyNuggets are back @Wendys I NEED NUGS FOR LIFE #ad https://t.co/Fi3TWL4ItQ

— The Big Day out now (@chancetherapper) August 16, 2019
Just in case you needed reminding where Chance the Rapper's loyalties lie when it comes to The Great Chicken War.
HALSEY QUIT SMOKING
I gained weight when I quit smoking but it all went directly to my butt so one of those email forward chains I said as a kid must have worked out.

— h (@halsey) August 20, 2019
Halsey quit smoking AND got thicc? Erm, winning, much? Now if only she could forward that chain e-mail to me for, ahem, "research purposes..."
ARIANA GRANDE ON THE GIFT OF SINGING
at reh. i can't express how free n full singing makes me feel. i've been feeling so anxious lately n it all kinda lifts off when i sing. i like ... forgot. makes my heart feel better. i'm grateful for this gift or whateva. it's comforting bc no one can take it away from me ever.

— Ariana Grande (@ArianaGrande) August 16, 2019
And now for our weekly reminder why we must Protect Ariana Grande at All Costs™. Thank you for sharing your gift with us, Ari <3.
MEGAN THEE STALLION REVEALS THAT SHE WROTE "CASH SHIT" BETWEEN CLASSES
I literally wrote cash shit in between classes https://t.co/FmIbWmTm4F

— HOT GIRL MEG (@theestallion) August 20, 2019
As Hot Girl Summer comes to a conclusion and we turn our attention to September, how's this for some back-to-school inspiration from Megan Thee Stallion? "Productivity goals" doesn't even cover it...
-
Follow We Are: The Guard on Twitter for more! x
Jess Grant is a frustrated writer hailing from London, England. When she isn't tasked with disentangling her thoughts from her brain and putting them on paper, Jess can generally be found listening to The Beatles, or cooking vegetarian food.