10 TWITTER MOMENTS: LIZZO FINALLY REMEMBERS HER PASSWORD
This week on Twitter: My Fall Plans vs The Delta Variant!
My Fall Plans | The Delta Variant pic.twitter.com/nxWyyAfeNG

— Eddie (@talaskegrams) August 10, 2021
My fall plans vs. the Delta variant pic.twitter.com/UAYPYcxIIR

— JushForLife (@jush_for_fun) August 8, 2021
my fall plans the delta variant pic.twitter.com/bMUS4cZTLn

— José Alonso Muñoz (@JoseAlonsoMunoz) August 10, 2021
While we come to terms with the depressing fact that this pandemic is far from over (Please, please, please get vaccinated!), it's time to cheer ourselves up with the latest dose of We Are: The Guard's 10 Twitter Moments! Check out the following tweets from Lizzo, Cardi B, Selena Gomez, and seven other favorites!
-
LIZZO FINALLY REMEMBERS HER PASSWORD
Hey y'all.. heard I was trending so I decided to come back on here.. what I miss? https://t.co/klmGtkQcQI

— Feelin Good As Hell (@lizzo) August 9, 2021
Just over a year and a half on from leaving due to trolls, Lizzo finally made her return to Twitter on Monday! I really hope that she stays this time, as honestly? I've missed her hilariously extra tweets! Oh, and bring on "Rumors!" Something tells me that the Cardi B collaboration will be the last-minute Song of the Summer!
welcome back https://t.co/ibkcw10fG6

— iamcardib (@iamcardib) August 9, 2021
CARDI B WANTS WHAT FOR CHRISTMAS?
My friends during the holidays: Omg I don't know what to get you! You're soo rich, you have everything.

What I be wanting : pic.twitter.com/m0EQGZ1fVu

— iamcardib (@iamcardib) August 5, 2021
There are only four months to go until the holiday season, and it's looking like Cardi B has already made a start on her Christmas list! I'm not going to lie, I'd take this cute, adorable minibar over diamond necklaces and designer handbags any day! Offset, I hope that you're taking notes!
Now I want one too pic.twitter.com/IOAvs8tnll

— (@Cb2Era) August 5, 2021
SELENA GOMEZ CALLS OUT THE GOOD FIGHT
I am not sure how writing jokes about organ transplants for television shows has become a thing but sadly it has apparently. I hope in the next writer's room when one of these tasteless jokes are presented it's called out immediately and doesn't make it on air.

— Selena Gomez (@selenagomez) August 3, 2021
SHE SAID WHAT SHE SAID!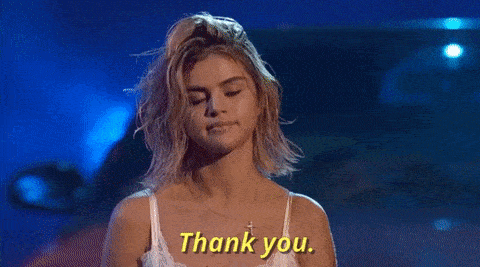 My fans always have my back. LOVE YOU. If you are able to please sign up to be an organ donor https://t.co/4GSEiHEfEf

— Selena Gomez (@selenagomez) August 3, 2021
PHOEBE BRIDGERS IS A DEPRESSED QUEEN
yes thank you I know I am depressed https://t.co/Hou7jllko2

— traitor joe (@phoebe_bridgers) August 9, 2021
LMAO! Phoebe Bridgers takes time out from collaborating with Taylor Swift to remind us exactly why we love her and her original music so very much! We stan a depression bop queen! Can I also quickly point out the fact that Pitchfork only gave Punisher a score of 8.7? I'm genuinely kind of offended!
— sea (@skatykitchen) August 9, 2021
RIHANNA WANTS YOU TO KNOW THAT SHE SMELLS GOOD
just sayin' … pic.twitter.com/EmC4ysMdjR

— Rihanna (@rihanna) August 10, 2021
I'm sure that Rihanna smells good and all, but do you know what smells even better? NEW MUSIC! Sorry not sorry, RiRi! Jokes aside, were any of you guys lucky enough to grab a bottle of Fenty Eau de Parfum before it sold out yesterday? I'm genuinely curious to have a sniff after watching this video, haha!
how I woke up after #FENTYPARFUM sold out this morning!!! pic.twitter.com/JB1e5birlE

— Rihanna (@rihanna) August 10, 2021
NICKI MINAJ TWEETS AND DELETES JESSIE J DISS
You are not responsible for another person's insecurities. They don't like it when your #authenticity is louder than their #facade.

Whew chile Karen Civil spoke a word.

like & retweet for good fortune

— Nicki Minaj (@NICKIMINAJ) August 8, 2021
She recently deleted her tweet calling out Jessie J over her comments about "Bang Bang," but Nicki Minaj was still keeping the unapologetic energy going on Sunday! Whatever your opinions are on Nicki's erased diss tweet, you have to hand it to the "Seeing Green" rapper for playing by nobody's rules!
Real shit

— Lauren Jauregui (@LaurenJauregui) August 8, 2021
TYLER, THE CREATOR SPEAKS NOTHING BUT FACTS
dont dim your light for anyone, talk your shit but back it up, articulate and be a sponge, your opinions on things can change, and do your shit with careeeeeee

— Tyler, The Creator (@tylerthecreator) August 6, 2021
Tyler, the Creator is really out here speaking nothing but facts, huh? Oh, and while we're here, did you see Tyler's interview on Ebro in the Morning last Friday? It's definitely worth checking out if you've been listening to and loving CALL ME IF YOU GET LOST as much as me over the last few weeks!
LIL NAS X IS GETTING READY FOR HIS NEXT ERA
after i drop the album i will be finish with my gay era and returning to my cowboy era

— nope (@LilNasX) August 6, 2021
LOL! Lil Nas X really is the biggest damn Twitter troll going, and I love, love, love him for it! As for his next era, I don't see why he doesn't simply combine them both into a gay cowboy moment? I personally think it'll be totally iconic, not to mention the outfits will surely be his best yet?
Looking forward to pirate era. I have a good feeling about that one.

— Michael (@Luckytrapt) August 6, 2021
LADY GAGA IS COMING TO SAVE US WITH CHROMATICA: THE REMIX ALBUM
The Chromatica remix album is so f*cking fuego music is life

— Lady Gaga (@ladygaga) August 10, 2021
Arca? Grimes? Pabllo Vittar? Dorian Electra? Rina Sawayama? I COULD GO ON! Chromatica: The Remix Album is genuinely about to save me from my seasonal depression! Between this, Love for Sale, and House of Gucci, the Little Monsters are certainly going to be eating throughout fall and winter!
I'M A FREE WOMAN

— RINA SAWAYAMA (@rinasawayama) August 10, 2021
CHARLI XCX SEASON APPROACHING
rip hyperpop? discuss: pic.twitter.com/mjBj88avBw

— Charli (@charli_xcx) August 8, 2021
Charli XCX Season approaching, and according to this recent tweet, the hyperpop era is officially over! I'm personally incredibly excited to find out what this means for Charli's next single "Good Ones," along with the size of the British musician's hair! It keeps getting bigger and bigger every time that I see it!
my new song arrives on September 2nd. get ready to surrender pre save now. happy birthday to me https://t.co/vWV9CrELr5 pic.twitter.com/ItGTEcVw5d

— Charli (@charli_xcx) August 2, 2021
-
Don't forget to follow We Are: The Guard on Twitter for more! xo
Jess Grant is a frustrated writer hailing from London, England. When she isn't tasked with disentangling her thoughts from her brain and putting them on paper, Jess can generally be found listening to The Beatles, or cooking vegetarian food.