10 TWITTER MOMENTS: MACHINE GUN KELLY POPS THE QUESTION
I'm afraid to report that, three weeks in, the Wordle phenomenon is continuing to overtake social media faster than a BTS selfie. I think Twitter user Emily Coleman put it better than most with this truly hilarious tweet:
Wordle is the sourdough starter of Omicron.

— Emily Coleman (@editoremilye) January 14, 2022
Facts, much? Wordle aside, it's been a busy seven days on Music Twitter. Cancel your Hump Day plans, then, as it's time to scroll through the latest edition of We Are: The Guard's 10 Twitter Moments, featuring Machine Gun Kelly, Rihanna, Cardi B, and more!
-
MACHINE GUN KELLY POPS THE QUESTION
last night she said "yes" under the banyan tree

— blonde don (@machinegunkelly) January 12, 2022
Not one to be outdone by Travis Barker and Kourtney Kardashian, Machine Gun Kelly finally popped the question to Megan Fox last week. I have to hand it to Colson. While he may have dressed like a Foot Locker employee before getting down on one knee, he most definitely came through with this ring featuring his and her birthstones.
2008 gucci mane would be proud pic.twitter.com/YQo843UfOR

— blonde don (@machinegunkelly) January 13, 2022
RIHANNA IS TAKING "A COMMERCIAL BREAK"
commercial break pic.twitter.com/CfmXe6q00E

— Rihanna (@rihanna) January 17, 2022
"A commercial break?" Rihanna, girl, it's been six years. That's not what I call "a commercial break." That's what I call "a commercial retirement." Anyways. Can we take a moment to appreciate the incredible sneakers-meet-cowboy boots Riri is wearing in these photos? And can somebody tell me why I never look this good without makeup?
ITS BEEN 6 YEARS WE NEED ANSWERS pic.twitter.com/vpmcWTF5ES

— drew fm (@rudeboyola) January 17, 2022
CARDI B IS BORED OF BEING FAMOUS
I'm not even going to lie to y'all,being famous is kinda boring.

— Cardi B (@iamcardib) January 16, 2022
Me when my tweet gets more than 10 likes. Jokes aside, I'm sure there are plenty of people willing to trade places with Cardi B. As for me, I'll happily take the millions in the bank, but pass on the fame part. Can you imagine actually having to interact with people every time you step out of your door? No, thank you.
The Maldives is fun but have you ever been carried by the Nikkas from the block to the open fire hydrant wit a white T-shirt on while drunk of a nutcracker in the summer time ? That was fun to me. https://t.co/XKinavevjw

— Cardi B (@iamcardib) January 16, 2022
DIONNE WARWICK IS THE OSCARS HOST WE DESERVE
Fine, I will do it. https://t.co/EYwOLcfSCF

— Dionne Warwick (@dionnewarwick) January 13, 2022
Forget those Tom Holland rumors. Dionne Warwick is the only host I want to see at this year's Academy Awards. Auntie Dionne would have no time for foolishness like long acceptance speeches and bad comic interludes. Oh, and while we're at it, can we also book Dionne to host the GRAMMYs and perhaps even the MTV VMAs? Just saying.
"Come get your statue, hussie." https://t.co/pCHP4gf0na

— Big Areola Energy (@elizabethaxtman) January 13, 2022
BRITNEY SPEARS RESPONDS TO JAMIE LYNN
— Britney Spears (@britneyspears) January 13, 2022
Me every time Britney Spears brings out the Notes app: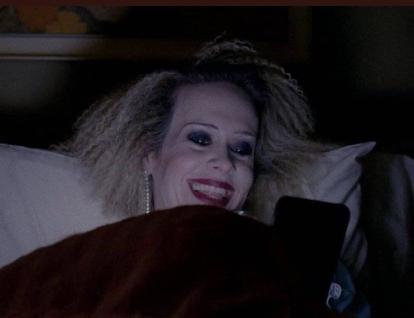 Pssss my fiancé got my medicine ... I survived !!!!

— Britney Spears (@britneyspears) January 14, 2022
MARIAH CAREY ENDS WILLIAM SHAKESPEARE
Why wouldn't one use such an obvious rhyme scheme? https://t.co/Ahft860nWE

— Mariah Carey (@MariahCarey) January 14, 2022
William Shakespeare could quite literally never? It's no secret Mariah Carey is an iconic vocalist, but her lyrics are the stuff of legend, too. Mimi will stop at absolutely nothing to find a rhyme scheme. Case in point: "Got you all fired up with your Napoleon complex/Seeing right through you like you're bathing in Windex."
Knowing dates has never really been my thing… https://t.co/13IPQy8Wlz

— Mariah Carey (@MariahCarey) January 15, 2022
JOE JONAS AND FRANCIS BOURGEOIS MUST BE PROTECTED
Train spotting on the WCML #trains pic.twitter.com/143DY6uOvk

— J O E J O N A S (@joejonas) January 12, 2022
Joe Jonas teaming up with TikTok trainspotting sensation Francis Bourgeois? This is the purest, most wholesome thing I've ever seen in my entire life. We must protect this friendship at all costs. No, really, if you need a smile on your face today, then I thoroughly recommend you spend the next few hours binging Francis' content.
Surprise tones on the WCML!! More Trainspotting pic.twitter.com/rNvRUl1niD

— J O E J O N A S (@joejonas) January 13, 2022
JENSEN MCRAE CELEBRATES A YEAR OF "IMMUNE"
it's been a YEAR? https://t.co/vndmFBMm7u

— Jensen McRae (@Jensen_McRae) January 14, 2022
Can you believe it's been a whole year since Jensen McRae went viral on Twitter with her Phoebe Bridgers parody vaccination song, "Immune?" It's kind of depressing to think we'd barely heard of Delta then, let alone Omicron *sigh*. Anyways. Phoebe really needs to cover this song in order to bring the entire thing full circle.
shoutout to the warm lighting from the lamp on my nightstand and my silly little nightgown https://t.co/lbO6ywg50o

— Jensen McRae (@Jensen_McRae) January 14, 2022
HALSEY IS BINGING EUPHORIA
Fez can simply never get a moment of peace.

— h (@halsey) January 17, 2022
That moment when you think Halsey is talking about That '70s Show, but then you realize this is actually a reference to Euphoria. Am I old? Seriously, though, I really need to find the time to check this show out. My timeline is freaking out over Season 2, not to mention I'm definitely missing out on some Peak Zendaya Content™.
What does he has to do tho pic.twitter.com/qda7HfKwpt

— (my name is) André (@porkandbeans014) January 17, 2022
DONALD GLOVER RETURNS TO TWITTER
please @ me this year if u talk shit on me.

— donald (@donaldglover) January 13, 2022
HE SAID WHAT HE SAID.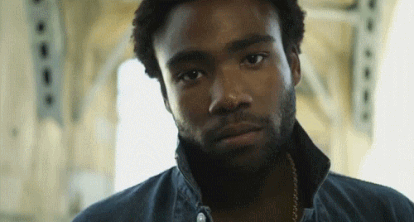 Talk that talk brother! pic.twitter.com/5nvjs5Ilrk

— nightskin jøe (@itsjoepro) January 13, 2022
-
Follow We Are: The Guard on Twitter for more! x
Sources:
Sarah Paulson Meme
Donald Glover GIF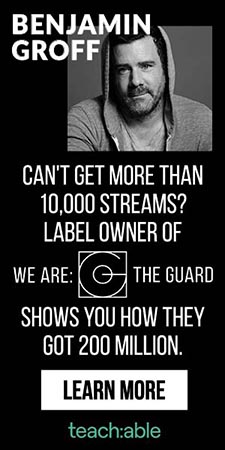 Jess Grant is a frustrated writer hailing from London, England. When she isn't tasked with disentangling her thoughts from her brain and putting them on paper, Jess can generally be found listening to The Beatles, or cooking vegetarian food.