10 TWITTER MOMENTS: MATTY HEALY AND SHAWN MENDES ARE BROMANCE GOALS
What's up, stans and stanettes?! Thanks for joining me for the latest edition of We Are: The Guard's 10 Twitter Moments! Summer is finally here and I'm pleased to say that the celeb goss is coming in HOT this Hump Day! Crank up your air con and crack open a freshly chilled Corona, then, as it's time to scroll through the following Twitter highlights from Matty Healy, Miley Cyrus, Katy Perry, Halsey, Tyler, the Creator, and five other faves!
-
MATTY HEALY AND SHAWN MENDES ARE BROMANCE GOALS
— matty (@Truman_Black) June 4, 2019
Out of all of the unlikely celebrity friendships, The 1975's Matty Healy and Shawn Mendes is without a doubt my fave. Ever since Shawn gifted Matty some of his Calvin Klein underpants, it's been nothing short of beautiful to watch this bromance develop into what it is today. I just have one question: WHERE IS THE COLLAB?!
MILEY CYRUS SPEAKS OUT
She can be wearing what she wants. She can be a virgin. She can be sleeping with 5 different people.

She can be with her husband. She can be with her girlfriend. She can be naked.

She CAN'T be grabbed without her consent. #DontFuckWithMyFreedom pic.twitter.com/hBDzuflKF1

— Miley Ray Cyrus (@MileyCyrus) June 4, 2019
LOUDER FOR THE PEOPLE AT THE BACK! Seriously, though – it's bad enough that Miley had to put up with being groped, let alone having to deal with a bunch of people commenting that she "asked for it." UGH! When are people going to learn that this shit is NOT okay?!
KATY PERRY IS A LIFESAVER
Not today or any day, satan love you, glad you're ok. https://t.co/NrE18w6WLE

— KATY PERRY (@katyperry) 31 May 2019
If you need proof of THE POWER of Katy Perry's comeback single "Never Really Over," then look no further than this tweet by @katycatayleen2. The song – which We Are: The Guard recently named a Best New Track *shameless plug* – isn't just saving pop music, but people's lives, too!
P.S. We stan a self-acceptance queen:
tryin harder every day to accept myself #NeverReallyOver https://t.co/OLg8GIRSZ4

— KATY PERRY (@katyperry) 31 May 2019
SMASH MOUTH END HOMOPHOBIA
Straight Pride Parade????? FUCK OFF!!!!!!!!

— Smash Mouth (@smashmouth) June 4, 2019
When it comes to "gay icons," Smash Mouth aren't exactly the first people who come to mind. And yet, here they are, single-handedly ending homophobia with a mere tweet. "Iconic" doesn't even cover it!
MITSKI IS NOT QUITTING MUSIC
I don't want to make art like that, especially when you're offering your valuable time and hearts and money to it. So I hope you'll have me back whenever that is, or if I start over then I start over. Thank you so much for all your support!

— mitski (@mitskileaks) June 4, 2019
Having caused MASS PANIC after announcing her "last show indefinitely," Mitski took to Twitter on Tuesday to confirm that she's NOT quitting music, just taking a break. It goes without saying that we stans are RELIEVED, and hope that our mom enjoys her much-deserved time off later this year!
TROYE SIVAN IS GAY GAY GAY
gay gay gay!! I love to be gay

— troye (@troyesivan) 30 May 2019
ISSA PRIDE MONTH ANTHEM!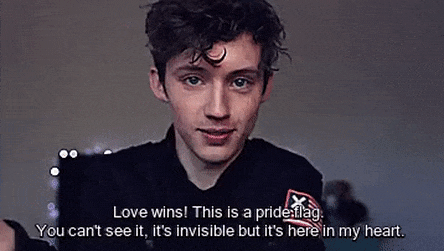 HALSEY CLOWNS MARK DICE
I have a uterus, mark. https://t.co/EkCjmBzY6F

— h (@halsey) 30 May 2019
To quote Mo'Nique: "See when you do clownery, the clown comes back to bite." Halsey putting right-wing commentator Mark Dice back in his place after he responded to her recent video supporting abortion rights is nothing short of *chef's kiss*. No, really – can someone frame this tweet and hang it on my wall, already?!
TYLER, THE CREATOR CUTS SHAPES AT GOVERNORS BALL
MAN IM SO COOL WHAT CANT I DO https://t.co/FifFdWnzJ1

— Tyler, The Creator (@tylerthecreator) June 1, 2019
Tyler, the Creator is really out here living his best life ever since releasing IGOR, huh?! By all accounts, he absolutely owned Governors Ball over the weekend, and it's not exactly hard to see why watching this video of the dude cutting shapes during his headline set on Friday.
P.S. Is that blonde bob giving anyone else Mary J. Blige vibes?!
nigga im mary j blige

— Tyler, The Creator (@tylerthecreator) June 2, 2019
A$AP ROCKY GOT HACKED
I GOT HACKED ..... BY ME !

— LORD FLACKO JODYE II (@asvpxrocky) 3 June 2019
Me when I drunk DM my ex.
CHRISTINE AND THE CONSPIRACY THEORIES
Wait should I see if we can buy happiness ?

— Chris (@QueensChristine) 29 May 2019
Erm, doesn't Christine realize that you CAN buy happiness and it's called Chaleur Humaine on vinyl?! Anyways, I'm unsure if the French singer has been reading into one too many conspiracy theories or if she's genuinely onto something with this whole phone listening thing, but I'm definitely here for intuitive pants.
-
Follow We Are: The Guard on Twitter for more! x
Jess Grant is a frustrated writer hailing from London, England. When she isn't tasked with disentangling her thoughts from her brain and putting them on paper, Jess can generally be found listening to The Beatles, or cooking vegetarian food.