10 TWITTER MOMENTS: MEGAN THEE STALLION BROUGHT HER ANIME DREAMS TO LIFE IN JAPAN
Photo by Megan Thee Stallion
This week in Twitter memes: Girl Explaining!
SO BASICALLY THERE'S YOUR SUN SIGN BUT ALSO YOUR MOON, RISING AND OTHER PLANETS AND THAT'S BARELY SCRATCHING THE SURFACE, YOU COMBINE IT WITH HOUSES, ASPECTS AND TIMING TECHNIQUES LIKE YOUR TRANSITS, PROFECTIONS AND pic.twitter.com/KbrN61ikFj

— Héloïse, the Social Astrologer (@_heloastro_) August 18, 2022
SEE HE SOLD HER MASTERS WITHOUT GIVING HER A CHANCE TO BUY THEM AND THE GUY WHO OWNS THEM HAS ALWAYS BEEN A DICK TO HER SO SHE'S RE RECORDING HER OLD ALBUMS RENDERING HIS PURCHASE NEARLY WORTHLESS AND THATS WHY YOU HAVE TO STREAM THE RE RECORDS ONLY— pic.twitter.com/vlxLrAf5ad

— ellie schnitt (@holy_schnitt) August 18, 2022
STREAMING ONLY CREATES THE ILLUSION OF INFINITE CHOICE, IN FACT OUR ACCESS TO FILMS HASN'T BEEN THIS TENUOUS SINCE THE PRE-HOME VIDEO ERA. THE AVERAGE BLOCKBUSTER CARRIED ABOUT 3X AS MANY FILMS AS ARE CURRENTLY STREAMING ON NETFLIX, PHYSICAL MEDIA IS MORE IMPORTANT THAN EV- pic.twitter.com/g4cWki9Wgk

— K8 Hagen (@thathagengrrl) August 17, 2022
SO BASICALLY YOUR GRANDDAD DIES AND LEAVES YOU HIS FARM AND ITS ALL OVERGROWN AND SHIT AND YOU HAVE TO TURN IT INTO A PROFITABLE THING, BUT YOU ALSO GET TO MEET ALL THE PEOPLE IN TOWN AND GO ON DATES WITH THEM AND MARRY THEM, ALSO THERE ARE MONSTERS AND STUFF YOU HAVE TO FIGHT pic.twitter.com/JrcOSIh1xr

— rp (@sleepydisease) August 17, 2022
there's someone out there for everyone pic.twitter.com/W4yBPFsd5M

— St. Vincent Price (@muddaub) August 17, 2022
Check out the latest edition of We Are: The Guard's 10 Twitter Moments, featuring Megan Thee Stallion, FINNEAS, Phoebe Bridgers, and more!
-
MEGAN THEE STALLION BROUGHT HER ANIME DREAMS TO LIFE IN JAPAN
Y'all I went to a jojos exhibit in Japan yesterday living my bestttt lifeeee pic.twitter.com/OXi749x5WV

— TINA SNOW (@theestallion) August 18, 2022
From attending a JoJo's Bizarre Adventure exhibit, to dressing up as Sailor Moon at Summer Sonic Festival, Megan Thee Stallion is really out here living her best anime life in Tokyo, Japan. I love to see it, not to mention I love to see Megan making anime cool again for the Hotties. Bring on Nerd Girl Winter!
Tokyo today pic.twitter.com/TgVhlz8NSB

— TINA SNOW (@theestallion) August 21, 2022
FINNEAS AND BILLIE EILISH GOT THREATENED BY THE DUOLINGO OWL
Duolingo sitting proudly on the 1st page of my iPhone's home screen, as if it has been opened ONCE in the last two years

— FINNEAS(@finneas) August 18, 2022
LMAO. I feel so very seen. I really thought I was going to come out of lockdown sounding like a Spanish abuela, but here I am, a couple of years on, neglecting the Duolingo app and still only 0.5% fluent. Just make sure that evil green owl doesn't see this. Oops, too late. RUN, BILLIE EILISH, RUN!
… is that a threat? https://t.co/JZ7skjfh7O

— FINNEAS (@finneas) August 19, 2022
PHOEBE BRIDGERS CELEBRATED HER BIRTHDAY WITH PAUL MESCAL
— traitor joe (@phoebe_bridgers) August 17, 2022
Me every time Phoebe Bridgers posts a photo with her boyfriend, Normal People and The Lost Daughter's Paul Mescal: "Jesus, I see what you've done for other people, and I want that for me." "Relationship goals" really doesn't cover it. I fully want them to adopt me. P.S. Shout out to Phoebe's Lucy Dacus hat!
@julienrbaker boygenius reunion in phoebe's bday comments????

— choir song (i feel dumb) (@jbsfuneralpyre) August 17, 2022
LIL NAS X ANNOUNCED HE WAS DIAGNOSED AS LACTOSE AND TOLERANT
i'm 23 years old and i'm just now figuring out i'm lactose and tolerant

— NASARATI (@LilNasX) August 20, 2022
Not me reading this as "lactose intolerant" about 1,000 times, only to realize it actually says "lactose and tolerant." WHY DO YOU DO THIS TO ME, LIL NAS X? That said, I'm relieved to see he isn't as allergic to milk as I initially thought, as the man was quite frankly chugging it down that time on Hot Ones!
I just noticed.

— Michelle Mullica I'm just a warning (@meventing) August 21, 2022
CARDI B TOOK ME BACK TO MY CHILDHOOD WITH THIS TWEET ABOUT WWE
I used to love them….they was such a sexy ass couple …This was truly my wwe era …even tho I was a Trish Stratus girl I used to love this couple https://t.co/m5Ur4buumP

— Cardi B (@iamcardib) August 22, 2022
It's the way Cardi B is taking me back to my childhood when I'd stay up to watch Monday Night Raw and Friday Night Smackdown with this tweet? While Edge and Lita were The It Couple, though, my loyalty belonged to Triple H and Chyna. But Trish Stratus was for sure the greatest WWE Diva!
@iamcardib https://t.co/x0BFuzgJWD

— Trish Stratus (@trishstratuscom) August 22, 2022
LIZZO REMEMBERED THAT TIME SHE DRESSED UP AS SAILOR MOON
This goes viral at least once a year lol https://t.co/BydoOn7Qa8

— FOLLOW @YITTY (@lizzo) August 21, 2022
As much as I loved seeing Megan Thee Stallion getting in touch with her inner Sailor Moon, it only feels right to acknowledge the first to do it. Lizzo playing the flute and hitting the shoot while dressed up as Sailor will never get old. MEGAN AND LIZZO COSPLAY COLLAB WHEN? *Hyperventilates*
Lizzo Moon x Megan thee Moon pic.twitter.com/3Wdyehx5fK

— meshia. (@prncessvalhalla) August 21, 2022
DUA LIPA BROUGHT THE LOOKS TO HER BIRTHDAY CELEBRATIONS
birthday week pic.twitter.com/pU25Nis4pO

— DUA LIPA (@DUALIPA) August 21, 2022
If there's one thing about me, I'm going to live vicariously through Dua Lipa's Twitter and Instagram accounts. LMAO. The Future Nostalgia singer and her best friends are really out here showing the girlies how birthday celebrations are done in Ibiza, Spain, huh? And this leather maxi dress? It's giving goth!
pulled this dress out my vault for birthday dinner pic.twitter.com/4Pb0frj6AI

— DUA LIPA (@DUALIPA) August 23, 2022
MUNA MEMBER NAOMI MCPHERSON SUCCESSFULLY RETURNED A PACKAGE
returned a package today which is kinda crazy for me bc typically i'll order something and if it's wrong i will likely be deeply overwhelmed by the idea of returning it and inevitably keep it until my death

— naomi (@flurtcobain) August 22, 2022
A WHOLE PERSONAL ATTACK. MUNA's Naomi McPherson is undoubtedly one of my favorite tweeters, but I'll be honest, some of their content hits far too close to home. Case in point: This. Having to return a package is probably top of my Social Anxiety Fears list. Like, let me take the L and go, okay?
thank you <3 pic.twitter.com/AksF3R0ltX

— naomi (@flurtcobain) August 22, 2022
GRIMES MARKED 10 YEARS SINCE SHE DROPPED THE VIDEO FOR "GENESIS"
Ten years since Genesis pic.twitter.com/k4oTCir9Kg

— (@Grimezsz) August 22, 2022
Can you believe it's been a whole decade since Grimes dropped the truly iconic, legendary video for "Genesis?" From Brooke Candy to the albino python, that video basically defined my entire personality (Translation: My Tumblr account) for the next 10 years to come. BRB, listening to Visions on repeat!
Crazy this day changed my life 4ever thanks for letting me be an artist pic.twitter.com/IChEdZddjw

— (@Grimezsz) August 22, 2022
DIONNE WARWICK HAD A GREAT PRANK PULLED ON HER BY STEVIE WONDER
A little story about my baby Stevie Wonder. pic.twitter.com/8F4IBlUpdY

— Dionne Warwick (@dionnewarwick) August 19, 2022
PROTECT AUNTIE DIONNE WARWICK AND UNCLE STEVIE WONDER AT ALL COSTS!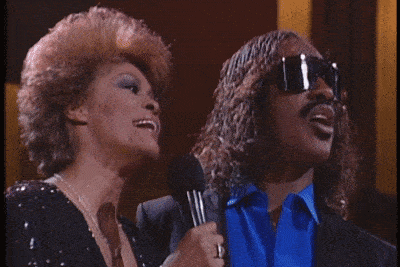 And, that RED dress just inspired another icon and legend in the industry! pic.twitter.com/nkcROjzh6Y

— oldsoul_anth (@watdaaahel) August 19, 2022
-
Don't forget to follow We Are: The Guard on Twitter for more! x
Sources:
Dionne Warwick and Stevie Wonder GIF
Jess Grant is a frustrated writer hailing from London, England. When she isn't tasked with disentangling her thoughts from her brain and putting them on paper, Jess can generally be found listening to The Beatles, or cooking vegetarian food.