10 TWITTER MOMENTS: MILEY CYRUS TRANSFORMS INTO JOE JONAS
Hello, everyone, and welcome to the latest edition of We Are: The Guard's 10 Twitter Moments, or as I prefer to call the social network, Place Where People Talk About Game of Thrones and Literally Nothing Else Dot Com. No, really – with the countdown to the final episode of GOT officially on, it feels like everybody and their second cousin twice removed was discussing Daenerys and company this week on Twitter. Believe it or not, however, there was far more going down on the feed over the last seven days. Without further ado, then, let's see what our favorite celebrities have been up to this week on Twitter by checking out the following 280-character highlights from Miley Cyrus, Lil Nas X, Cardi B, Halsey, Camila Cabello, and many others.
-
MILEY CYRUS TRANSFORMS INTO JOE JONAS
Umm why did Snapchat turn me into @joejonas? It's our brows? pic.twitter.com/OlXgiRL5va

— Miley Ray Cyrus (@MileyCyrus) May 12, 2019
The gender swap filter that's been overtaking Snapchat this week is the stuff of nightmares, but this selfie from Miley Cyrus is just plain hilarious. Finally, the Disney crossover that we've been waiting for! Right, Joe?!
Brow game strong.

— J O E J O N A S (@joejonas) May 12, 2019
LIL NAS X TWEETS KIM KARDASHIAN
kim kardashian if u are reading this please send me the picture of me & kanye

— nope (@LilNasX) May 11, 2019
It's getting to the point now where "Old Town Road" is driving me crazy every time that it plays on the radio, but I'm still living for Lil Nas X's Twitter feed. The guy is basically live-tweeting his rise to fame, plus it's cool to see big-time celebrities coming along for the ride.
THANKYOUU https://t.co/1GIRBJEBWC

— nope (@LilNasX) May 11, 2019
PHOEBE BRIDGERS DOES YOGA
does it count as yoga if you listen to podcasts while you do it and by you I mean me and by podcasts I mean my favorite murder and by it I mean lay on my mat

— millennial falcon (@phoebe_bridgers) May 10, 2019
Thanks to Phoebe Bridgers, I no longer feel bad about my "yoga regime." And by "yoga regime," I obviously mean a half-assed attempt at a downward-facing dog pose, swiftly followed by falling asleep on my mat during Shavasana.
CARDI B IS OBSESSED WITH KULTURE
Moms,do ya ever start crying randomly when ya think about ya babies? cause Lord I be like

— iamcardib (@iamcardib) May 10, 2019
Uh-oh! Cardi B really has become one of those moms who constantly talks about their kids on social media, huh?! Not that I mind, because Kulture actually is the sweetest thing ever! P.S. Shout-out to Offset for coming through for Cardi's first-ever Mother's Day!
I love you I love you I love you I love you I love you I love you @OffsetYRN Thank you for surprising me with my baby and my gifts I love you soooo much. pic.twitter.com/z2mg258SqM

— iamcardib (@iamcardib) May 12, 2019
DENM IS COMING
last 2 weeks have been crazy with music video shoots and makin a documentary but now it's all wrapped!! felt like a real life pop star . music is ready, videos are getting made, slum beach vibes comin allll summer long! time to get back in the studio and make some JAYUMZ pic.twitter.com/hZ9KVXsXOG

— DENM (@iamdenm) May 9, 2019
Slum beach season approaching! No, really – the world isn't even ready for what We Are: The Guard favorite DENM is about to unleash upon it this summer. Just trust me when I say that the good vibrations are going to be endless, after all, "life's too short to stress out."
HALSEY SHOWS HER CURLS
.
.:' .' :, .
pic.twitter.com/hB4EfZTsdL

— h (@halsey) May 14, 2019
Can we just take a moment to appreciate Halsey's adorably cute ringlets?! As someone who's spent her whole life straightening her hair, this photo has given me the confidence that I needed to embrace my natural curls. And don't even get me started on Hal's freckles!
TOKIMONSTA CALLS US OUT
Me:
Everyone on Twitter: Here's an impulsively posted emotional tweet that involves lots of uncomfortable oversharing that I probably should be talking to a therapist about, but instead Randy from Oklahoma City will probably give me a single "like" for.

— T᷈O᷈K᷈iM᷈O᷈N᷈S᷈T᷈A᷈ (@TOKiMONSTA) May 8, 2019
Woah. This is a personal attack if I've ever seen one, lol. Note to self: Next time that you feel emotionally unstable, instead of tweeting a ton of strangers about your life problems, chill out and listen to some TOKiMONSTA instead.
@ me next time

— ALISON WONDERLAND (@awonderland) May 8, 2019
WHEN THE 1975 MET BTS
Hey @bts_bighit you're in the hotel room next to me just wanted to say that the weed smell and the chicken in the corridor is 100% George and not me

— matty (@Truman_Black) May 10, 2019
The 1975 and BTS?! I'm pretty sure that it's illegal for my favorites to be in this close proximity to each other. I just hope that the weed smell didn't put the BTS boys off because I NEED A COLLAB! Or a photo together at least?!
DASHBOARD CONFESSIONAL ON THE FUTURE OF EMO
The best new emo music of the moment is being made by women (@Snailmailband / @musicpronoun / @chelseacutler / @sopharela) and artists like you, @nothingnowhere & @officialjaden...and I LOVE it.

— Dashboard Confessional (@dashboardmusic) May 9, 2019
Now THIS is what you call a cosign! Dashboard Confessional giving the thumbs up to Jon Bellion to carry forth the emo crown. Congratulations to all of the female artists who are listed, too, including my personal queen Snail Mail.
Ayyyy! https://t.co/pPcGwlD7jc

— Snail Mail (@Snailmailband) May 9, 2019
CAMILA CABELLO STARTED GAME OF THRONES
This is a big update and I can't believe I haven't told you guys but I started watching game of thrones three weeks ago and ITS TAKEN OVER MY LIFE

— camila (@Camila_Cabello) May 12, 2019
This is it, everyone! I'm officially starting Game of Thrones! I'm so goddamn tired of being out of the loop on Twitter, and if Camila Cabello, aka one of the busiest women in pop music, can get through all eight seasons, then I sure as hell can! Let's GO!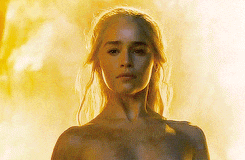 -
Until next week, everyone, don't forget to follow We Are: The Guard on Twitter! x
Jess Grant is a frustrated writer hailing from London, England. When she isn't tasked with disentangling her thoughts from her brain and putting them on paper, Jess can generally be found listening to The Beatles, or cooking vegetarian food.