10 TWITTER MOMENTS: NICKI MINAJ VS STORMI WEBSTER
What's up, everyone?! Thanks for joining me for the latest edition of 10 Twitter Moments on this EXTREMELY busy week in pop culture! That's right, between the VMAs and Nicki Minaj losing out on the #1 spot to Travis Scott, there's been a whole lot of drama going down on our fave social network over the last seven days! We Are: The Guard has, as ever, rounded up all of the hottest gossip, so grab some popcorn – Michael Jackson "Thriller"-styleé – as it's time to check out the following 280-character highlights from Nicki Minaj, Camila Cabello, Lana Del Rey, Lenny Kravitz, Post Malone, and more! -
NICKI MINAJ VS STORMI WEBSTER
I put my blood sweat & tears in writing a dope album only for Travis Scott to have Kylie Jenner post a tour pass telling ppl to come see her & Stormi. lol. Im actually laughing. #Queen broke the record of being number 1 in 86 countries. Thank Jesus & thank you to my fans.

— QUEEN (@NICKIMINAJ) 19 August 2018
So, as I mentioned in the introduction, Queen lost out on the #1 spot to Travis Scott's ASTROWORLD on Sunday, and let me tell you, Onika Tanya Maraj is NOT happy about it! And, disappointed as I am that Nicki didn't get her chance to shine at the top of the chart – taking it out on a baby?! Come on, girl, you're classier than that! No, really, just stick to calling out Safaree and Tyga's fake hairlines, okay?!
CAMILA CABELLO LIVES HER VMA DREAMS
YOURE NOT GONNA BELIEVE THIS SMOL CAMILA BUT: IN 2018 MADONNA IS GOING TO GIVE YOU AN AWARD FOR VIDEO OF THE YEAR AND YOUR ACNE WILL CLEAR https://t.co/H8IbhaA2EO

— camila (@Camila_Cabello) 21 August 2018
OMFG! This is the cutest "Before They Were Famous" find EVER! Little did little Camila Cabello know that she'd be living her VMA dreams in just six years time! The "Havana" singer literally SLAYED the event, winning two of the biggest awards of the night, one of which was given to her by none other than Madonna! And I haven't even MENTIONED the adorable mom dancing! I STAN AN ACTUAL QUEEN!
GABRIEL BLACK SLEEPS IN
told myself i was gonna be up at 9 and go for a run and get a nice breakfast.

woke up at 11:30 and not doing any of that bullshit

— gabriel black (@sbgabrielblack) 15 August 2018
My whole life in one tweet! For real, I go to bed with the best of intentions of getting shit done the next day, but when I wake up in the morning, the "snooze" button on my alarm clock just looks TOO DAMN GOOD! If anyone deserves to sleep in, though, it's gabriel black! I mean, the dude DID release the debut EP of the year on Friday (don't @ me)!
LANA DEL REY FOR PRESIDENT
'the truth isn't the truth' is a very disturbing statement.
Having a shared agreement on what the basis of reality and truth is is what holds the fabric of civilization together.
That being said I do feel like this quote sums up the kulture

— Lana Del Rey (@LanaDelRey) 19 August 2018
YES, MOM! The fact that former New York City mayor and current Trump lawyer Rudy Giuliani was allowed to go on television on Sunday and explicitly reject the concept of objective truth is BEYOND fucked up and I'm HERE for Lana Del Rey calling this shit out with such elegance and grace! No, really, forget Yeezy 2020! IT'S ALL ABOUT LANA 2020!
JOE PERRY AND LENNY KRAVITZ BACKSTAGE AT THE VMAS
Hey Joe @JoePerry @vmas pic.twitter.com/otvgRremuW

— Lenny Kravitz (@LennyKravitz) 21 August 2018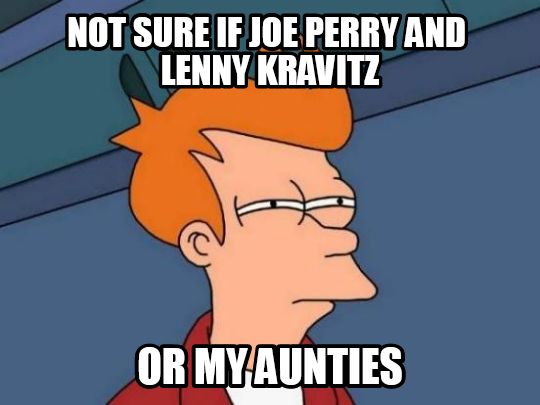 WINGTIP SPEAKS THE TRUTH
next time u are annoyed by an artist u love changing
remember that it's much harder to change than to stay the same
so if ur fav artist's sound is changing
it means they're still trying
which, especially if they're already successful
is pretty beautiful

— wingtip (@itswingtip) 21 August 2018
Me: I agree, it's really important that we give our faves the space that they need to grow as artists, and let them creatively develop in a way that feels true to them. Also me: wHeRe ArE tHe BoPs On SwEeTeNeR?!
SERPENTWITHFEET PAYS TRIBUTE TO ARETHA FRANKLIN
for Mama Anointed Franklin !!

thank you for being that bridge for all of us.

thank you for charging the air for 76 years. every chord we play & every note we sing today is an offering to you ! pic.twitter.com/J8DdcDloOl

— serpentwithfeet (@serpentwithfeet) 17 August 2018
AMEN, SERPENTWITHFEET! There was quite literally nobody better than Aretha Franklin, and serpentwithfeet's Josiah Wise – who we see here lending his angelic vocal runs to the Detroit icon's cover of "Bridge Over Troubled Water" – is just one of the many voices that we likely would never have been blessed with if it wasn't for Aretha leading the way over the years! REST IN POWER, SOUL QUEEN! PS Madonna – THIS is how you pay tribute to Aretha!
ALWAYS NEVER ON THE POWER OF MUSIC
there is nothing better than music that punches you right in the soul

— Always Never (@alwaysneverhere) 19 August 2018
DAMN STRAIGHT! Which probably explains why I listen to Always Never on the daily. For real, forget The Weeknd. This Toronto R&B duo get me in my feelings like Abel never could. TWO DAYS UNTIL THE DEBUT ALBUM DROPS!
GOD IS A WOMAN AND HER NAME IS LIZZO
You make me feel.... You make me feel... You make me feel just like God Is A Woman #sweetener pic.twitter.com/hInyTjQbY0

— |L I Z Z O| (@lizzo) 17 August 2018
BLESS ALL OF THE WIGS THAT WERE SNATCHED FROM WATCHING THIS VIDEO!
POST MALONE LANDS SAFELY
i landed guys. thank you for your prayers. can't believe how many people wished death on me on this website. fuck you. but not today

— Beerbongs & Bentleys (@PostMalone) August 21, 2018
On Tuesday afternoon, Twitter watched with nervous anticipation as Post Malone's plane was forced to make an emergency landing at New York Stewart International Airport after two of its two tyres exploded. It seems that not everyone on the social network was praying for a happy ending, however, at least according to this tweet sent by the rapper once he safely touched down. Look, I admit that his performance with Aerosmith at the VMAs was all kinds of mentally scarring, but really?! Wishing death on someone?! THIS IS WHY WE CAN'T HAVE NICE THINGS, INTERNET!
-
Follow We Are: The Guard on Twitter for more! x
Jess Grant is a frustrated writer hailing from London, England. When she isn't tasked with disentangling her thoughts from her brain and putting them on paper, Jess can generally be found listening to The Beatles, or cooking vegetarian food.