10 TWITTER MOMENTS: POST MALONE TO APPEAR ON QUEER EYE?!
To Iranian President Rouhani: IT'S GONNA TAKE A LOT TO DRAG ME AWAY FROM YOU! THERE'S NOTHING THAT A HUNDRED MEN OR MORE COULD EVER DO! I BLESS THE RAINS DOWN IN AFRICA! GONNA TAKE SOME TIME TO DO THE THINGS WE NEVER HAAAAAAAAAAD OOH OOH!
*Cough* Sorry! Where was I?! Ah yes! Bringing you this week's edition of We Are: The Guard's 10 Twitter Moments from Post Malone, Lizzo, Liam Gallagher, Jaden Smith, Ariana Grande, and most definitely NOT Donald Trump :)!
-
POST MALONE TO APPEAR ON QUEER EYE?!
no they just think I'm ugly and smell lol. love the show tho guys, keep crushing it

— Beerbongs & Bentleys (@PostMalone) July 17, 2018
Post Malone stans have been busy on Twitter this week running an IMPASSIONED 280-character campaign to get the inked rapper to appear on the Netflix show Queer Eye for a Fab Five makeover, and as a huge fan of both, I can confirm that I'm READY FOR THIS! Can you IMAGINE Post Malone and Jonathan Van Ness in the same room together?!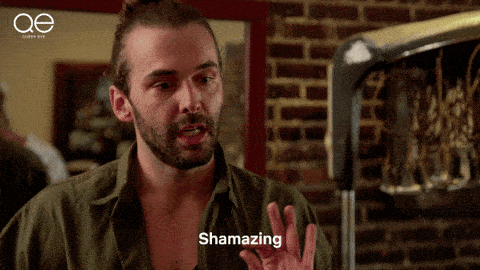 JESSE SAINT JOHN HAS A WIKIPEDIA PAGE!
WAIT WHAT THE FUCK I DIDNT KNOW I HAVE A WIKIPEDIA https://t.co/i7DgdsUFjW

— jesse saint john (@jessesaintjohn) July 18, 2018
You KNOW that you've made it when you have your own Wikipedia page! Platinum-selling records are okay and all, but have you ever had your own openly editable encyclopedia entry?! Reading this Wikipedia page has only reminded me what a talented human being jesse saint john is! To say that we're proud to have him signed to the We Are: The Guard label doesn't cover it!
LIZZO IS HERE TO SLAY
Y'all ready for this album? pic.twitter.com/VmPDhtXXYw

— |L I Z Z O| (@lizzo) July 19, 2018
YAAAAAAAAAAS! SLAY ME WITH THOSE VOCAL RUNS, QUEEN LIZZO! P.S. HAS ANYONE SEEN MY WIG?!
OASIS TO REUNITE?!
Earth to noel listen up rkid I hear your doing gigs where people can't drink alcohol now that's the BeZarist thing you've done yet I forgive you now let's get the BIG O back together and stop fucking about the drinks are on me LG x

— Liam Gallagher (@liamgallagher) 19 July 2018
The Gallagher brothers have given us one of the more entertaining beefs of the last decade, but it looks as though the family feud may be finally coming to an end this 2018, at least if this tweet from Liam is anything to go by. Of course, Noel has yet to respond to the invitation, which means that nothing will likely happen and people will continue to turn up to Liam's solo gigs with potato peelers for the next 10 years, BUT AN OASIS STAN CAN DREAM, RIGHT?!
MOTHICA AND THE ONION
i was feeling all proud of myself because i just recorded the most epic vocals for the the title track of my album and then i found an onion in my bra from lunch now i'm even more proud of myself

— MOTHICA (@dearmothica) July 18, 2018
MOTHICA IS ME EVERY TIME THAT I EAT AT SUBWAY AND I'M HERE FOR IT! The biggest question remains, however... Did Mothica actually consume the rogue onion?! Because, if it was me, well... There's nothing that I hate more than food going to waste!
RYAN SVENDSEN REACHES OUT TO ALLIE X
I really enjoy @alliex music and would like to extend a free voucher on my behalf for trumpet recording services for any of her upcoming productions for life. This voucher may be redeemed at any time and has no expiration.  When you need them horns, holla pic.twitter.com/HYcoB6b5zH

— Ryan Svendsen (@MusicBefore) 23 July 2018
OMFG! This NEEDS to happen! Ryan Svendsen has played trumpet for a WHOLE bunch of my faves, including Christina Aguilera and Molly Moore, but the thought of an Allie X collaboration is officially SENDING ME! Allie, if you're reading this (because, let's face it, she totally is), PLEASE accept Ryan's generous offer of free trumpet for life! YOU WON'T REGRE IT!
FREYA RIDINGS IS AN INSPIRATION
Same girl. 10 years apart. I started writing songs as a way of dealing with the isolation I felt at school. After a decade of playing and writing I've now never felt more accepted or loved. Truly thank you for your support. It honestly means the world  pic.twitter.com/yfhBv3rZnb

— Freya Ridings (@FreyaRidings) 18 July 2018
This is PURE inspiration from British singer-songwriter Freya Ridings! It also serves as an important reminder that we can achieve ANYTHING in life if we really put our minds to it! Thank you, Miss. Ridings, for gifting us with both your voice and heart of gold, and for helping us to continue to dream big with your music!
PEAK JADEN SMITH
— Jaden Smith (@officialjaden) 23 July 2018
WE HAVE REACHED PEAK JADEN SMITH, PEOPLE! I REPEAT, WE HAVE REACHED PEAK JADEN SMITH!
INTRODUCING ARIANA DAVIDSON AND PETE GRANDE
honestly ? not too fuckin shabby pic.twitter.com/1gMzmtXurX

— Ariana Grande (@ArianaGrande) July 19, 2018
WHEEEEEEEEEEZE! Ariana Grande and Pete Davidson have been providing the Internet with some SERIOUS content over recent months, although this face (well, hair) swap might be the best thing to come out of their entire relationship to date! Can we also take a moment to appreciate what a LOOK Ariana is with a blonde pixie cut?! Kind of like a young Ellen and Katy Perry rolled into one?!
BRASKO WITH THE TEA
anyone can put out an ep that, sonically, sounds decent.
fans are now smarter than ever. underestimate them and you've already lost the game.

if you wouldn't die for your art- they will know within 30 seconds of listening.

— Brasko (@braskosongs) July 21, 2018
WHERE IS THE LIE?! Calvin didn't say that this Nashville artist was "built to be a pop star" for nothing! In a world full of fake news, Brasko is EXACTLY the kind of realness that we need in our lives, and I'm not sure about you, but I can't WAIT for his debut EP to drop later this year! THE DAVID BOWIE OF 2018?! -
Don't forget to follow We Are: The Guard on Twitter for even more HILARIOUS 280-character content! x
Jess Grant is a frustrated writer hailing from London, England. When she isn't tasked with disentangling her thoughts from her brain and putting them on paper, Jess can generally be found listening to The Beatles, or cooking vegetarian food.