10 TWITTER MOMENTS: RIHANNA HINTS AT NEW MUSIC?!
Twitter is freakin' weird, man. No, really – where else on the Internet can you scroll past a life-changing garlic hack one minute and O. J. Simpson the next?! Anywaaaaays! Despite all of the Peak-2019 Craziness™, I'm pleased to say that our favorite musicians still had plenty to get off their chests on the fastest-moving social network this week. Cancel whatever it is that you had planned this Hump Day, then, as it's time to check out the latest edition of We Are: The Guard's 10 Twitter Moments, featuring Rihanna, Taylor Swift, Shawn Mendes, Troye Sivan, Halsey, and more.
-
RIHANNA HINTS AT NEW MUSIC?!
when you been MIA and got hella people to get back to. pic.twitter.com/OBmkSW6GIW

— Rihanna (@rihanna) June 16, 2019
Wait?! Is this Rihanna hinting at the fact that she's *finally* working on new music for the Navy?! Or is this just another plug of her FEИTY clothing line, which apparently doubles up as chic bondage gear?! I can't take much more teasin', RiRi!
TAYLOR SWIFT AND KATY PERRY MAKE AMENDS
A happy meal pic.twitter.com/hPAbOZEsKF

— Taylor Swift (@taylorswift13) 17 June 2019
IIDFIDHDISSDJJHSFIASFHASOFIHAD! And, just like that, peace was restored to the lands! No, really – my acne is cleared, my crops and thriving, and my grades are soaring, and it's all thanks to Taylor Swift and Katy Perry finally making amends in the cutest way possible in the video for "You Need to Calm Down." "Iconic" doesn't even cover it!
This meal is BEEF-free #MeatFreeMonday #YNTCDmusicvideohttps://t.co/m2kA0mZgQe pic.twitter.com/yKYmnTxBy5

— KATY PERRY (@katyperry) 17 June 2019
PRIME MINISTER LIAM GALLAGHER?!
My name is liam Gallagher I have 4 beautiful children I have dabbled in drugs over the years I've had many number 1s now send me the keys to no10 I'll sort this pile of shit out WHY ME?WHY NOT.

— Liam Gallagher (@liamgallagher) 18 June 2019
We're living through some seriously bizarre times, politically, and, honestly?! Brit-pop legend Liam Gallagher becoming Prime Minister of the United Kingdom doesn't even feel like that much of a stretch at this point. Let's just hope that he makes it law that Oasis have to reunite as soon as he's in office.
ParLIAMent c'mon you know

— Liam Gallagher (@liamgallagher) 18 June 2019
THUNDERCAT V.S. ANDERSON .PAAK
who won the dance-off me or @AndersonPaak ? pic.twitter.com/FJhCFR0hNq

— ashy daddy (@Thundercat) 17 June 2019
There are two kinds of people in this world: People who dance like Anderson .Paak at parties, and people who dance like Thundercat at parties. I'm not at all ashamed to admit that I'm in the latter camp, and it's for that very reason that I declare Thundercat is the winner of this dance-off. THRUST GAME ON POINT!
SHAWN MENDES TWEETS LIKE MY DAD
Wow popcorn smells unbelievable.

— Shawn Mendes (@ShawnMendes) 18 June 2019
This Shawn Mendes tweet is so on-brand. And by "on-brand," I obviously mean that he sounds like my 50-year-old dad who recently started to use Twitter in an attempt to "keep up with the times."
P.S. Oh, hai, Troye Sivan!
this is actually incorrect - the smell gets stuck in my throat and makes me feel like i have to cough

— troye (@troyesivan) 18 June 2019
TROYE SIVAN AND NASH ARE EVERYTHING
— troye (@troyesivan) 18 June 2019
Petition for Troye Sivan to start Nash his very own Twitter account.
DUCKWRTH IS THE REAL DEAL
I'm really trynna continue to care and make meaningful art. But I'm not gonna lie, this generation of numbness is breaking my heart. Feels like ppl are only hear for entertainment. Anything deeper than that, their logging out. And I'm totally hurt by it yo.

— DUCKWRTH (@DUCKWRTH) 14 June 2019
In a world full of phonies and fakers, Duckwrth is the definition of the real deal. If you happen to be reading this, Duckwrth, all I can say is: KEEP DOING YOU! There are so many people out there who love and respect your art (We Are: The Guard included!), and it won't be long until the rest of the world wakes up to your greatness.
LIZZO IS A SKINNY LEGEND
Me, after drinking 8 glasses of water and eating kale pic.twitter.com/NKnACHiz4Y

— |L I Z Z O| (@lizzo) 18 June 2019
Forget her Sister Act-inspired performance. Lizzo turning the dress that she wore to the MTV Movie & TV Awards into a green screen is the kind of memeable content that Twitter and I truly live for. WE STAN A SKINNY LEGEND!
TRENT REZNOR APPROVES OF ASHLEY O...
Feels like I've been here before…?#blackmirror #mileycyrus #ashleyo #goddamnitthisisactuallyprettygoodandidontknowwhoiamanymorehttps://t.co/JXncSY6cZL

— Trent Reznor (@trent_reznor) June 14, 2019
I'm yet to watch the latest episode of Black Mirror where Miley Cyrus plays Ashley O, a fictional pop star who sings a bunch of Nine Inch Nails songs, but if it's good enough for Trent Reznor, then it's sure as hell good enough for me!
P.S. King of hashtags, much?!
...AND SO DOES HALSEY
Black Mirror episode about a popstar named Ashley with colorful hair. Existential crisis: Engage.

— h (@halsey) June 16, 2019
Okay, fine. BRB, logging in to Netflix.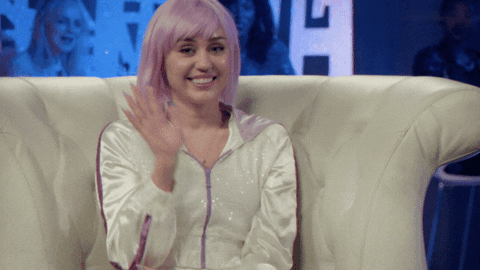 -
Follow We Are: The Guard on Twitter for more! x
Jess Grant is a frustrated writer hailing from London, England. When she isn't tasked with disentangling her thoughts from her brain and putting them on paper, Jess can generally be found listening to The Beatles, or cooking vegetarian food.