10 TWITTER MOMENTS: STOP EVERYTHING, STARBUCKS HAS RELEASED AN ARIANA GRANDE-THEMED COFFEE
It's March, which means that spring is almost upon us, which means that we as humans should probably be spending less time indoors on our phones and more time outside enjoying this beautiful weather. And as much as I'd love to say that I've been doing exactly that this week, in reality, I've just been sat on my sofa, eating Hot Cheetos, and refreshing Cardi B's Twitter feed like my life depends on it. What can I say? It's hard work being a stan! On that note, let's check out today's edition of We Are: The Guard's 10 Twitter Moments, featuring Ariana Grande, Post Malone, Solange, and seven other faves!
-
STOP EVERYTHING, STARBUCKS HAS RELEASED AN ARIANA GRANDE-THEMED COFFEE
@starbucks cloud #cloudmacchiato #starbucksambassador #trythesoyversion pic.twitter.com/y2LRAx33Sq

— Ariana Grande (@ArianaGrande) 5 March 2019
OH! MY! GOD! Starbucks has released an Ariana Grande-themed Iced Cloud Macchiato and I'm officially SCREAM-ING! You just KNOW that this is going to taste like heaven and angels singing and playing harps! Pumpkin Spice Latte who?
P.S. Petition for a Tyler, the Creator-themed Starbucks coffee!
2007-2010 / Hawthorne, CA pic.twitter.com/hJ3hoR5DPK

— Tyler, The Creator (@tylerthecreator) January 3, 2019
FORGET BIG DICK ENERGY, HALSEY IS ALL ABOUT TALL FRIEND ENERGY
I look at my friends who are 5'10 and 7 inches taller than me and I'm like "...yea I'm prolly as tall as u."

— h (@halsey) 27 February 2019
As someone who barely clocks in at 5 feet 3 inches, this tweet from Halsey is WAY TOO RELATABLE! One day, ONE DAY, I might actually grow (get it?) comfortable with the fact that I'm the smallest person in my whole entire social group, but until then, GIVE ME ALL OF THE TALL FRIEND ENERGY!
POST MALONE HAS HAD ENOUGH OF FAKE FANS
to my REAL fans I love you to death, to the people trying to dig so fucking hard to try and get me to leave my girl, y'all ain't real fans and it needs to stop. The past is the past and it has nothing to do with anything.have some respect. who gives a fuck? let us live our lives.

— Beerbongs & Bentleys (@PostMalone) February 28, 2019
I've said it before, and I'll say it again (because it's quite frankly too funny not to say it): LEAVE POST M-ALONE!
Jokes aside, what will it take for the haters to back off this dude? Was 2018 not sh*tty enough for him (see: emergency plane landing, car crash, armed robbery)?
P.S. Is anyone else low-key disappointed to discover that Post Malone isn't single?
CHRISTINE AND THE QUEENS IS A GUITAR GODDESS
Now's the time pic.twitter.com/RFBkhhAWnr

— Chris (@QueensChristine) 4 March 2019
Christine and the Queens playing a baby-pink Fender Stratocaster. Tell me, have you ever seen anything so f*cking kick-ass in your whole entire life? No, really, I don't even feel worthy of the amount of SLAY taking place in this photograph!
JAMES BLUNT PAYS TRIBUTE TO THE PRODIGY'S KEITH FLINT
said how thrilled he was for my success.

Keith, I only met you once, but I shed a tear at the news of your death. In our business, there are no prizes for being kind, but if there was, that Grammy would be yours.

— James Blunt (@JamesBlunt) 4 March 2019
Of all of the tributes being paid to Keith Flint, I didn't expect James Blunt's one to move me the most... This is a truly touching story and a reminder that, beneath the nose piercings and bleached mohawks, The Prodigy front man hid a real soft center. Rave in peace, Firestarter...
RL GRIME AND ALISON WONDERLAND ARE GOING INTO THE STUDIO TOGETHER
going into the studio with alison wonderland tomorrow https://t.co/CeuhrP1Ho3

— RL GRIME (@RLGRIME) March 5, 2019
THIS IS NOT A DRILL!

JACK ANTONOFF WANTS YOU TO KNOW THAT ALBUMS AREN'T DEAD, OKAY?
if you think albums are dead it's only because you are not listening to albums

— jackantonoff (@jackantonoff) March 5, 2019
Jack, Jack, Jack... We're not LISTENING to albums because the people who you produce for aren't RELEASING any. Like, WHERE IS TS7, ALREADY (Taylor Swift 7, for the uneducated)? And don't even get me started on Normal Fucking Rockwell... Oh, and feel free to give us a Bleachers album while you're at it.
NOTHING TO SEE HERE, JUST GRIMES IN GIVENCHY HAUTE COUTURE
Sith-ette pic.twitter.com/Yu4IpRDrRn

— ༺GRIMES༻ (@Grimezsz) March 5, 2019
Did anyone else spend way more time than they care to mention trying to work out if that's Elon Musk's house behind Grimes? Anyways, how bad-ass does Claire look in this Givenchy Haute Couture dress that she wore to the Captain Marvel premiere? So bad-ass that she almost made me forget that SHE STILL HASN'T DROPPED THE ALBUM!
WHAT DID WE DO TO DESERVE SOLANGE?
Y'all! I'm filled w so much joy right now!!! Wow! I can't thank y'all enough for this moment and for all the feelings i feel in my body!
I'm bringing home w me everywhere I go yalll and I ain't running from shit no more. Your love lifts me up so high. Thank you!

— solange knowles (@solangeknowles) March 1, 2019
Solange: Hi, how are yo-
Me: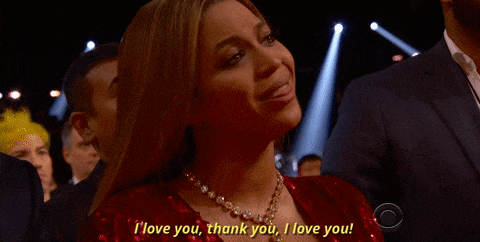 LOL, LIL YACHTY'S LOUIS VUITTON EARPHONES DIED
My earphones died on this plane and I never now more than ever wish I had wired headphones

— underdog (@lilyachty) March 5, 2019
Can you hear that sound, Lil Yachty? That, my friend, IS THE SOUND OF BROKE! This is karma for all of that flexing that you did with your Louis Vuitton earphones! Maybe it's time to resurrect your old AirPods?
-
Don't forget to follow We Are: The Guard on Twitter for more! x
Jess Grant is a frustrated writer hailing from London, England. When she isn't tasked with disentangling her thoughts from her brain and putting them on paper, Jess can generally be found listening to The Beatles, or cooking vegetarian food.