10 TWITTER MOMENTS: SZA PAID TRIBUTE TO PRINCESS DIANA ON HER ALBUM COVER
Photo by SZA
Just when it looked like we were going to have a relatively controversy-free week on Twitter, K*nye W*st decided to remember his password. Luckily, his account didn't last very long, with the bird app quickly returning to business as usual. And by "business as usual," I obviously mean dank Spotify Wrapped memes and, erm, AI self-portraits. Check out the latest edition of We Are: The Guard's 10 Twitter Moments, featuring SZA, Dionne Warwick, Cardi B, and seven other favorites!
-
SZA PAID TRIBUTE TO PRINCESS DIANA ON HER ALBUM COVER
— SZA (@sza) November 30, 2022
SOLÁNA IMANI ROWE SEASON APPROACHING. While I was already prepared for S.O.S. to break me, this iconic cover art paying tribute to the late Princess Diana, plus that Phoebe Bridgers collaboration, definitely has me fearing for my emotional well-being on Friday. LMAO!
Response to having phoebe on the albums been pretty positive lol pic.twitter.com/D2Y7ckHP7l

— SZA (@sza) December 6, 2022
DIONNE WARWICK WAS A CONCERNED AUNTIE
If I am on your @Spotify Wrapped let me know. Most of my songs are sad and I am hoping you're okay. We can talk about it.

— Dionne Warwick (@dionnewarwick) November 30, 2022
It's Spotify Wrapped Season, but rather than use the moment to boast about her artist stats, Dionne Warwick instead took to Twitter to check in on her fans like the Auntie that she is. I LOVE HER. P.S. Is "Anyone Who Had a Heart" anyone else's emotional-support song?
This is a lovely message. Thank you.

— Dionne Warwick (@dionnewarwick) November 30, 2022
CARDI B LOOKED ICONIC IN THIS NAOMI CAMPBELL BODYSUIT
Fuck it pic.twitter.com/rXSubntAcI

— Cardi B (@iamcardib) December 4, 2022
While a lot of noise is currently being kicked up on Twitter about Cardi B performing a private gig for a bunch of bankers, I don't think there's enough talk about this Jean Paul Gaultier bodysuit she wore. Cardi is serving pure icon here. Naomi Campbell undoubtedly approves!
Duh pic.twitter.com/k4NOFzr4Xh

— Cardi B (@iamcardib) December 5, 2022
J-HOPE WISHED JIN A HAPPY BIRTHDAY AND IT WAS ADORABLE
#HappyJINday pic.twitter.com/gGUxjlF9sb

— (@BTS_twt) December 3, 2022
I'M NOT CRYING, YOU'RE CRYING. It was JIN's 30th birthday on Sunday, and to celebrate, j-hope took to Twitter to pay tribute to his bandmate and brother-in-arms with these sweet, adorable pics. My heart is full and my serotonin levels are boosted. 2SEOK FOR LIFE!
2seok forever and always pic.twitter.com/MKBX1c4o2h

— bts (@jeonboops) December 3, 2022
LIZZO BRUTALLY CLAPPED BACK AT THE TROLLS
Since we lookin out… #healthfirst https://t.co/cqM2Uigxjs pic.twitter.com/BSCQkRe1N5

— FOLLOW @YITTY (@lizzo) December 5, 2022
AND I OOP. If there's one thing Lizzo is going to do, it's respond to the haters. I'm not sure why the trolls bother to come for the Special singer at this point. Now, if you'll excuse me, I'm off to rewatch the Love, Lizzo documentary to remind myself of the power of self-love!
— Ann Marie Lastrassi (@DebJellinsky) December 5, 2022
LIL NAS X WAS HIRED AS TWITTER CEO BY ELON MUSK
omg is this real https://t.co/G19StXNlNO

— i am reading all that (@LilNasX) November 30, 2022
SEEMS LEGIT. I, for one, think Lil Nas X is very cute, very fun, and very petite, so I'm glad to say my Twitter account is here to stay. Jokes aside, I feel like Lil Nas X is the only person capable of saving Twitter at this point. Oh, and Auntie Dionne Warwick, of course!
He knew you were CEO before and wanted to include you. pic.twitter.com/i6kjwSKgdM

— Stacey STAR WALKIN' (@InMyLife_25) November 30, 2022
LEWIS CAPALDI TOOK SPOTIFY WRAPPED VERY SERIOUSLY
why am i like this https://t.co/iXDyOt0qiq

— Lewis Capaldi (@LewisCapaldi) November 30, 2022
The "Artist Message" was definitely one of my favorite additions to Spotify Wrapped this year, so it's good to see "Pointless" singer-songwriter Lewis Capaldi took the entire thing very seriously. My man loves a close-up, hahaha. Never change, Lewis, never change!
Some has to don't they , there's no one like you and I love it pic.twitter.com/bTZCnowI4S

— lewisCsimp4ever (@LewisCSimp4ever) November 30, 2022
MARIAH CAREY LOOKED ABSOLUTELY DAZZLING
Last minute jjuj pic.twitter.com/T2ceddHlE8

— Mariah Carey (@MariahCarey) December 4, 2022
YOUR CHRISTMAS QUEEN, LADIES AND GENTLEMEN.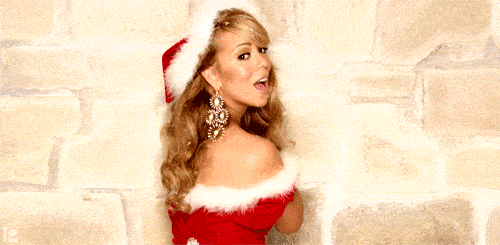 I can't even deal!! pic.twitter.com/9XYzlFcvN8

— Benjariah (@Lebenj37) December 4, 2022
ICE SPICE WAS A NEW YORK MAGAZINE COVER GIRL
— Ice Spice ☆ (@icespicee_) December 5, 2022
Ice Spice appearing on the cover of New York Magazine alongside the likes of Julia Fox and Paul Rudd? A huge deal, much? This is a massive testament to how far Ice Spice has come over the last few months since the release of "Munch (Feelin' U)." Whatever next? Vogue Magazine?
it's corn kid skipping to the bank for meee pic.twitter.com/rWFzcyuiC7

— K.D. Heron (@HleaKKA) December 5, 2022
STEVIE NICKS SAID HER GOODBYES TO CHRISTINE MCVIE
— Stevie Nicks (@StevieNicks) November 30, 2022
Rest in power, Christine McVie.
Christine McVie on writing Songbird pic.twitter.com/DSosTYMmHR

— James (@DrJamesJBailey) November 30, 2022
-
Follow We Are: The Guard on Twitter for more! xoxo
Sources:
Mariah Carey GIF
Jess Grant is a frustrated writer hailing from London, England. When she isn't tasked with disentangling her thoughts from her brain and putting them on paper, Jess can generally be found listening to The Beatles, or cooking vegetarian food.