10 TWITTER MOMENTS: DOJA CAT HAD SOME BIG NEWS TO SHARE
Photo by Doja Cat
Now Elon Musk is Twitter's biggest shareholder, we're probably going to see an increase in dank memes, Dogecoin jokes, and problematic political opinions over the next few weeks and months. Meanwhile, I'm pleased to report it's been business as usual on the Internet's fastest-moving social network, with April Fools and the GRAMMY Awards providing us with lots of Excellent Twitter Content™. Cancel your Hump Day plans, then, as it's time to check out the latest edition of We Are: The Guard's 10 Twitter Moments, featuring Doja Cat, Lil Nas X, Japanese Breakfast, and seven other favorites!
Oh hi lol

— Elon Musk (@elonmusk) April 4, 2022
-
DOJA CAT HAD SOME BIG NEWS TO SHARE
i'm pregnant

— yeeee (@DojaCat) April 1, 2022
AND I'M THE FATHER. Haha. Seriously, though, before you get too nervous, I recommend you check out the date Doja Cat posted this tweet. If anyone was going to be tweeting an April Fool, it was bound to be social media's resident troll and sh*t poster. Clearly, Doja meant pregnant with a GRAMMY, though? Congratulations, queen.
HAHAHAH U ALL JUST GOT PRANKED! I don't have telekinesis, nicholas cage never hacked me, i'm not preganant, i don't have butt shots, and i never pooped on the stage!!! HAHAHAHAH HAHA YOU FELL FOR IT. HAH STUPID. USE UR BRAINS. so silly.

— yeeee (@DojaCat) April 1, 2022
LIL NAS X CELEBRATED LOSING AT THE GRAMMYS
can't believe i lost all my grammys. i am now no longer gay!

— MONTERO (@LilNasX) April 4, 2022
LMAO. I'm not sure what was more entertaining on Sunday, the GRAMMYs or Lil Nas X's Twitter feed? While Montero may have lost all five awards he was up for, based on the number of selfies he shared to his social media, he had the best time regardless. Can we also talk about that "INDUSTRY BABY" moment? Nas X and Jack are so iconic.
— MONTERO (@LilNasX) April 4, 2022
JAPANESE BREAKFAST FINALLY GOT TO MEET BTS
It happened @BTS_twt pic.twitter.com/43BAjg0gtC

— Japanese Breakfast (@Jbrekkie) April 4, 2022
PROTECC JAPANESE BREAKFAST AND BTS AT ALL COSTS!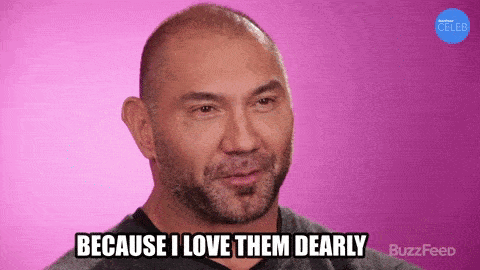 Yoongi took the photo. pic.twitter.com/eh18u51tuX

— IANE⁷ (@yannitannies) April 4, 2022
THE WEEKND REMINDED US HOW MUCH HE LOVES HIS DOG
my favorite thread https://t.co/X1hyP1VI81

— The Weeknd (@theweeknd) April 1, 2022
The Weeknd's love for his Doberman Pinscher, Caesar, is honestly the cutest thing I've ever seen? No, really, name a more attractive trait than a man who treats animals with the kindness and respect they deserve? Haters gonna hate. Oh, and while we're here, can we take a minute to discuss the music video for "Out of Time?" Jung Ho-yeon is life.
i'm sorry can you teach me how to tweet like a man https://t.co/by1daQfeKz

— The Weeknd (@theweeknd) April 1, 2022
RIHANNA AND HER BUMP ATTENDED THE OSCARS
— Rihanna (@rihanna) March 31, 2022
Rihanna really said: "B*TCH I'M A MUVA!"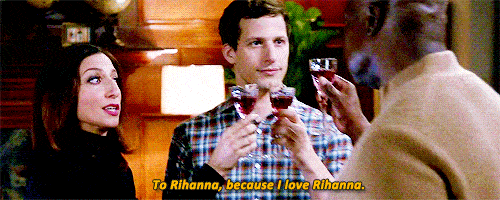 have mercy, Rihanna! pic.twitter.com/W4fTnscZH2

— Mychal (@mychal3ts) March 31, 2022
KIM TAE-HYUNG PRACTICED HIS GOLF SWINGS IN LAS VEGAS
@McIlroyRory pic.twitter.com/dk825MOD2V

— 방탄소년단 (@BTS_twt) April 1, 2022
Things I love to see: Kim Tae-hyung taking time out from flirting with Olivia Rodrigo at the GRAMMY Awards on Sunday to once again practice his golf swings. While I don't claim to be any kind of golfing expert, I'm definitely thinking V is basically Masters quality at this point? Just check out that hip rotation? Rory McIlroy is quaking.
this is me right now pic.twitter.com/5SvTFSd1JT

— .·͙☽ (@taeteland) April 2, 2022
JON BATISTE WAS THE KING OF THE GRAMMY AWARDS
What incredible blessings tonight pic.twitter.com/uDv2kx8X0N

— jon batiste (@JonBatiste) April 4, 2022
WHAT. A. KING. Jon Batiste was the big winner at the GRAMMY Awards on Sunday, and honestly? I couldn't think of a more deserving artist and human being. Album of the Year, WE ARE, got us through some dark times of late, and it was so nice to see that recognized by the Recording Academy. Plus, that "Freedom" performance was glorious.
Congratulations brother!

— John Legend (@johnlegend) April 4, 2022
CHARLI XCX ATTENDED THE GAY GRAMMYS
i know it's the Grammys tonight but it's also my sold out show at the Greek in LA tonight which is essentially the gay Grammys where I win every award. so yeah.

— Charli (@charli_xcx) April 3, 2022
Charli XCX is giving fewer and fewer f*cks on Twitter. I have no choice but to stan. Haha. Jokes aside, while I'm disappointed we didn't get to see Charli hitting up the red carpet in Las Vegas this year, something tells me the "Baby" star is going to be all over the GRAMMYs in 2023. Just give CRASH its Album of the Year award already, already?
this is the reality of your concerts for so many of your fans. pic.twitter.com/Lsv2eew2Yh

— njicky (@sippingonthat) April 3, 2022
MEGAN THEE STALLION GAVE US FACE CARD
No makeup meg pic.twitter.com/OqBtqTvbQi

— TINA SNOW (@theestallion) April 5, 2022
"Hatin' but you want a pic, b*tch, don't touch me/Face card pretty, you know God don't like ugly." – Megan Thee Stallion. The H-Town Hottie is actually out here putting our skincare routines to shame, huh? I mean it, Meg and her glam squad need to let us in on their secrets. The glow is official goals. P.S. BTS really do be everywhere, huh? LOL.
Me and the boys @bts_bighit pic.twitter.com/iwztBswBHZ

— TINA SNOW (@theestallion) April 4, 2022
QUESTLOVE CAME FOR HIS GETO
I'm not halfway to an EGOT.
I'm goin to the GETO.

— Questo (@questlove) April 4, 2022
There's nothing that makes me happier in life than seeing Questlove scooping an Oscar and a GRAMMY in the space of seven days. A deserving legend. Not to mention, after The Slap™, I'm glad the Roots drummer and frontman was finally able to deliver an acceptance speech for Summer of Soul with no drama. Bring on that GETO, Questlove.
Can we FINNNNNNNALY stop talking about it?

— Questo (@questlove) April 1, 2022
-
Don't forget to follow We Are: The Guard on Twitter for lots more! xo
Sources:
Because I Love Them Dearly GIF
To Rihanna GIF
Jess Grant is a frustrated writer hailing from London, England. When she isn't tasked with disentangling her thoughts from her brain and putting them on paper, Jess can generally be found listening to The Beatles, or cooking vegetarian food.