8 Totally Perfect DIY Halloween Costume Ideas for Music Fans
by Olivia Schroeder
10/2/17
It may *only* be October 1st, but it's never too early to start thinking about Halloween. Basically, the whole month of October is Halloween. Finding a great costume is of course one of the most important parts of the holiday, besides having the perfect excuse to eat all the candy ever. We've compiled some totally perfect DIY Halloween costumes for all you music lovers below.
Drake in Hotline Bling
Take a note from this high school teacher who went viral last year for showing up to class dressed as Drake in his music video for his hit single "Hotline Bling." All you need? Some boots, a sweater, and killer dance moves. Voilà, you're good to go.
Kacy Hill in "Like A Woman"
It's Halloween, which means it's okay to let your inner freak run a little wild. Slay at all the Halloween parties with this slightly scandalous Kacy Hill inspired costume. Okay, maybe don't wear this to your company holiday party. But going out with your best friends? Most definitely. Just grab yourself a red wig like the one here, a layer of bright red lipstick, and a latex bodysuit. If turning heads is your goal, this costume is sure to do the trick.
Kendrick Lamar in "Humble"
Can we just admire how iconic this outfit is? Seriously, I'm in awe. Channel your inner Kendrick Lamar for less than $30 by pairing this white velvet cape and white beret with a plain long sleeve shirt and matching pants. Now if you REALLY want to make an entrance, have a friend carry this portable fog machine behind you. That's a damn good friend right there.
Kesha

After four years of being away from the limelight, Kesha released her powerful new single "Praying" this past summer.  She's become one of the most unexpected role models for people everywhere. Feel empowered in this Kesha inspired costume with some body glitter and face paint along with some beach waves and a colorful fringe choker necklace. If you're not feeling comfortable wearing pasties, throw some glitter on a nude bodysuit like the one here for various skin tones.
DJ Khaled's baby on the cover of his new album "Grateful"
Don't feel like getting crazy and spending a bunch of $$$ on a costume this year? I feel that. Just go topless, grease your hair down, throw on a silver chain necklace, and top it all off with some black swim trunks. Boom. You've morphed into DJ Khaled's baby from his latest album cover.
Rihanna in "Wild Thoughts"
Speaking of DJ Khaled, Rihanna was fire in their music video for "Wild Thoughts." Seriously, what a babe. Get funky with some aviator glasses, red lipstick, oversized gold hoop earrings, a colorful headscarf,  floral pants, and of course a bombshell sheer off shoulder top. Go make Rihanna (and her kickass stylist) proud this Halloween.
Jaden Smith in "Batman"
Love superheroes? Love music? Jaden Smith's outfit in his music video for "Batman" has it all. Combine both your loves with a white mask, velvet cape, fingerless gloves, and a padded shirt. #getyousomeonewhocandoboth
Lana Del Rey in "Love"
Ladies, it couldn't be easier (or less expensive?). I'm sure most of you already have a white dress buried in your closet somewhere. Whip it out this Halloween and do your best Lana Del Rey impression from her new music video for "Love." If you don't already have that perfect white dress, it's okay. Try this one on for size. And of course, go the extra mile and add some daises in your hair. It'll be worth it.
But if none of these do the trick for you, you can also just buy this LMFAO Robot costume on Amazon. I mean, this guy looks like he's having a good time.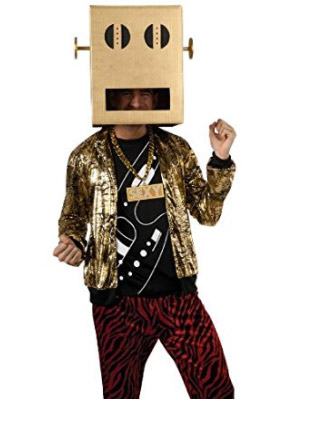 Whatever you decide to go for as Halloween, remember to have a good time and eat all the candy corn. What do you think the best music-related Halloween costume is? Share your thoughts below!