BEST ALTERNATIVE POP - WEEK 10 PART 1 2015
I know each week I preach about having discovered the best in indie pop music, but this week I think I've hit the jackpot. I've never really before, but I think I now mean it when I say "you have to listen to this." I can't force you to stop what you are doing at this very moment, but I can say:  You absolutely can't miss the filtered pop gems that BitCandy and I have selected —it's where fun and shameless meet. Today we feature Death Team, Xylo, Action Bronson and my favorite of the bunch, Laleh. Fun times begin as soon as you start scrolling down.
DEATH TEAM - FUCKING BITCHES IN THE HOOD (OFFICIAL VIDEO)
Nobody does bratty punk pop better than Swedish duo Death Team. I wonder how it is possible that after a week on YouTube, "Fucking Bitches In The Hood" has only but a handful of views. This track belongs on commercials, it's such a joyous track with a video that captures the vibe perfectly.
UPTOWN FUNK - MARK RONSON/BRUNO MARS - COVER BY POMPLAMOOSE
Yaaaasss! For all you who love all things weird and all that jazz I give you Pomplamoose and their entertaining cover of "Uptown Funk." It's super different from the original and it's surprisingly brilliant and very catchy. I am told that I'm lame for not knowing about the California duo until now, but now that I am familiarizing myself with their sound it is safe to say that they are pretty bad ass.
XYLO - AMERICA
I immediately assumed this was probably the work of indie singer Banks, but quickly discovered that I had found a new favorite indie band of the somber category. Xylo most definitely delivers a beautiful track that unravels their ability to create anthemic and irresistible sounds. Listen to "America" above.
MAYA VIK - Y.M.D. (YOUNG MICHAEL DOUGLAS) [PROD. BY LINDSTRøM]
Wait, wait , wait just a minute guys. Maya and Lindstrøm have got the whole young Michael Douglas thing wrong. They should rename the track to "Michael Douglas starring in Candelabra" because the shimmery dancy vibes in this track match the sequins in Douglas' wardrobe beautifully. All M.D. fans out would agree with me.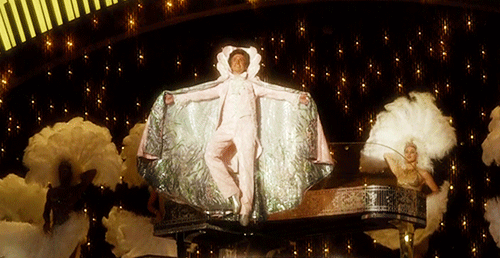 LALEH - ELEPHANT (LYRIC VIDEO)
Few are the times I hit play and instantly fall in love with a new song. "Elephant" is that track this week. It was obvious that Laleh's single stood out from the rest as we were filtering through our daily YouTube list. There is something emotive and freeing about the Swedish singer's music. This is refined pop.
MIDNIGHT BOY - DON'T SAY NO (OFFICIAL AUDIO)
Making his return with an 80s dance track is pop musician Midnight Boy and dare I say he is not a one trick pony. If you're in need of a little pick me up turn to the stimulating dance single "Don't Say No."
ACTION BRONSON - BABY BLUE FT. CHANCE THE RAPPER (PROD. MARK RONSON)
Not quite radio friendly due to cheeky lyrics but I will file Baby Blue under the category of: pure poetry. Action Bronson seems to have perfected his flow and yes it sounds sexy. It's a Featuring Chance The Rapper seems like a safe play on this production that will be a part of Bronson's second album Mr. Wonderful dropping later this month.
AIR BAG ONE-1992
Who is this band and where did they come from. 1992 is such a tease. These guys sounds like they've been around for a while so why do they have only one song uploaded on Soundcloud? The trio describes themselves as the oyster bag. What the eff does that mean? Indulge yourself above and report to me if you have more info on the band.
PRIEST - THE GAME
Madeline Priests sultry vocals are worth every ounce of your attention. She along with her music partner continue to showcase their range in music and are evolving nicely into the dark synth pop genre. Don't miss out on their latest work, "The Game," and be ready to hear more of them in the future.
NIGHTCOREY - MAKE ME GO
I'm new to the sound of NightCorey. He incorporates elements of and style of PC Music. It's a familiar sound and yet I find myself smitten with Corey. It's only a matter of time before he masters his sound, but what he's got ain't too shabby.
-
What did you guys think of our music selection? Let us know below. We tried keeping it spicy and bring you artists that are on the rise. As always if you liked what you heard, support the artists by giving them your love on social media or iTunes, etc. We'll be back next week with more pop songs. Toodles!
About Beca Arredondo
Beca Arredondo is easily unamused with all things not related to her interests. On her good days you can catch her avoiding the California sun and glued to her Mac plotting the next big thing. If you happen to run into her on the street and notice her wearing headphones do NOT disturb her. She is not responsible for any possible damage. Aside from the above she's very sweet and perky and responds well to good music and food.