THE BEST CHILL MUSIC YOU'VE GOT TO HEAR THIS WEEK
Photo by Phinehas Adams on Unsplash
It really feels like a new day is dawning across the country, huh? And while our problems aren't going to be swept away overnight by the Biden-Harris administration, there's no doubt I woke up this morning with a sense of optimism I haven't experienced in years. I genuinely hope it's the same for you guys! On that note, let's keep the positive vibes flowing this Friday with the latest edition of We Are: The Guard's Best Chill Music. Get ready to unwind into the weekend with the following songs from Jeremy Zucker & Chelsea Cutler, nobody likes you pat, ZAYN, and more!
-
JEREMY ZUCKER & CHELSEA CUTLER – THIS IS HOW YOU FALL IN LOVE
Valentine's Day is still a few weeks away, but Jeremy Zucker and Chelsea Cutler are nonetheless telling a tale of sweeping devotion on their latest single "this is how you fall in love." Lifted from their upcoming brent ii EP – the follow-up to 2019's brent EP – it's a delicately fragile ode to unconditional affection that's as comforting as old home movies.
NOBODY LIKES YOU PAT – BOYS (TIL I HAD YOU)
We Are: The Guard favorite nobody likes you pat pays tribute to his children on "boys (til i had you)." The latest single to be unveiled from his upcoming now that i'm here, i feel like myself EP is a heart-melting acoustic lullaby about the life-changing journey of fatherhood, with nlyp reflecting on all of the ways his sons have made him a better man.
ZAYN (FEAT. SYD) – WHEN LOVE'S AROUND
While We Are: The Guard isn't the kind to read gossip columns, ZAYN and his socialite supermodel girlfriend Gigi Hadid are clearly happier than ever going by "When Love's Around." Featured on ZAYN's recent album Nobody Is Listening, it's a rhapsodic, groovy devotional to the mother of his child that features the dulcet tones of The Internet's Syd.
CAROBAE – UR EX FROM COLLEGE
There's nothing worse than feeling second best. Just ask carobae, the Nashville starlet coming to terms with the fact she'll never live up to a lover's ex on "Ur Ex from College." "You don't want me if you're honest/You're still in love with your ex from college," aches caroebae over haunting, ghostly keys, her voice hitting like a sucker punch to the chest.
LOONY – RAW
LOONY is looking for that real, unfiltered kind of love on "raw." "​It's being in the moment with someone, and being completely clear, completely present. It's waking up beside someone and seeing them in the light of day," says the Canadian act of the Amy Winehouse-style neo-soul chiller, which will transport you to a coffee-scented jazz café.
12AM – WAKE UP
Dim the lights, as Canadian auteur 12AM is taking us into the small hours on the yearning "Wake Up." Clocking in at two minutes, it's a brooding nocturnal transmission that can be filed alongside the R&B atmospherics of The Weeknd and Always Never, with 12AM aching for a lover's touch over a stormy production courtesy of NGHT NGHT.
YOE MASE – JEALOUS
Yoe Mase is "just a jealous guy" on his beautifully raw, pained latest single. "This song is pretty honest for me and maybe even a little embarrassing, as it speaks to the feeling of jealousy. I hate to admit it, sometimes I want to be different people," says Yoe of "Jealous," which acts as a showcase for the 26-year-old's brave approach to making art.
BRIJEAN – OCEAN
Following on from the release of the Toro y Moi-assisted "Day Dreaming," Oakland outfit Brijean return today with the introspective "Ocean." Lifted from their upcoming album Feelings, it's a tranquil swan dive into the inner self, featuring warm, glistening Rhodes and blocky, tropical percussion serving as a vehicle for Brijean's blissed-out meditations.
EMMIT FENN – EDGE OF THE DARK
Sometimes, we have no choice but to lean into our dark sides. Mr. Emmit Fenn is doing precisely that on his latest single "Edge of the Dark." With lyrics that allude to lustful obsession and infatuation, "Edge of the Dark" begins life as a broodingly inky mood piece, before refracted synthesizers propel the song toward the light in the second half.
CARM (FEAT. SUFJAN STEVENS) – SONG OF TROUBLE
CARM's CJ Camerieri and Sufjan Stevens come together to calm the rough, choppy waters of our minds on "Song of Trouble." Opening to a flourish of horns, after which it settles into more of a gentle, soothing electronic siren song, it's an ode to overcoming plight and struggle that goes down like a much-needed tonic in these tumultuous times.
-
Follow We Are: The Guard's Weekly Chart on Spotify for more! x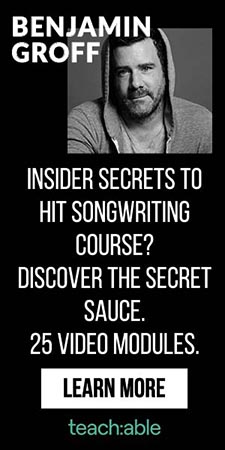 Jess Grant is a frustrated writer hailing from London, England. When she isn't tasked with disentangling her thoughts from her brain and putting them on paper, Jess can generally be found listening to The Beatles, or cooking vegetarian food.