BEST CHILL MUSIC: THE 10 SONGS YOU NEED TO HEAR THIS WEEK
Photo by Sydney Hard
It's Valentine's Day on Monday, and I have to say, love is most definitely in the air in the latest edition of We Are: The Guard's Best Chill Music. From Orion Sun's swooning "dirty dancer," to BENEE's dreamy summer anthem, "Beach Boy," to Baird's tender "Lighting of July," this column contains plenty of options for those of you currently working on your valentine's mixtape. And for the rest of us spending the most romantic day of the year home alone? Just make sure to have lots of chocolate to hand before hitting play on the following selection of chill vibes!
-
ORION SUN – DIRTY DANCER
Mount Laurel poet Orion Sun is a real master of lush, languid soul music, with Tiffany Majette delivering the goods once again in the form of "dirty dancer." The first single to be unveiled from Tiffany's forthcoming EP, Getaway, "dirty dancer" is a sublimely swooning dalliance with lust, obsession, infatuation, and the sense of inadequacy that can follow said emotions. "'dirty dancer' is about feeling like you're not good enough. The thought can really consume your mind," adds Tiffany. Enjoy.
BENEE – BEACH BOY
Coinciding with the announcement of her forthcoming EP, Lychee – a seven-piece collection featuring songs written with Rostam, Kenny Beats, and Greg Kurstin – BENEE has shared "Beach Boy." Produced alongside the aforementioned Kurstin, "Beach Boy" is a dreamy, laid-back drive down the Pacific Coast Highway in the peak of summer. "'Beach Boy' is pure fantasy, set in Los Angeles," divulges the Kiwi. "It's about being happy alone, but still wanting some love; wanting the thrill without the pain."
GOTH BABE – RUNNING AROUND
Goth Babe's Griff Washburn never fails to transport us to sunnier climes, with the van-dwelling musician offering us another dose of Vitamin D in the form of "Running Around." Following on from the news he'll be performing at Bonnaroo in June, "Running Around" is a mellow lullaby that appears to be about choosing between living a life of freedom and settling down with a lover. "Fears start running around/Head wants another way, but heart wants it all to stay," sighs Griff over fuzzy surf riffs.
HOMESCHOOL – WINO
Following the disbanding of his band, Active Bird Community, Tom D'Agustino continues to turn the focus to his solo project, Homeschool, with "Wino." According to Tom, the glorious "Wino" comprises of a collection of memories and vignettes. "'Wino' questions why some experiences mean more than others, and whether some of the heavier experiences should be allowed to carry that much meaning in the first place," adds Tom of the song, which sounds like "Where Is My Mind?" imbued with acoustic radiance.
FAODAIL – PAINTING IN SHADES (EDAPOLLO REMIX)
It was only recently Faodail was offering up his version of edapollo's "By the River," and this February, edapollo is returning the favor by putting his own twist on "Painting in Shades." Coming to us via Enhanced Chill, edapollo's revision of "Painting in Shades" is shot through with a stunning bolt of energy compared to the slowly percolating original. With choppy pianos and additional drums underlying Kakadu's vocals, this spin makes for a beautiful dose of vitality ahead of the weekend.
EMMIT FENN – THE CHASE
He recently announced he intends to release one song a week while counting down to his forthcoming tour, Far From Here, and today, Emmit Fenn is continuing to live up to his promise with "The Chase." The follow-up to "You," "The Chase" finds the Berkeley native at his sparse, inky best. With Emmit's barely-there vocals coming backed by synthesizers pulsating and oscillating like a cardiac monitor, "The Chase" is a dark delve into fixation: "You're my story/Every night/You're my story/Every night."
SLOUCH ONLINE – GET IT AND GO
Having made his debut on We Are: The Guard just before Christmas with "Skelly's," Los Angeles rapper Slouch Online is back in our ears this February with "get it and go." Clocking in at just over two and a half minutes, "get it and go" is a heady late-night cruise through the city lights, with the vocoder vocals serving Kid Cudi over the nocturnal vaporwave beat. Slouch Online: "The song is meant to give you energy, motivation, and confidence to do whatever the fuck it is you wanna do." A vibe.
OKAYWILL – ALL MY LOVE
With little to no social media presence, okaywill is one of the more camera-shy, mysterious acts we've ever covered here at We Are: The Guard. Lucky for us, then, the music is doing all of the talking on his latest single, "All My Love." Bringing together a Beatles-indebted psychedelic melodic ear and slacker-pop jangle, "All My Love" is one of those cuts that feels like it's existed since the start of time. Combine that with some lovelorn lyricism, and "All My Love" is certain to win over Spotify algorithms everywhere.
BAIRD – LIGHTING OF JULY
This is delightful. Ahead of the release of the third installment of his debut project, BIRDSONGS, Vol. 3, Baltimore's Baird has shared "Lighting of July." Coming after "Darkness of the Night" and "Easy on Them Turns," "Lighting of July" is a tender afternoon stroll through rolling summer fields, with Baird's whistling vocals skipping through the synapses with glee. "It's about that moment when your crush melts from fear into confidence and you let go of worries for the future," writes Baird. Sweet.
CASSANDRA JENKINS – IT'S YOU (ANIMAL COLLECTIVE & VASHTI BUNYAN COVER)
Just a few weeks on from Under the Radar announcing Covers of Covers – a compilation album celebrating two decades of the music magazine – Cassandra Jenkins has shared her contribution to the project in the form of a cover of Animal Collective and Vashti Bunyan's "It's You." While the original – from Prospect Hummer EP – makes for a stunning listen, Cassandra has succeeded in elevating the cut to a whole new level of loveliness thanks to the addition of some delicate harp filigree.
-
Follow We Are: The Guard's Weekly Chart on Spotify for plenty more! xo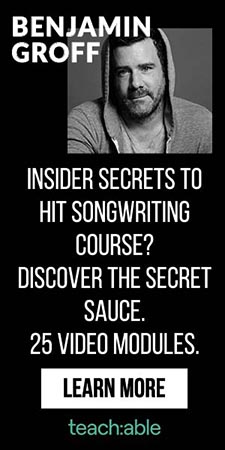 Jess Grant is a frustrated writer hailing from London, England. When she isn't tasked with disentangling her thoughts from her brain and putting them on paper, Jess can generally be found listening to The Beatles, or cooking vegetarian food.