THE BEST CHILL MUSIC YOU NEED IN YOUR LIFE THIS WEEK
There's nothing quite like the rolling around of spring. Following on from one of the most arduous, traumatic winters in recent history, however, the arrival of a brand new season feels particularly sweet this year. The conclusion of quarantine is finally in sight, and while I'm still waiting on the vaccine personally (How about you?), it certainly seems like there's light at the end of the tunnel for the first time in a long time. On that note, with a delightful spring weekend stretching out ahead of us, let's relax and unwind this Friday with the latest edition of We Are: The Guard's Best Chill Music, featuring Soft Glas, bloom, Boys Noize & Kelsey Lu, and lots more.
-
SOFT GLAS  (FEAT. CAUTIOUS CLAY) – TERRIFIED (OF TIME)
This is truly, utterly otherworldly. Soft Glas reflects on the shifting sands of time on the latest single to be unveiled from his recent album How Strange. "It's about the catch-22 that is visiting our family: It can be beautiful, but it can also be very sad, because it's a harsh reminder of how limited our time on earth with them is," explains Soft Glas of the track, which hears him teaming up with Cautious Clay in order to deliver a piece so celestial, stunning, and emotionally resonant, it almost snatched the breath from my lungs.
BLOOM – NOTHING NEW
It's been a hot minute since we last heard from Toronto's bloom, but they're back and sounding more confident and fully formed than ever on "Nothing New." "Since our last release we have spent countless hours developing our sound, spending every night locked away working harder than we ever have before. This song is just the beginning of a whole new bloom," write the trio on Instagram of the track – a skittering, sensuous late-night transmission that hints at the start of something very big indeed. Watch this space!
BOYS NOIZE & KELSEY LU – RIDE OR DIE (FEAT. CHILLY GONZALES)
Boys Noize, Kelsey Lu, and Chilly Gonzales? It doesn't get much better than this, let me tell you. Clocking in at just over four minutes, "Ride or Die" serves as quite the sonic journey. Opening mediative and reflexive – like a forest hymn as headed by plucked strings and Kelsey's gorgeous vocals – before accelerating into a delirious techno piece, "Ride or Die" is a monumental voyage of discovery that more than makes up for the lack of festival mind trips we'll be indulging in this summer.
DONNA MISSAL – SEX IS GOOD (BUT HAVE YOU TRIED)
"Sex is good, but have you tried/Fucking with yourself." Erm, the best opening couplet ever, much? Donna Missal strikes a painfully relatable balance between self-love and self-deprecation on her latest single "sex is good (but have you tried)." Produced by We Are: The Guard favorite Sega Bodega, it's an electronic fever dream about striving for independence – all the while secretly longing for human touch – with Donna's genuinely gorgeous vocal chops reaching a state of dissociative delirium over the bleary-eyed beats.
MYKEY – KNEEPADS
MyKey continues to make his mark with his emotionally acute bedroom-pop on Welcome To the Witching Hour cut "Kneepads." Produced by Marinelli (more on him later!), "Kneepads" hears MyKey bringing together early summer chill vibes and genuinely incisive lyricism, with organic drums underpinning Mikey Ambrosino as he sculpts poetic melancholy: "Two things I forgot to mention/Who the fuck don't bring a dish to the function?/And possibly, these are my weaknesses all packaged into poetry/What a shitty anthology."
SATYA – SUMMERTIME
Coinciding with the clocks going forward and the days getting longer, warmer, and brighter, Satya has shared "Summertime." It's a radiantly jazzy piece that makes for the ultimate lazy afternoon listen, with Satya's vocals cascading like slow-melted honey over noodling guitars and flourishes of horns as she sings about prioritizing body positivity over the pursuit of perfection: "If you love the soft skin, these brown eyes/You've got to love the frizz, the cellulite." Glowing.
WILL ORCHARD – RITA
Introducing Will Orchard, the Rhode Island musician making his debut on We Are: The Guard this Friday with the tenderly rustic "Rita." "'Rita' is a song about the blurred lines between attraction that's real and long-lasting, and attraction that's intense and fleeting. To me, it's about lacking trust in my own impulses, and constantly questioning if those feelings are valid," says Will of the cut, which hears delicate homespun acoustics backing an equal parts intimate and anthemic topline. FFO: Brandon Flowers, Bruce Springsteen.
SAINT JOSHUA – I LIKE
Dim the lights, as Saint Joshua is setting the mood and then some on "I Like." Hailing from London, England, this 25-year-old has completely intoxicated us from the off with his debut single. Citing D'Angelo, Frank Ocean, and Lauryn Hill among his many influences, Joshua delivers soul-laced R&B perfection on "I Like" – an ode to that liminal space between lust and love that hears the rising artist's deeply enthralling falsetto beckoning us straight to the bedroom.
1TBSP – CALICO
Having got his start creating blissful dream-pop under the Golden Vessel moniker, We Are: The Guard favorite Maxwell Byrne shifts his focus to more house-oriented productions as 1tbsp. Bringing together steady four-on-the-floor drums and heady, euphoric vocal samples, "Calico" couldn't make for a better introduction to this brand new project, with Maxwell transporting the underground clubs of Brisbane, Australia direct to our living rooms atop his lovingly crafted beats.
MARINELLI – OH GOD
He's worked with everyone from Billie Eilish to JAWNY to the aforementioned MyKey, but Los Angeles producer Marinelli is once again returning the focus to his solo career on "Oh God." Following on from previous offerings like "Turtleneck Sweater" and "Halloween," it's a moody two-and-a-half-minute lament, with viscous, gooey beats sticking like glue to Marinelli as he takes us on a depressive joyride into the night: "Oh God, I'm sitting in my car again/Oh God, I think that you hate me/July, I swear that you never end/August, would you just keep me busy."
-
Follow We Are: The Guard's Weekly Chart for lots more. See you soon. x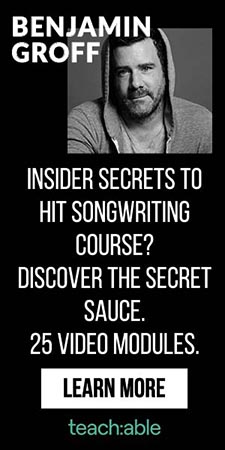 Jess Grant is a frustrated writer hailing from London, England. When she isn't tasked with disentangling her thoughts from her brain and putting them on paper, Jess can generally be found listening to The Beatles, or cooking vegetarian food.