BEST CHILL MUSIC: 10 SONGS FOR THE ARRIVAL OF AUTUMN
Photo by Kiersten Friesen
IMPORTANT FALL UPDATE: The trees officially started to turn gold in my backyard over the last few days! While the temperatures are still to come down, it's finally beginning to seem like autumn is here. On that note, with the weekend almost upon us, feel free to join me in enjoying the fiery fall hues to the sound of the latest edition of We Are: The Guard's Best Chill Music, featuring Jackson Lundy, Mount Kimbie & Dom Maker, grentperez, and seven other favorites!
-
JACKSON LUNDY – DANDELIONS
Jackson Lundy is full of nostalgia on his latest single, "Dandelions." Following the announcement of The Dandelion Tour across North America, "Dandelions" is a string-laced lullaby inspired by a road trip across Colorado, with Jackson potently capturing the bittersweet melancholy that comes with reflecting on memories and times past: "Now, when I see dandelions/Can't help but always smile/And think of you/I wonder too, if you feel the same/As sure as I'm hell not/Used to feeling this way."
MOUNT KIMBIE & DOM MAKER (FEAT. KUČKA) – F1 RACER
Ahead of the release of their double album, MK 3.5: Die Cuts City Planning, Mount Kimbie's Dom Maker and Kai Compos are unveiling the KUČKA collaboration "f1 racer." Produced by Dom and featured on the Die Cuts side of the double album, "f1 racer" is a stylish, sizzling cruise through the Circuit de Monaco. "Senna got nothin' on me (Got nothin' on me)/Formula wanna be/Through the light take the lead/It's the last you're gonna see," sings KUČKA, her voice levitating several inches off the asphalt.
GRENTPEREZ – DAY BY DAY
Just a few weeks on from announcing his first world tour, im cool, i promise, supporting Eric Nam and mxmtoom, We Are: The Guard favorite grentperez is making his return to our column with "Day by Day." Featured on his recent EP, Trail Mix Tape, "Day by Day" hears the Australian crooner continuing to explore a Latin-tinged neo-soul that goes straight to the hips. "We can take it day by day," sings grentperez against gyrating beats. "I just wanna get to know you, girl, in every way."
TEEBS (FEAT. PANDA BEAR) – DID IT AGAIN
Having enlisted the Animal Collective star for his song "Studie" from his 2019 album Anicca, Teebs is joining forces with Panda Bear for a second time this October on "Did It Again." Coming alongside "NES," "Did It Again" hears Mtendere Mandowa's muted, shuffling hip-hop beats providing a perfect canvas on which Noah Lennox is able to paint his purple psychedelic incantations: "To give you only the best I've got/The thickest blood/Without the cries/And bake into the next/Of a broken chain."
NERIAH & JC STEWART – UNFINISHED BUSINESS (ACOUSTIC)
It's no secret we're huge, massive fans of NERIAH here at We Are: The Guard, with the Los Angeles master feeler continuing to shatter our hearts into tiny pieces on this acoustic version of "Unfinished Business" with JC Stewart. "Being able to release a new version as a duet means so much to me. It really helps to tell the story," says NERIAH, and she couldn't be more right. With JC's new verse lending another angle to this tale of ruined relations, "Unfinished Business (Acoustic)" is pure devastation.
ALICIA CLARA – I LET MY PLANT DIE
Swiss-Canadian star Alicia Clara is making up for lost time on "I Let My Plant Die." Featured on her forthcoming EP, Velveteen, "I Let My Plant Die" was inspired by two of Alicia's plants that died over the pandemic after she fled her apartment to be with her family. "I recognized a parallel between this and a tendency I have to put off tackling tasks or situations that scare me, thinking time will do the work on its own," adds Alicia of the cut, a dreamy, nostalgic sigh of acoustic balladry.
KAINALU & MUNYA – INHIBITIONS / INTUITIONS
Kainalu is taking us to a place of pure cosmic luxe on the MUNYA-featuring "Inhibitions / Intuitions." The follow-up to "Queen of Wands" is a sumptuous funk groover written remotely between Kainalu and MUNYA. "The song dives deeper into the story presented by 'Queen of Wands.' Fighting one's inhibitions about taking risks in love versus following their intuition which has previously led them astray," adds Kainalu of the cut, which feels like the audio equivalent of wreathing in a shaggy rug.
LATE JUNE (FEAT. LIL XTRA) – HORIZON LINE
He's been previewing it on Twitch for the last few weeks, and this October, New Zealand's Late June is finally sharing the full version of the Lil Xtra collaboration "Horizon Line." Featured on Late June's forthcoming "multi-genre" EP, Lounge, "Horizon Line" is the kind of music made for rainy afternoons spent curled up under a duvet with a hot cup of chai. Opening to the sound of birdsong before the beat drops and Lil Xtra's voice enters like distant gray clouds, "Horizon Line" serves as the perfect segue into fall.
53 THIEVES – ISLANDS
Having formed during the pandemic, collaborating over the Internet before finally meeting in person a few months ago, 53 Thieves has long had a sense of distance about their music. It's this very feeling that forms the focus of their recent album, latitudes. "Although we are separated by a vast ocean, we now understand that physical distance is nothing compared to the journey we have taken together," explains 53 Thieves of the album, with the band turning their inner ache into liquid gold on "islands."
TAMINO & ANGÈLE – SUNFLOWER
It's been 25 years since the death of Jeff Buckley, but his spirit is very much living on through Tamino. The Conservatorium van Amsterdam singer-songwriter is channeling the lost balladry of Grace on his latest single, "Sunflower." A collaboration with Belgium's Angèle, "Sunflower" is a hypnotic, intoxicating nocturne, with Tamino and Angèle slow-dancing by the light of the moon: "Oh baby, don't you notice me?/Notice me, so ready to lose everything/Everything for your love."
-
Follow We Are: The Guard's Weekly Chart on Spotify for more! xo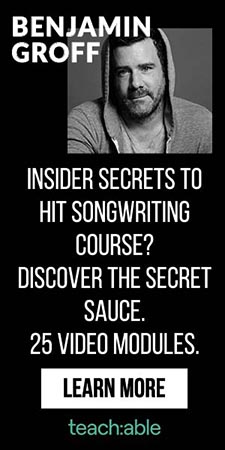 Jess Grant is a frustrated writer hailing from London, England. When she isn't tasked with disentangling her thoughts from her brain and putting them on paper, Jess can generally be found listening to The Beatles, or cooking vegetarian food.