BEST CHILL MUSIC: THE 10 TOP SONGS OF THE WEEK
Photo by Haydn Shaw
Can you believe there are only three weeks to go until Christmas? I'm not going to lie, I haven't even thought about my gift shopping, let alone put up the tree or decided what ugly sweater I'll be making my personality this year (Please send me suggestions!). Before I start on everything Christmas this weekend, then, let's take a moment to destress and decompress with the latest edition of We Are: The Guard's Best Chill Music, featuring daste., corook, JVLY, and more!
-
DASTE. – BUTTERFLY (SO FREE)
Just over a year on from the release of their debut album, dusk&dawn, Australian trio daste. is back with the lush, vibrant "butterfly (so free)." Produced by Maxwell Byrne, better known to most of us as Golden Vessel and 1tbsp, "butterfly (so free)" is an ode to freedom in a world that seems intent on keeping us trapped in a box. "You're so free but you're so mine/You're so free but I don't mind," sings daste. atop an Empire of the Sun-esque panorama of acoustic flora. Tune in. Drop out.
COROOK – REALISTIC
Nashville's corook is over unrealistic love songs on her sweet latest single, the aptly titled "realistic." "I've never understood society's view of love," corook tells That Eric Alper. "Movies and songs usually portray love as this exaggerated, self-sacrificing, desperate act that ultimately leaves me feeling underwhelmed and misrepresented. It's unrealistic." An ode to human connection in its most authentic form, "realistic" is a delightful acoustic lullaby for imperfect lovers everywhere.
JVLY – SWIM
JVLY is overcome with temptation on "Swim." According to JVLY, "Swim" arose from a moment of inner reflection. "I find that if I notice I'm thinking about something a lot over a period of a few days, it's probably worth trying to carve those thoughts into a couple of lines," notes JVLY. "That's where 'Swim' comes from, a blurting of that mess, that's why the lines are really just blunt statements." Bringing together skin-on-skin vocal intimacy with funky sensuality, "Swim" is pure vice. 10/10.
LIV MIRALDI – SAME PEOPLE
She recently teamed up with KOLE for "Wingwoman," and today, Liv Miraldi is returning to the top of our Spotify playlists with the crushing "Same People." Written with Martin Wave, "Same People" is a painfully honest piano ballad that finds Liv admitting that she hasn't fully moved on from her ex. "Wish things were the same way they were before/But we're not the same people anymore," sings Liv, her voice piercing through the speakers like a shard of a broken heart. Devastating, devastating stuff.
JIM ALXNDR & LIDO – LIVE IN PRETEND
Australian singer-songwriter Jim Alxndr is getting existential on his thoughtful new single, "Live In Pretend." A collaboration with Norwegian producer Lido, "Live In Pretend" finds Jim posing some big questions about life and love over a softly swelling synthscape. "What are we but a small group of particles living till we turn to dust?/Are we free 'cause our home is a factory, handing out hearts to the loved?" sings Jim, his voice rich with meaning. FFO: Bon Iver, Francis and the Lights.
MILKY DAY – ADORE
Earlier this week, Milky Day took to Instagram to share some impressive stats as part of Spotify Wrapped, and this Friday, the New Zealand singer-songwriter is looking to add to those quite frankly massive numbers with "Adore." Coming alongside an official visualizer, "Adore" is a dreamlike lament about a relationship coming to an end. With psychedelic, Mac DeMarco-esque guitars glimmering like Christmas lights behind Milky Day's ethereal voice, "Adore" is made from the haunted remains of a love.
TYNSKY – I DON'T CARE ABOUT THE RAIN
Hailing from Poland, Tomek Kamiński, or TYNSKY, is an 18-year-old singer-songwriter coming straight for the hearts of ukulele fans everywhere with his sweet, uplifting latest single, "I don't care about the rain." Featured on Tomek's recent debut EP, See what's on my mind, "I don't care about the rain" is an ode to those rain-dappled afternoons spent indoors sipping on cups of coffee and getting lost in the imagination, with tender strums backing TYNSKY as he croons about dancing through the gloom.
80PURPPP – UNI
Ever since he made his breakthrough on the blogosphere with "Hex," a song that sampled Tony Thriller and Shiloh Dynasty's "So Innocent," 80purppp has been winning fans over with his hypnotic lo-fi study beats, with the Canadian rapper delivering another dose of vibes on "uni." Paired with an official visual directed by 80purppp, "uni" is a late-night jazz nocturne for lonely souls and broken hearts everywhere, with 80purppp's sad-boy feels captivating listeners like the blur of the city lights.
CRÊPE GIRL – DON'T WANNA WASTE YOUR TIME
There isn't a whole lot I can tell you about crêpe girl's Eliza Grégoire, but it quite honestly doesn't matter, as the Grand Junction singer-songwriter and producer is saying everything she needs to say on her latest single, "Don't Wanna Waste Your Time." Featured on her recent EP, Deux, "Don't Wanna Waste Your Time" is an anguished acoustic cut that not long ago gained support from Spotify's editorial playlist All New Indie, with Eliza's despairing voice reminding me of 070 Shake's melismatic lullabies.
BRANDYN BURNETTE – HAVE YOURSELF A MERRY LITTLE CHRISTMAS
And, to conclude, Christmas wouldn't be Christmas without revisiting We Are: The Guard's Indie Christmas and, more specifically, this jazzy cover of "Have Yourself a Merry Little Christmas" by Brandyn Burnette. Cozy socks at the ready!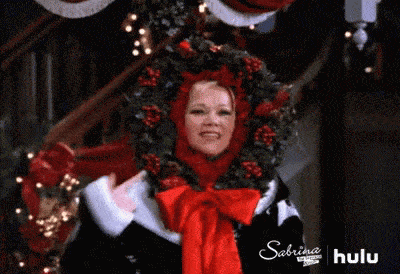 -
Follow We Are: The Guard on Spotify for more! xo
Sources:
Christmas GIF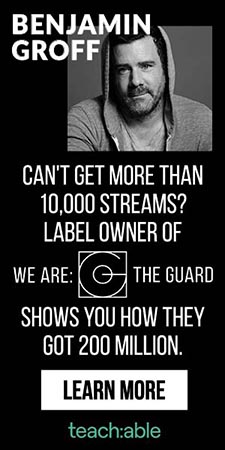 Jess Grant is a frustrated writer hailing from London, England. When she isn't tasked with disentangling her thoughts from her brain and putting them on paper, Jess can generally be found listening to The Beatles, or cooking vegetarian food.